Managing passwords is a tricky affair. Most people either use the same password for each website or struggle to keep track of dozens of different ones. Neither approach helps prevent identity theft or create a safer browsing experience. Instead, you can address your security concerns more effectively by using the best password managers out there. Here's our list.
Best Password Managers
We evaluated various best password managers for ease of use, security, pricing, and more. These are our best picks.
Best free password managers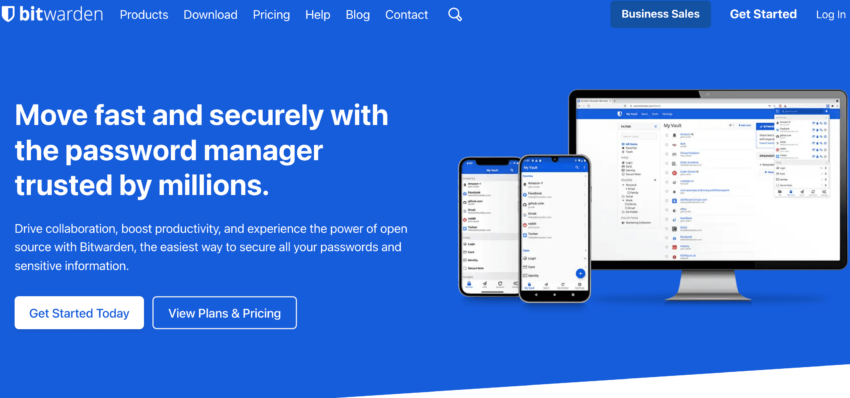 Bitwarden is an open-source password storage app that comes with a free plan. Open-source means that any software expert can inspect its source code to ensure security integrity. The app was last audited by an independent security firm in 2020, and reports are published on its website.
Bitwarden's free plan offers features on par with its paid counterparts. For example, Bitwarden has a handy semi-auto fill feature that detects how many credentials are applicable for a password field and lets you choose from a list. You can also sync your passwords across different platforms.
Users can install Bitwarden on common operating systems, including Windows, macOS, Android, iOS, or Linux, or manage passwords with its browser extensions.
LogMeOnce is one of the most generous free password keeper apps we've come across. Its free plan allows you to manage unlimited passwords and sync them on all of your devices. Users can use the app to store credit cards, secured notes, and shared passwords, albeit at limited numbers.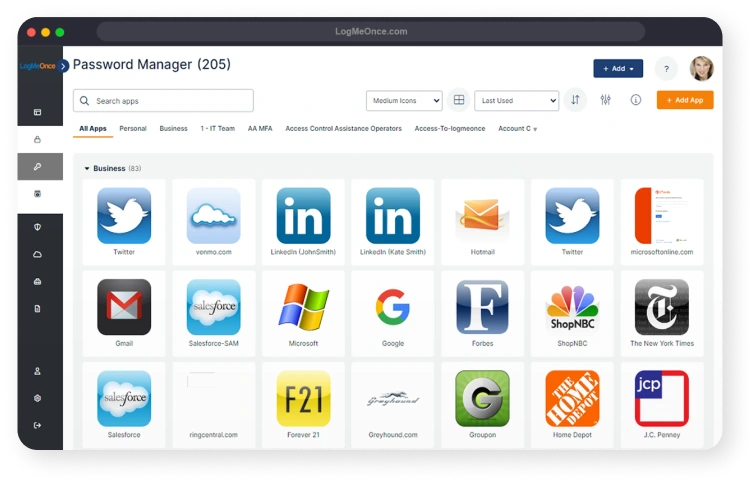 Besides securing passwords, LogMeOnce also provides free users with 1GB of encrypted storage space. An upgrade to paid subscription will unlock advanced security features and expand existing limits. If you choose not to remember a master password, LogMeOnce provides passwordless options such as email and Google authenticator.
Best password manager apps
Dashlane is a secure password manager app that you can get started for free with a 50 password limit. After installing the Dashlane browser extension or mobile app, you can generate and store passwords securely as you're browsing websites. The app spares you from searching through scribbled notes by automatically prefilling information like credit card details, addresses, and passwords.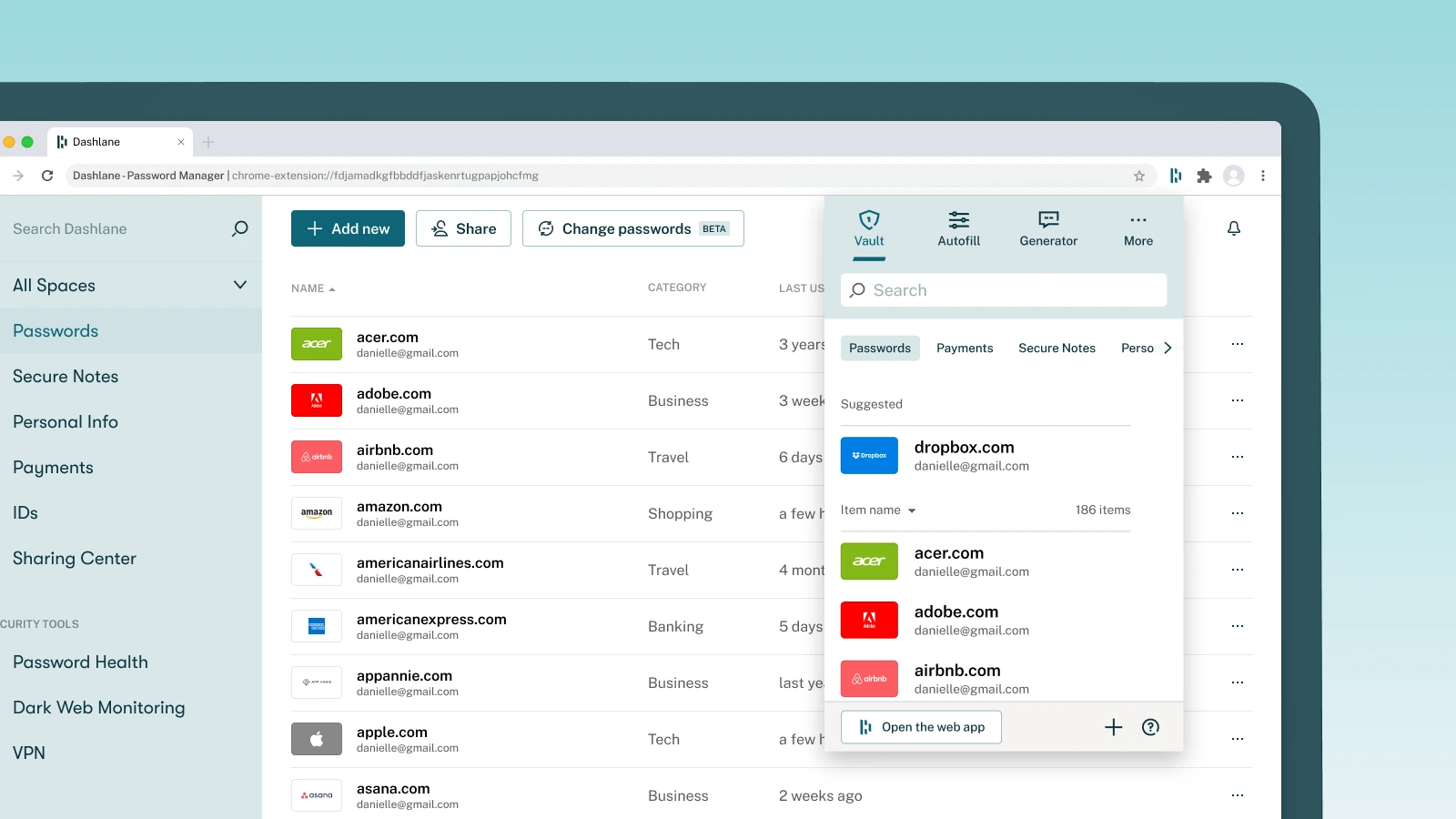 While you can use Dashlane for basic password management, paying for a premium subscription unlocks its powerful security features. An upgraded plan allows you to manage unlimited passwords on different devices. The app also alerts you if your passwords are compromised and traded on the dark web.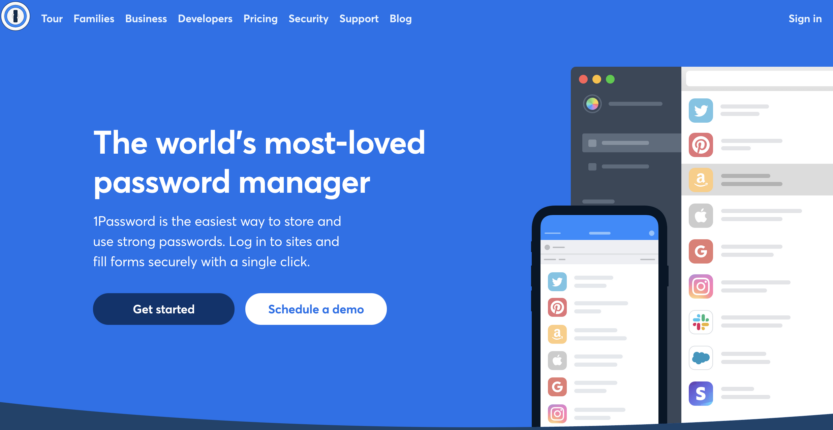 1Password is arguably the best password manager app that offers security, convenience, and an array of helpful features. The app works across popular platforms, including Windows, Android, iOS, and common browsers. Besides storing encrypted passwords, 1Password periodically scans the internet to check if any of your passwords have been compromised.
If you're a frequent traveler, you will benefit from the app's unique ability to delete sensitive data as you cross a border and restore them later. This prevents you from revealing sensitive data in possible password audits enforced by security agencies. You can also turn 1Password into an app authenticator by generating a unique secret key that secures the entire password vault.
Best paid password manager
Keeper is a popular password keeper solution amongst enterprises. It helps employees secure their workstations with top-notch password protection features while improving productivity. The app is notably a hit amongst app developers, where it offers a secure and encrypted environment to build and deploy software.
Besides catering to businesses and enterprises, Keeper provides tailored subscription plans to families and individual users. These plans offer everything you need to generate and securely store passwords on unlimited devices. You can also sign up for additional add-ons like dark-web monitoring, which alerts you of password breaches.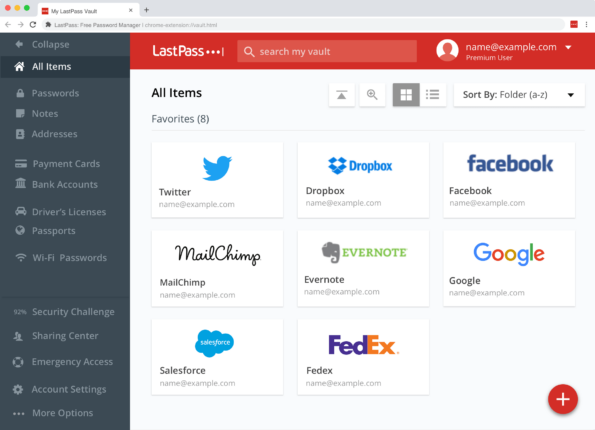 LastPass is an affordably-priced password manager armed with the necessary features to keep your passwords secure. You can use LastPass on different devices, operating systems, and browsers. The app helps you encrypt and securely store passwords, credit cards, and notes on apps and websites.
With more than 33 million users, LastPass shores up potential security issues that might compromise online browsing. It provides tools to generate strong, random passwords and audit existing ones for potential weaknesses. Family members can use the app to share passwords and sensitive information instead of texting them on unsafe channels.
How to Keep Your Passwords Secure
Passwords are gatekeepers to sensitive information, financial facilities, and other personalized services.
Therefore, it's vital to adhere to best practices that keep passwords secure. Here are some helpful tips.
Use unpredictable passwords. This means you need to shy away from using your name, birth date, phone number, and other relatable information as passwords. Instead, use a combination of characters, numbers, and symbols to create a strong password.
Never write down your password, particularly on the cloud. It's a risky move that places all of your accounts at risk if external parties breach the passwords.
Avoid password login on an unsecured website or when connected to a public WiFi. Websites without a green padlock icon and free public WiFi are not secured with encryption, which means anyone with networking monitoring software can intercept your password. Instead, use a VPN like ClearVPN to sign in when connected to a public network.
FAQs
Is it worth paying for a password manager app?
Compared to the struggle of managing dozens of passwords, it is more prudent to pay for a secure password manager. These apps allow you to effortlessly enter the correct password when signing in to different websites. Besides, they are generally affordable.
Can password managers be hacked?
There is a very slight chance of password managers being compromised. However, your passwords will remain protected, thanks to the encryption. Hackers cannot use your passwords in their encrypted or scrambled form.
Can I check if my password is compromised?
Yes, there is a fast way to check if your password is compromised by using this free service, called Haveibeenpwned.com, just enter there your email address, and just in seconds you will see if your pass is compromised or not.

Also, there is a free Google password checker tool called Password Checkup Tool. If you are using Google Chrome, just type in your search bar: passwords.google.com > click on Password Checkup > click the button Check Passwords and that's all.
Stop pushing your mental limits by remembering more passwords. Password managers support cyber security best practices with randomly created unique passwords. Use one of the recommended password managers to save time and secure sensitive information.