The fact that Binance was banned in 2019, frustrated many cryptocurrency investors in the US. This led to a hunt for ways to overcome the restriction, including accessing Binance with VPN. However, not all VPNs are equally effective in restoring access to the platform.
Some VPNs fail to provide the necessary security and stealth to bypass Binance's geolocation blocks. A fraction of them have flaws that lead to a less-than-ideal user experience. In this guide, we'll show which VPN is best equipped for the job and how to use Binance with VPN.
What is Binance?
Binance is the largest cryptocurrency exchange in the world, with peak trading volume hitting a record high of $76 billion in 2021. The Chinese-owned trading platform offers more than 500 tradable cryptocurrencies including Bitcoin, Ether, and other altcoins. Investors can easily manage their trades on Binance and enjoy comparatively low trading fees.
Built with an intuitive interface, Binance provides registered users spot trading, margin trading, futures, and other crypto financing facilities. The platform supports Simplex, wire transfer, and credit cards to make fund deposits and withdrawals easier. Since its inception, thanks to its stability, ease of use, and lower fees, Binance has been a hit amongst investors.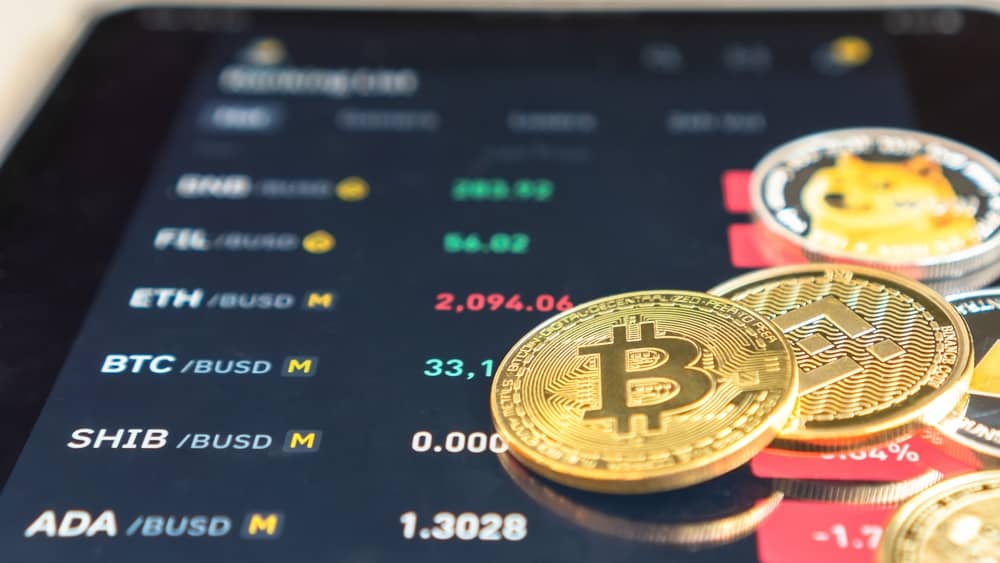 Until 2019, Binance was a highly-popular cryptocurrency exchange amongst US customers. After the unfortunate announcement of a US ban, new and existing users have had to work out ways to bypass the restriction or use the localized version of the crypto platform — Binance.us.
Why is Binance not available in the US?
In 2019, Binance amended its term of service to stop accepting users from the US. This was done on the ground of regulatory uncertainties after the platform suffered a breach in the same year. As a contingency plan to continue serving the US market, Binance launched an American version of crypto exchange, Binance.us.
Binance.us is a separate legal entity from Binance.com. If you're visiting the latter from US states, you'll be greeted by a page that redirects you to Binance.us. While Binance.us offers the same sleek interface as the original version, it lacks choice in cryptocurrency options and imposes higher trading fees.
It's unlikely that Binance will restore its service to US investors as the parent company has attracted high-profile investigations from the United States Department of Justice and the Internal Revenue Service for alleged money laundering and tax evasion. Federal agencies are also probing if Binance has allowed US traders to perform illegal trades that breach local regulations. In addition, an increase in cryptocurrency-funded cybercriminal offenses has also put exchanges like Binance under further scrutiny.
With Binance shutting its doors, US customers have turned to the local alternative, Binance.us. However, platform restrictions and accessibility issues have also forced them to seek a functional VPN to bypass the enforced blockage of the original exchange.
How to access Binance from the US
Binance enforced a total ban for US citizens in 2019 and diverted them to Binance.us in the year that followed. The crypto exchange monitors users' IP addresses and prevents users located within the US from using its services. It's a simple local censoring mechanism that various service providers have employed.
Giving the censorship mechanism the slip is possible with a Binance VPN. A VPN cloaks your IP address with one of its many servers and hides your identity from third parties. Specifically, using Binance with VPN assigns your device an IP address from countries where Binance is accessible.
Binance is essentially available worldwide, with certain exceptions. Still, you'll want to connect to a VPN server in countries where the Pay with Bank Card feature is available. For example, users in Finland, Lithuania, and Sweden can use the feature to fund their accounts from a credit or debit card.
Besides gaining full access, using a VPN for Binance offers an additional security layer when trading on the platform. VPNs use encryption to scramble the transactional data, effectively preventing hackers or cybercriminals from abusing your accounts. This is important as the crypto industry has suffered from many illegal breaches.
How to use Binance with VPN
With the right VPN, you'll have unrestricted access to Binance despite its geo-locational blockage. US users can sign up for a Binance account and start trading from its hundreds of crypto offerings after connecting to a VPN server in an approved country.
Here's how to use Binance with VPN. We recommend to use new ClearVPN for its advanced security and speed.
Download and install ClearVPN.
Launch the ClearVPN app and sign in with your credentials.
Tap on Location Changer.
Select a server from the country where Binance is available.
Connect to the VPN server.
Launch Binance.com on the web browser.
FAQs
Is it legal to use Binance with a VPN?
No. Using a VPN is not against any terms and conditions set by Binance. However, accessing the platform from US soil is. Therefore, it's essential to use a VPN that guarantees perfect anonymity throughout the active session on Binance. For example, you'll need a VPN that has a kill switch and is free from IP/DNS leaks.
Should you use a free VPN for Binance?
No. It's tempting to access Binance with a VPN that costs nothing. However, free VPNs' security and privacy are highly questionable. Many free VPNs use protocols and encryption with known vulnerabilities. Some are bundled with malware or laden with ads that bring you to malicious websites. We recommend subscribing to ClearVPN, which upholds user security at all times.
How to use Binance in the US with VPN without trading limitations?
You can access Binance with a VPN in the US, but you'll be restricted to a basic account with trading limitations. Unfortunately, upgrading the account requires KYC (Know Your Customer) verifications, which means uploading copies of your ID. Doing so will expose your US address and will result in an account suspension.
Binance's blanket ban on US traders was unwelcome news for many, but there are ways to work around it. Using a VPN allows you to access the crypto trading platform while residing in the US. We've shown you how to use ClearVPN, a highly secure and privacy-friendly VPN, to bypass the Binance ban.
Download ClearVPN and gain unrestricted access to Binance now.