Are you looking for information on how to watch F1 TV in the UK? If you're an F1 racing fan living in the UK, you're probably well aware of the frustration of trying to watch live races online. The official streaming service, F1 TV, is not available in the UK, much to the dismay of British fans.
But fear not! There's a simple way to get around this restriction. In this quick guide, we'll show you how to do just that step-by-step. So let's get right to it!
Why F1 TV is not available in the UK?
First, let's discuss why you can't watch F1 TV live in the UK. The short answer is geo-restrictions — certain content, like F1 TV, is restricted in particular countries due to copyright laws and international licensing agreements.
Formula 1 has a dedicated streaming service called F1 TV, which offers subscribers live races, highlights, and exclusive content. However, due to existing contracts between Formula 1 and broadcasters like Sky and Channel 4, F1 TV is not available for viewers in the UK. This can be incredibly frustrating for fans who want to watch their favorite racing events without having to sign up for expensive cable packages.
Fortunately, there's a way to bypass these geo-restrictions and access F1 TV in the UK — using a VPN (Virtual Private Network) service.
How can you watch F1 TV Pro in the UK with VPN?
A VPN is essentially an encrypted tunnel that allows you to connect to the internet securely, masking your IP address and location. With a VPN, your online activities remain private, and you can access content otherwise restricted in your region. Sounds like a dream come true for F1 fans in the UK, right?
When you use a VPN to watch F1 TV in the UK, you're essentially tricking the streaming service into thinking you're located in a country where it's available. For example, by connecting to a VPN server in the United States, your device will appear to be browsing from the US, granting you access to F1 TV and all the adrenaline-pumping action it offers.
But that's not all! VPNs also protect your data from hackers, snoopers, and even your internet service provider. With cybercrime on the rise and digital privacy a hot topic, using a VPN not only helps you watch F1 TV from geo-blocked locations but also safeguards your online presence.
Unblocking F1 TV Pro with ClearVPN: A Step-by-Step Guide
Now you might think that setting up and using a VPN for watching F1 in the UK would be a complicated process. But here's the good news — it's incredibly easy, especially when you use a user-friendly VPN service like ClearVPN!
In this section, we'll walk you through unblocking F1 TV with ClearVPN so you can enjoy all the exhilarating Formula 1 action without any more hassle.
Step 1: Sign Up for ClearVPN
The first step is to head to the ClearVPN website and download the ClearVPN app by clicking/tapping the "Download for free" button.
If you're on a mobile device, you can download and install the ClearVPN app from the App Store or Google Play store. ClearVPN offers dedicated apps for Windows, macOS, iOS, and Android, making it easy for you to access F1 TV Pro on any device.
After downloading the app, run the installer and follow the simple installation process to get ClearVPN up and running on your device.
Step 2: Run the ClearVPN app and sign up for an account
Now that ClearVPN is installed, open the app and create an account. While you can start using ClearVPN for free, you'll need to upgrade to a premium/paid account to activate the Streaming access feature.
Step 3: Select Streaming mode in the ClearVPN dashboard
The next step is to log in with your account credentials. Choose Streaming mode in the ClearVPN dashboard.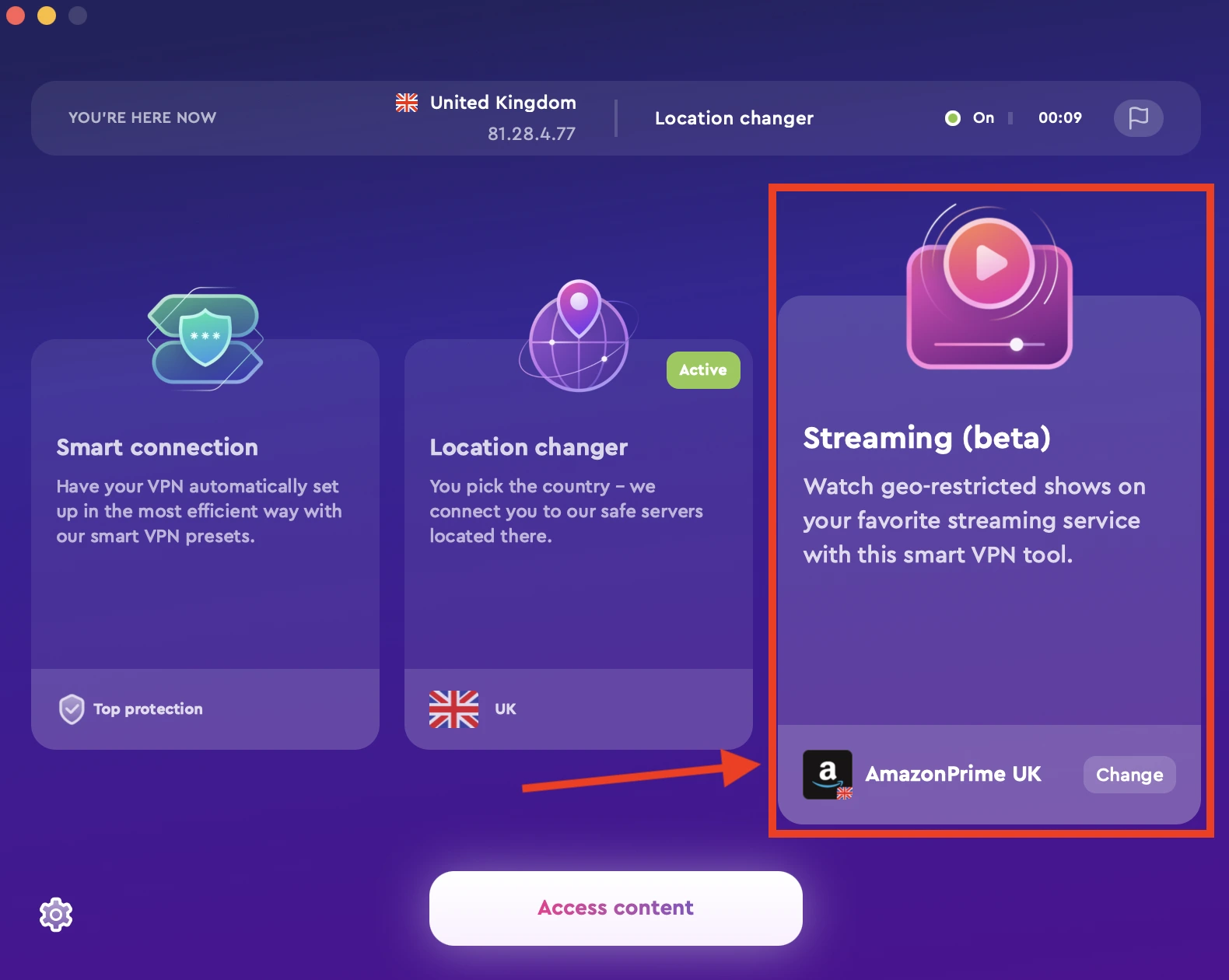 Then, select F1 TV, and within seconds, you'll be connected to the server, effectively masking your IP address and unblocking access to F1 TV Pro in the UK.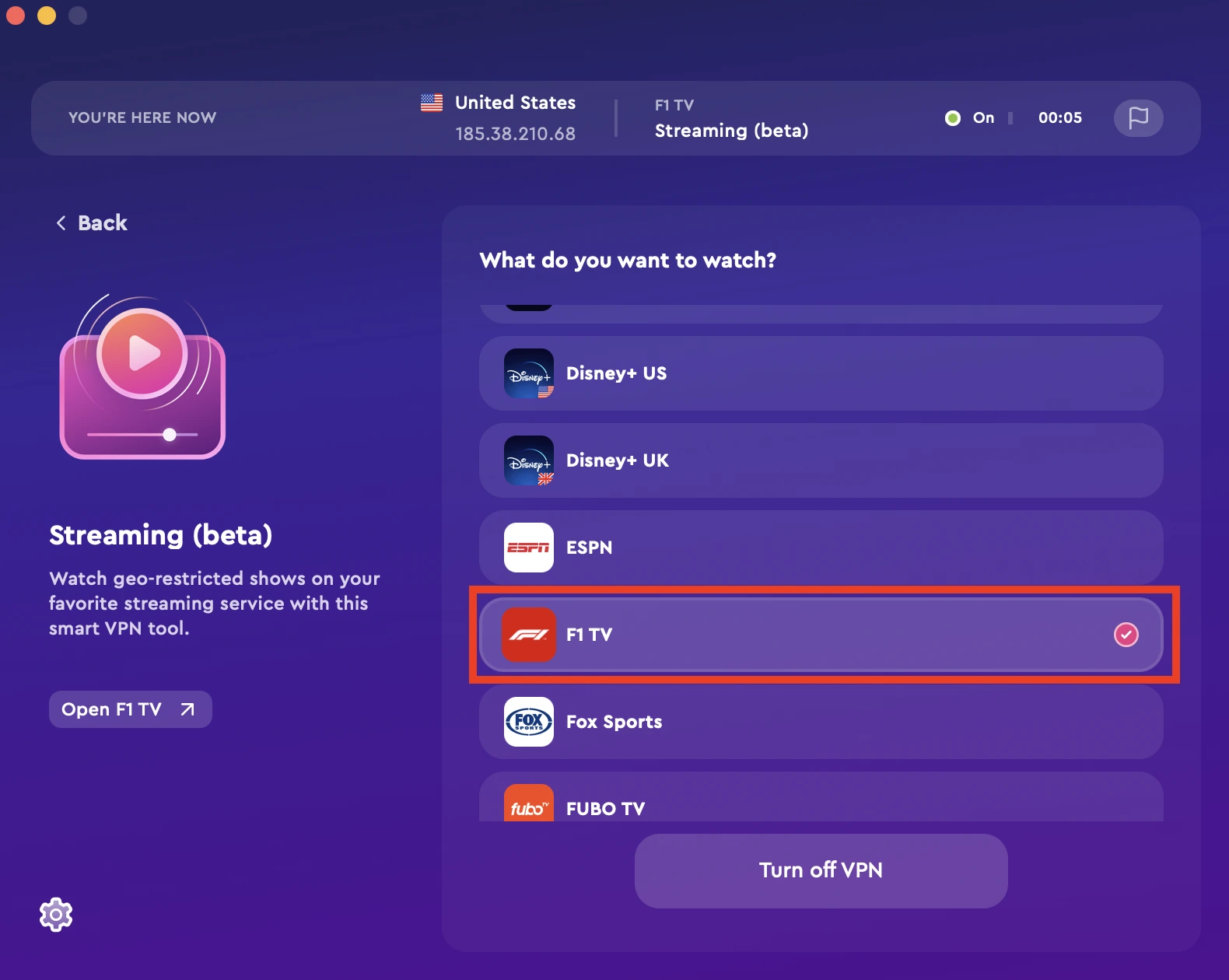 Step 4: Start Streaming F1 TV
With ClearVPN connected, it's time to enjoy the thrilling world of Formula 1! Open the F1 TV website in your browser. You should now have unrestricted access to F1 TV, allowing you to watch live races, highlights, and exclusive content without limitations.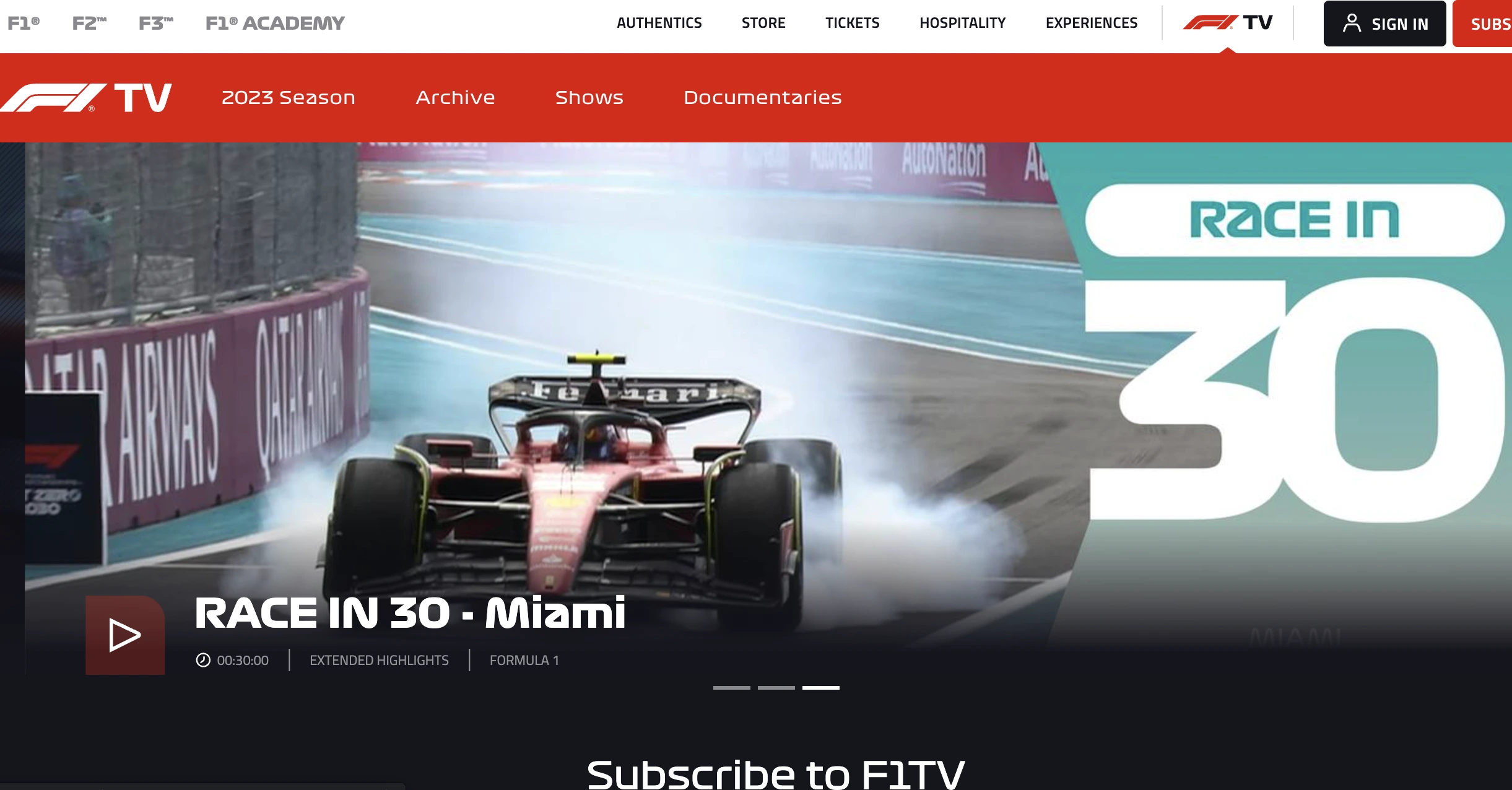 Remember, ClearVPN not only helps you unblock F1 TV but also safeguards your online privacy and security. So sit back, relax, and enjoy the Formula 1 action, knowing that your digital footprint is protected by ClearVPN's top-of-the-line encryption and security features.
F1 2023 Calendar
Now that you know how to access F1 TV Pro with ClearVPN, make sure to mark the following dates on your calendar for an exciting year of Formula 1 action!
May 26-28: FORMULA 1 GRAND PRIX DE MONACO 2023
June 2-4: FORMULA 1 AWS GRAN PREMIO DE ESPAÑA 2023
June 16-18: FORMULA 1 PIRELLI GRAND PRIX DU CANADA 2023
June 30-July 2: FORMULA 1 GROSSER PREIS VON ÖSTERREICH AUSTRIA 2023
July 7-9: FORMULA 1 ARAMCO BRITISH GRAND PRIX 2023
July 21-23: FORMULA 1 QATAR AIRWAYS HUNGARIAN GRAND PRIX 2023
July 28-30: FORMULA 1 MSC CRUISES BELGIAN GRAND PRIX 2023
August 25-27: FORMULA 1 HEINEKEN DUTCH GRAND PRIX 2023
September 1-3: FORMULA 1 PIRELLI GRAN PREMIO D'ITALIA 2023
September 15-17: FORMULA 1 SINGAPORE AIRLINES SINGAPORE GRAND PRIX 2023
September 22-24: FORMULA 1 LENOVO JAPANESE GRAND PRIX 2023
October 6-8: FORMULA 1 QATAR AIRWAYS QATAR GRAND PRIX 2023
October 20-22: FORMULA 1 LENOVO UNITED STATES GRAND PRIX 2023
October 27-29: FORMULA 1 GRAN PREMIO DE LA CIUDAD DE MÉXICO 2023
November 3-5: FORMULA 1 ROLEX GRANDE PRÊMIO DE SÃO PAULO 2023
November 16-18: FORMULA 1 HEINEKEN SILVER LAS VEGAS GRAND PRIX 2023
November 24-26: FORMULA 1 ETIHAD AIRWAYS ABU DHABI GRAND PRIX 2023
FAQs
How can I watch F1 for free in the UK?
F1 TV Pro is a subscription-based streaming service. While you can unblock the service with a premium VPN like ClearVPN, you will still need to pay a subscription to access it.
Is using a VPN to watch F1 TV legal?
Yes, using a VPN is legal in the UK. However, it's essential to understand that accessing F1 TV through a VPN may technically violate the service's terms of use. That being said, many people use VPNs to bypass geo-restrictions and access content not available in their region without any issues.
Are free VPNs suitable for streaming F1 TV?
While there are free VPN services available, they often come with limitations such as data caps, slower speeds, and a limited number of server locations. These restrictions can negatively impact your F1 TV streaming experience. We recommend investing in a reputable VPN service to ensure a seamless and enjoyable viewing experience.