As a fan of quality entertainment, you're probably well aware of the amazing content available on HBO Max. Unfortunately, this streaming service is currently only accessible in a few countries, and Australia isn't currently one of them. But don't worry — there is a way to watch HBO Max in Australia without restrictions!
In this quick guide, we'll show you how to bypass restrictions and gain unrestricted access to HBO Max right from anywhere in the world.
Why is HBO Max not available in Australia?
You must be wondering why HBO Max isn't available in Australia, and we're here to help you understand the reason behind this limitation. Once you know the cause, you'll appreciate the solution we'll offer later on even more.
The main obstacle keeping people from watching HBO in Australia stems from content licensing agreements. These agreements determine which countries a streaming service can display specific content in. They are typically negotiated between content producers (movie studios and TV networks) and streaming services.
In most instances, these agreements are exclusive, meaning only one streaming platform can provide a particular show or movie in a specific region. This exclusivity often results in services like HBO Max being unable to offer their content in certain countries. Moreover, various countries have distinct regulations and standards for broadcasting content, further contributing to the unavailability of some streaming services.
But don't worry; there's a way around this limitation. Using a VPN service, you can unlock access to HBO Max from anywhere globally. Read on as we'll explain how to do this in the following section.
How to get HBO Max in Australia with a VPN?
Now that you understand why HBO Max isn't available in Australia let's dive into the solution —using a VPN to unblock access!
A VPN allows you to create an encrypted connection between your device and a server in another country. This effectively masks your real IP address and makes it appear like you're in the same country as the server. This is especially useful if you want to unblock geo-restricted streaming services like HBO Max, as it allows you to access content only available in certain countries.
In this case, you need a VPN service with servers in countries like the US, Venezuela, and Norway, where HBO Max is currently available. Some reputable VPN services also offer dedicated streaming servers explicitly designed for unblocking access to HBO Max.
Here's how easily you can start doing that with ClearVPN — a fast and user-friendly VPN for Windows, Mac, iOS, and Android devices.
How to watch HBO in Australia using ClearVPN
1. Download and install ClearVPN on your device. You can do this by visiting the ClearVPN website and clicking the "Download for free" button.
Run the installer and go through the on-screen instructions to install the app. If you're on a mobile device, you can download the ClearVPN app through the App Store or Google Play Store.
2. Once installed, launch the ClearVPN app and create an account. Click on the "Create" option or use one of the social login buttons (Google, Facebook, or Apple ID).
Note that while you can start using ClearVPN for free, you'll need a premium account to access our streaming server for HBO Max (more on that in the next steps). The pricing for the ClearVPN app starts from just $3.5 which is much lower than the average price for VPN services.
3. Now that you have an account, you can log on to the ClearVPN service. The next step is to select the "Streaming" feature and click/tap on the "Change" button.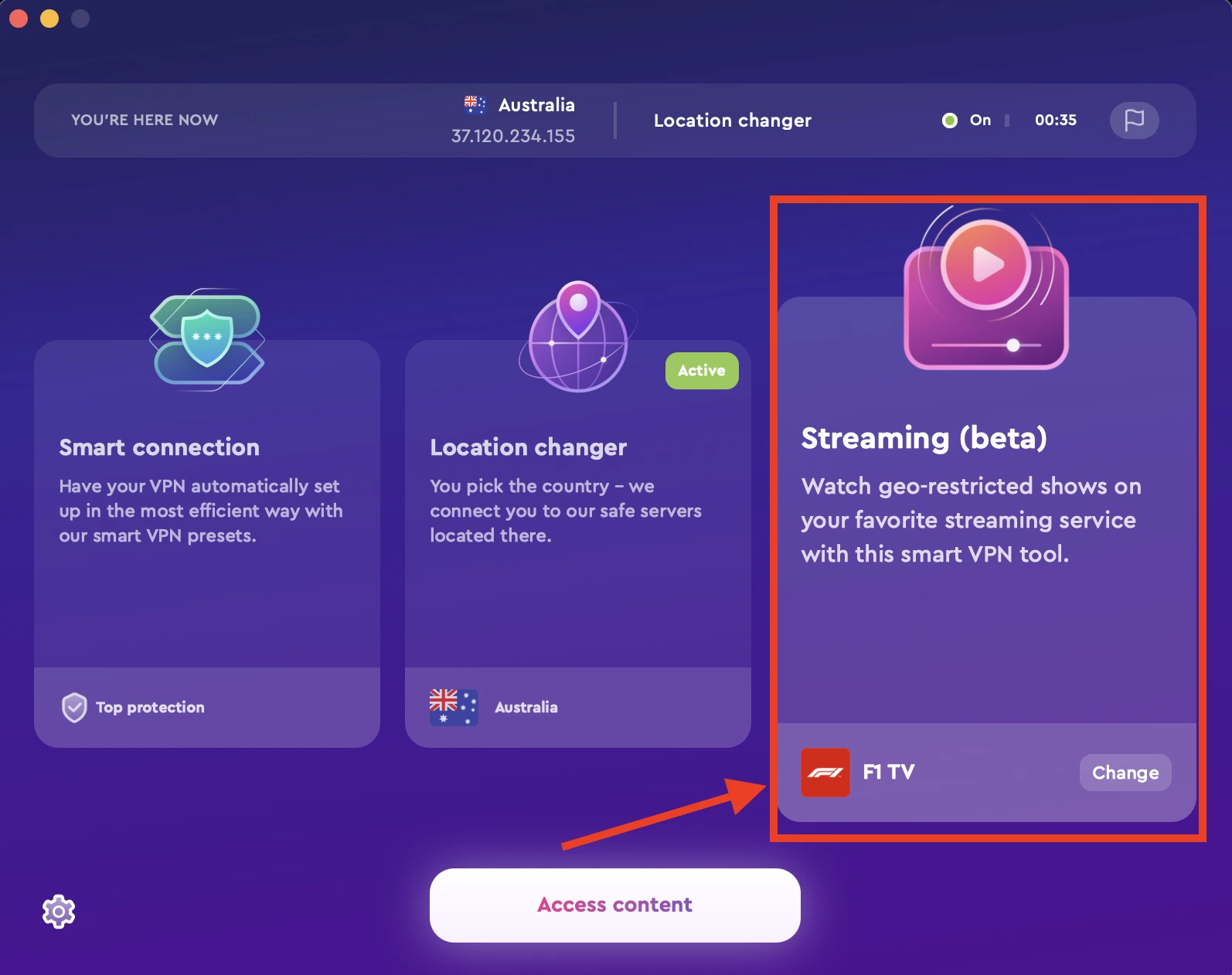 Select "HBO Max" on the list of streaming servers.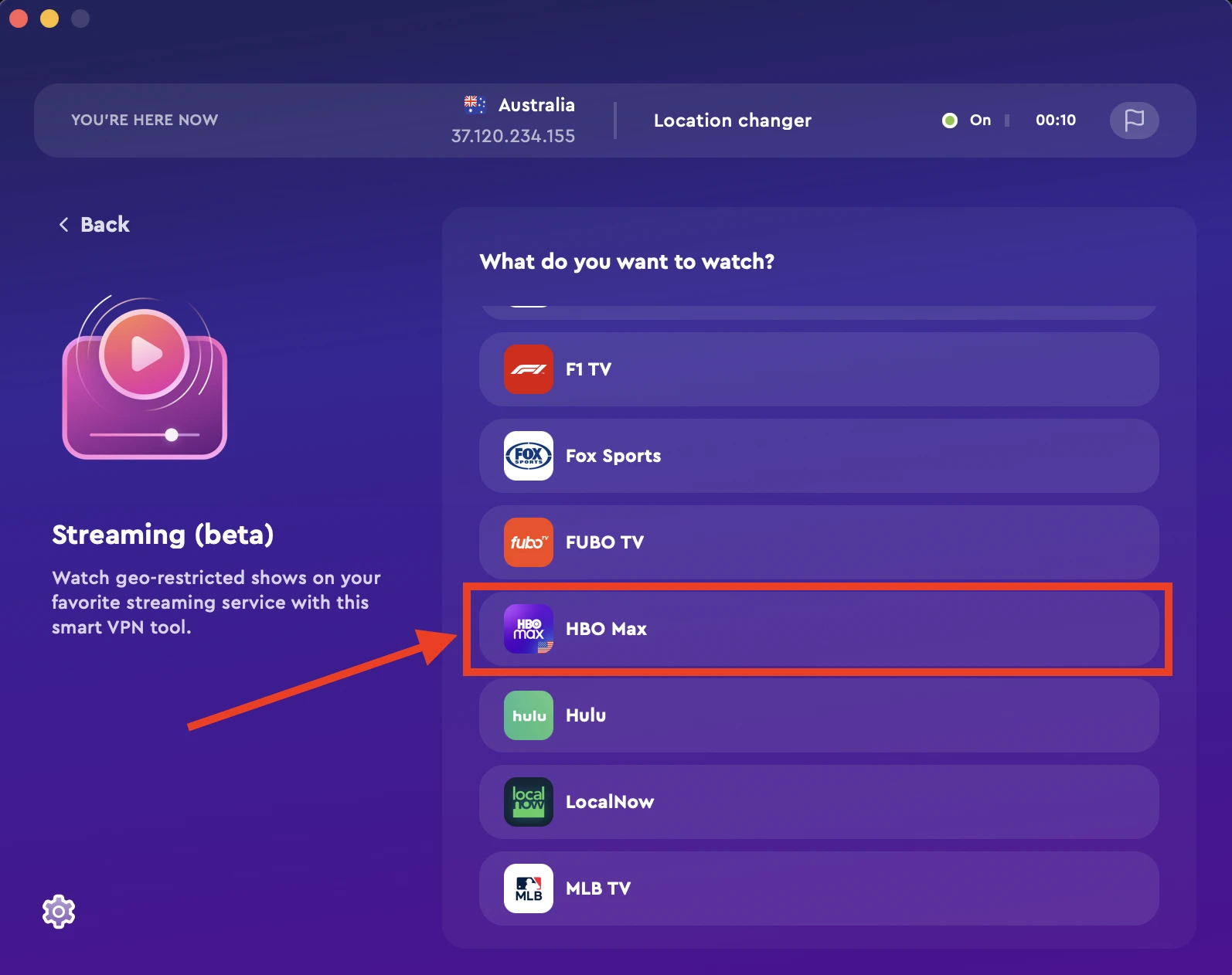 And that's it — you can now access HBO Max from anywhere. Launch the HBO Max app or website on your device. You should now be able to access all of their content without restrictions.
What to watch on HBO Max?
Now that you know how simple it is to unlock HBO Max in Australia using ClearVPN, let's explore the top premiers on the streaming service you shouldn't miss:
Barry: Starring Bill Hader, this dark comedy follows a hitman who stumbles into an acting class and discovers his passion for acting. Juggling both lives, he finds himself in more complicated situations than he ever imagined.
Love to Love You, Donna Summer: This documentary takes you on a journey through the life and career of iconic singer Donna Summer. Experience the rise of disco music and the legendary star that defined an era.
Love & Death: Based on true events, this limited series delves into the tumultuous love affair between two women, culminating in a shocking crime. With Elizabeth Olsen and Lily Rabe leading the cast, expect a thrilling ride.
The Other Two Season 3 Premiere: This acclaimed comedy series features Drew Tarver, Heléne Yorke, and Molly Shannon as three siblings navigating the wild world of showbiz. Watch the trailer on Youtube here!
Absolute Power: In this riveting murder mystery, a powerful businessman's life is endangered when a young girl witnesses a crime and attempts to cover it up. Clint Eastwood, Ed Harris, and Gene Hackman star in this classic thriller.
White House Plumbers: Travel back to the Watergate scandal in this historical drama that unveils the infamous break-in from the perspective of its orchestrators. With Woody Harrelson and Justin Theroux headlining, this series is bound to make waves.
Black Mass: Immerse yourself in Boston's mob underworld with this crime drama featuring Johnny Depp, Joel Edgerton, and Benedict Cumberbatch. Witness the gripping true story of notorious gangster Whitey Bulger as he terrorizes the city.
FAQ
Can I use a free VPN to unblock HBO Max in Australia?
While using a free VPN to unblock HBO Max may be tempting, we advise against it. Free VPNs often have limited server options, slow speeds, and questionable security measures. Moreover, streaming platforms like HBO Max constantly update their security protocols to block VPN connections, making it harder for free VPNs to bypass these restrictions.
How do I pay for HBO Max in Australia?
Subscribing to HBO Max might seem challenging since the platform isn't officially available in Australia. But with some ingenuity, you can still get your HBO Max subscription. One approach is to use a US-based payment method like a prepaid debit card or gift card, which you can buy online.