Have you ever wondered how to tap into the entertainment powerhouse that is Peacock TV from the 'Great White North?' Well fear not! We've put together this guide to walk you through the process of watching Peacock TV in Canada.
Let's jump right in!
What is Peacock TV?
Born from the creative minds at NBC Universal, Peacock TV is a subscription-based streaming service that is quickly growing in popularity, especially in North America. It offers an array of movies and TV shows ranging from the hit NBC show "The Office" to the classic film "Jurassic Park".
Peacock TV prides itself on offering users a wide selection of content for children, adults, and families. With an expansive library of documentaries, comedies, and dramas to choose from, you will never run out of things to watch!
Where is Peacock TV available?
While Peacock TV has quickly grown into a popular streaming service, it is currently only available in the United States and select countries within Europe. This includes the following regions:
United States (Domestic)
American Samoa (U.S. territory)
Guam (U.S. territory)
Northern Mariana Islands (U.S. territory)
Austria
Germany
Ireland
Italy
Switzerland
United Kingdom
Unfortunately, Peacock TV doesn't currently offer direct access to Canadian viewers due to streaming rights and licensing restrictions. But don't lose heart! There are ways to get around this geo-blocking restriction and unblock access to Peacock TV in Canada.
How to get Peacock TV in Canada?
Now that you know the basics of Peacock TV, let's get into how to unblock access to the streaming service in Canada (or from anywhere in the world, for that matter).
Simply put, the easiest way that you can do this is to use what's known as a Virtual Private Network or VPN for short. This tool makes it possible to reroute your data throug a server that's located in a completely different region. That way, the streaming service that you're looking to unblock will think that you're accessing their platform from that region.
So in this case, we would connect to a server region where Peacock TV is available. You can easily do that with ClearVPN — a fast and user-friendly premium VPN service with dedicated servers for unblocking popular streaming services like Peacock TV.
You need only follow a few simple steps:
1. Of course, the first step is to download and set up the ClearVPN app on your device. You can do that from the ClearVPN website, or the Google Play Store/Apple App Store, if you're on a mobile device.
2. Run the ClearVPN app and sign up for an account. While you can start using ClearVPN for free, you do need a premium/paid plan to access the Streaming feature (a selection of dedicated streaming servers).
3. Log on to ClearVPN and select the "Streaming" mode, then click/tap on the "Change" button.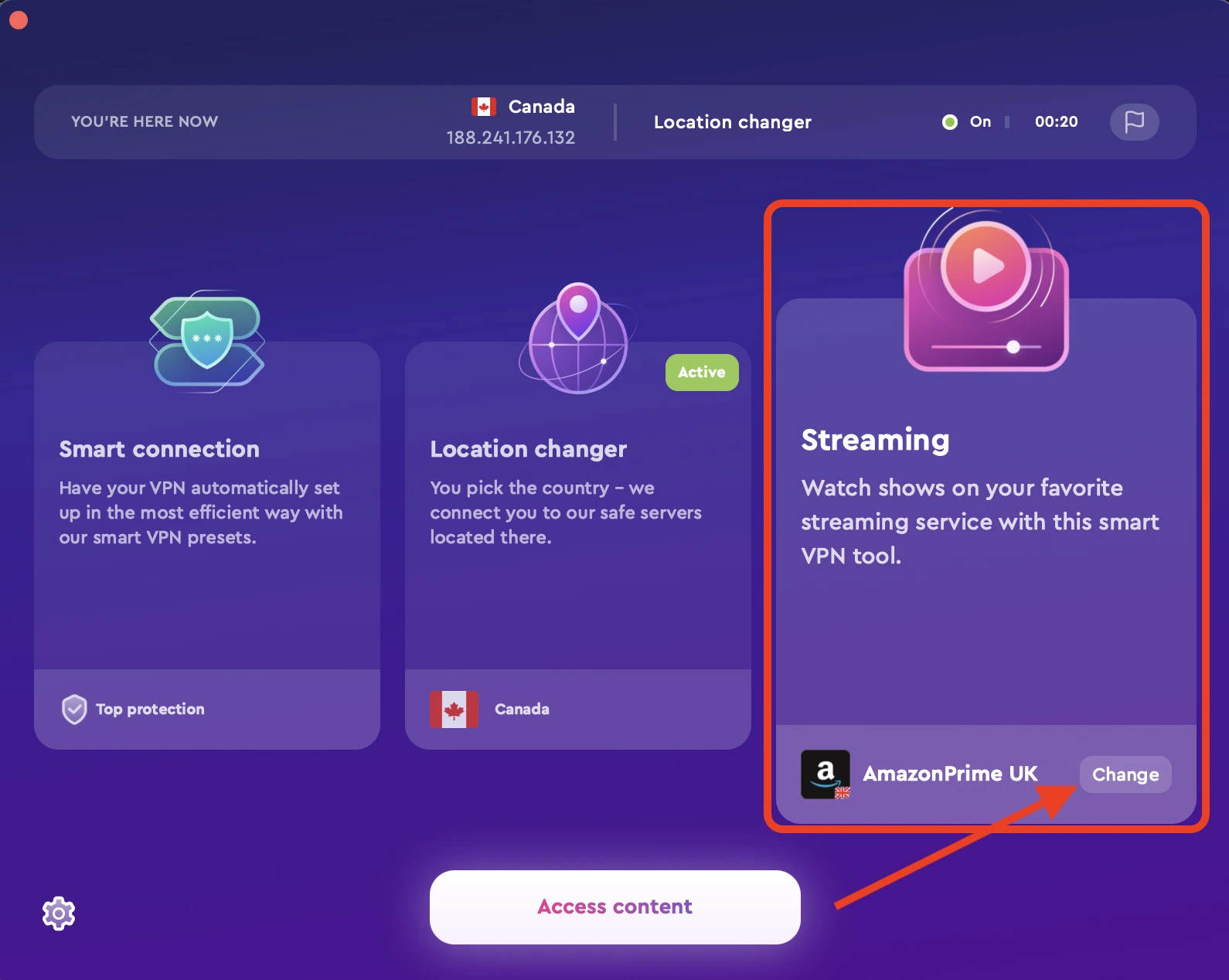 4. Next, select Peacock TV from the list of streaming services.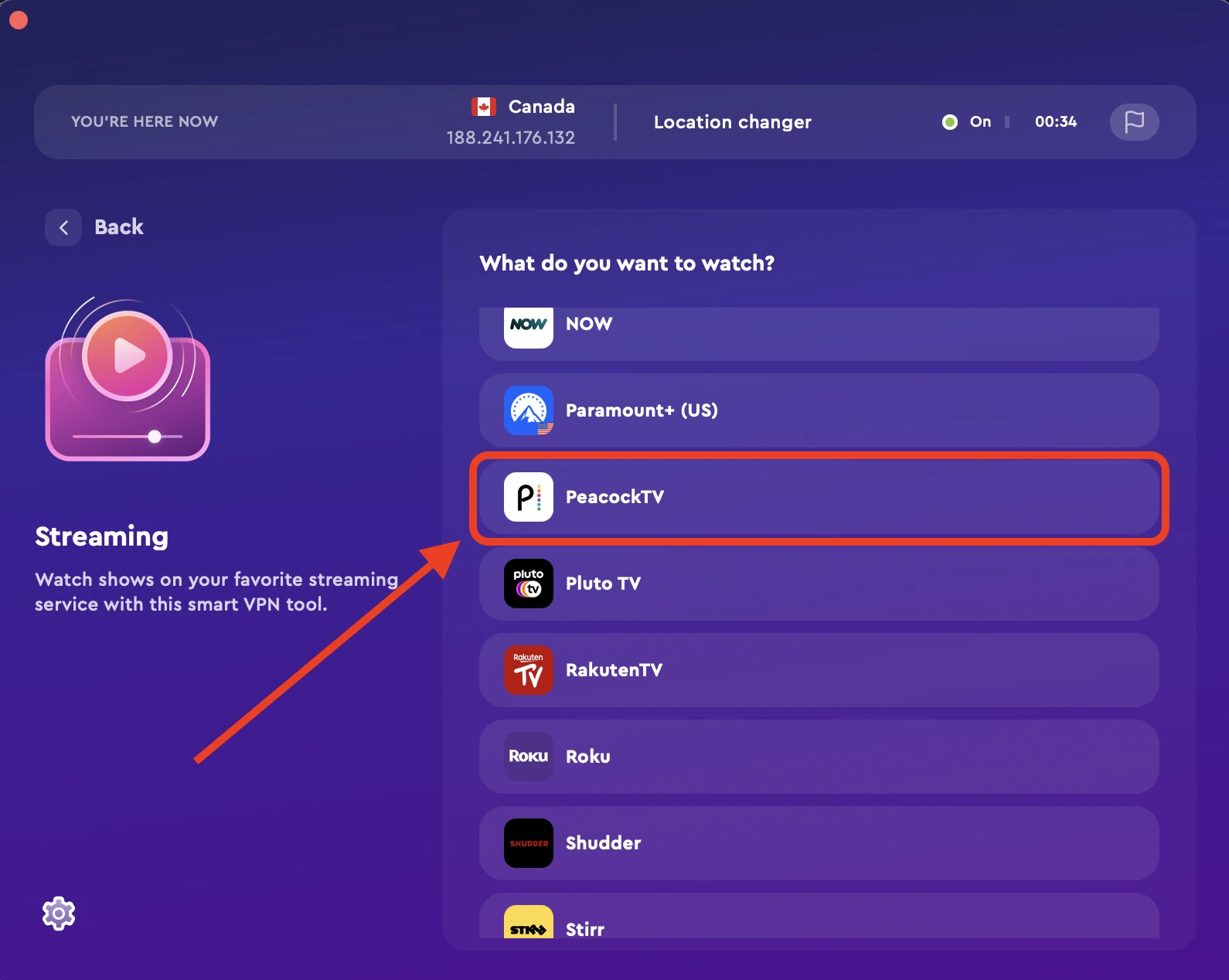 And that's it! You should now be able to access Peacock TV's library of content with ease.
What to watch on Peacock TV in Canada?
Now that Peacock TV is within reach, you might be wondering what to watch. From the latest hit movies to binge-worthy TV shows, Peacock TV has something for everyone.
Here are a few of our top picks:
The Ark
A stunning science-fiction drama series directed by legendary "Stargate" creator Dean Devlin. The story revolves around a group of astronauts on a mission to find a new home for humanity following a global catastrophe. A must watch for all sci-fi fans!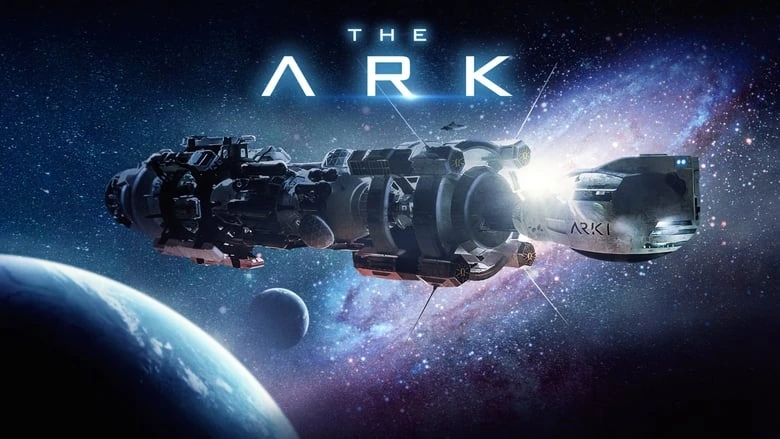 Mrs. Davis
A science fiction comedy-drama series by Tara Hernandez (The Big Bang Theory) and Damon Lindelof (Lost), Mrs. Davis follows the story of ousted nun Sister Simone and her quest for vengeance against a powerful artificial intelligence by the name of (you guessed it) — Mrs. Davis! Expect a wild ride filled with loads of laughs.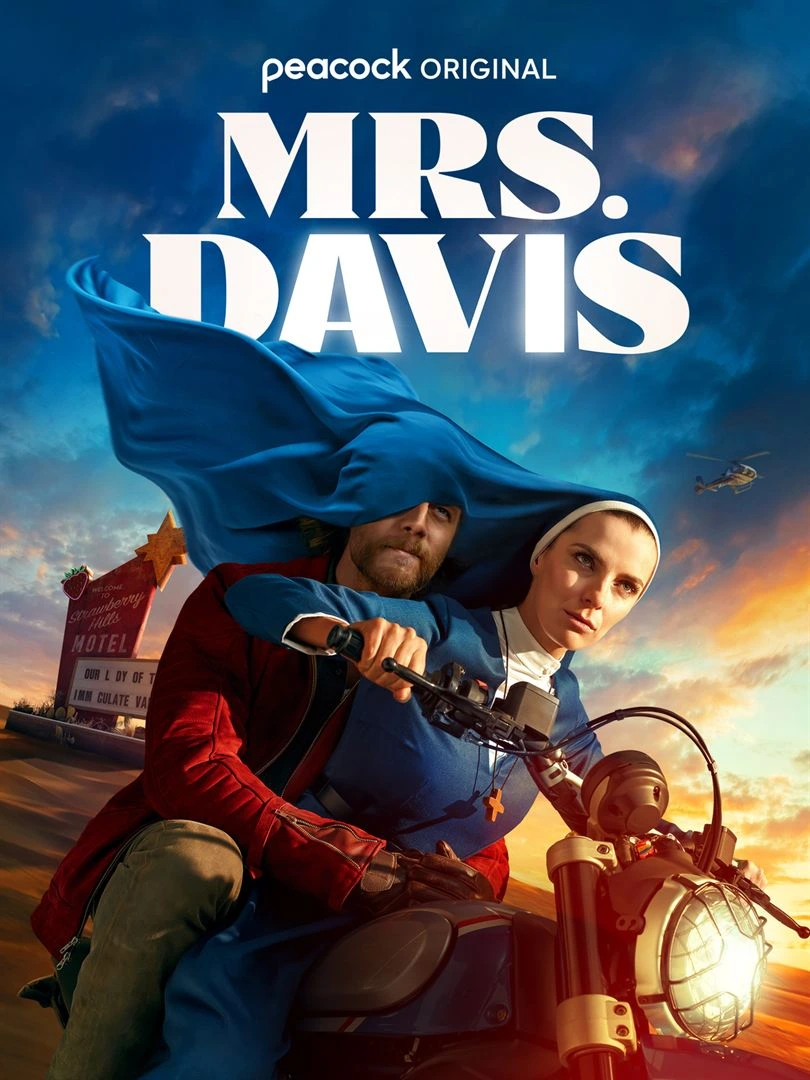 Bupkis
A comedy-drama series that follows the story of struggling comedian Pete Davidson who moves back in with his family to work on his career. A great watch for anyone looking for a heartwarming story about the power of family and friendship.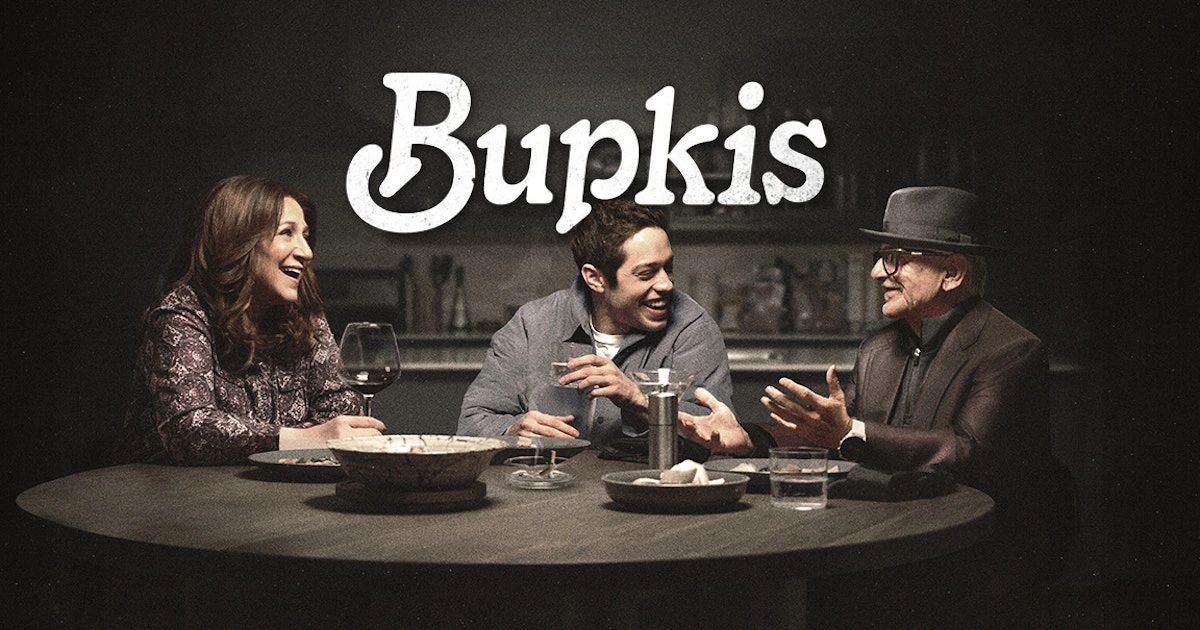 Based on a True Story
A quirky comedy series that explores America's obsession with true-crime stories. Follow the story of a married couple (Chris Messina and Kaley Cuoco) as they capitalize on true crime podcasting, only to get caught up in a chilling murder mystery.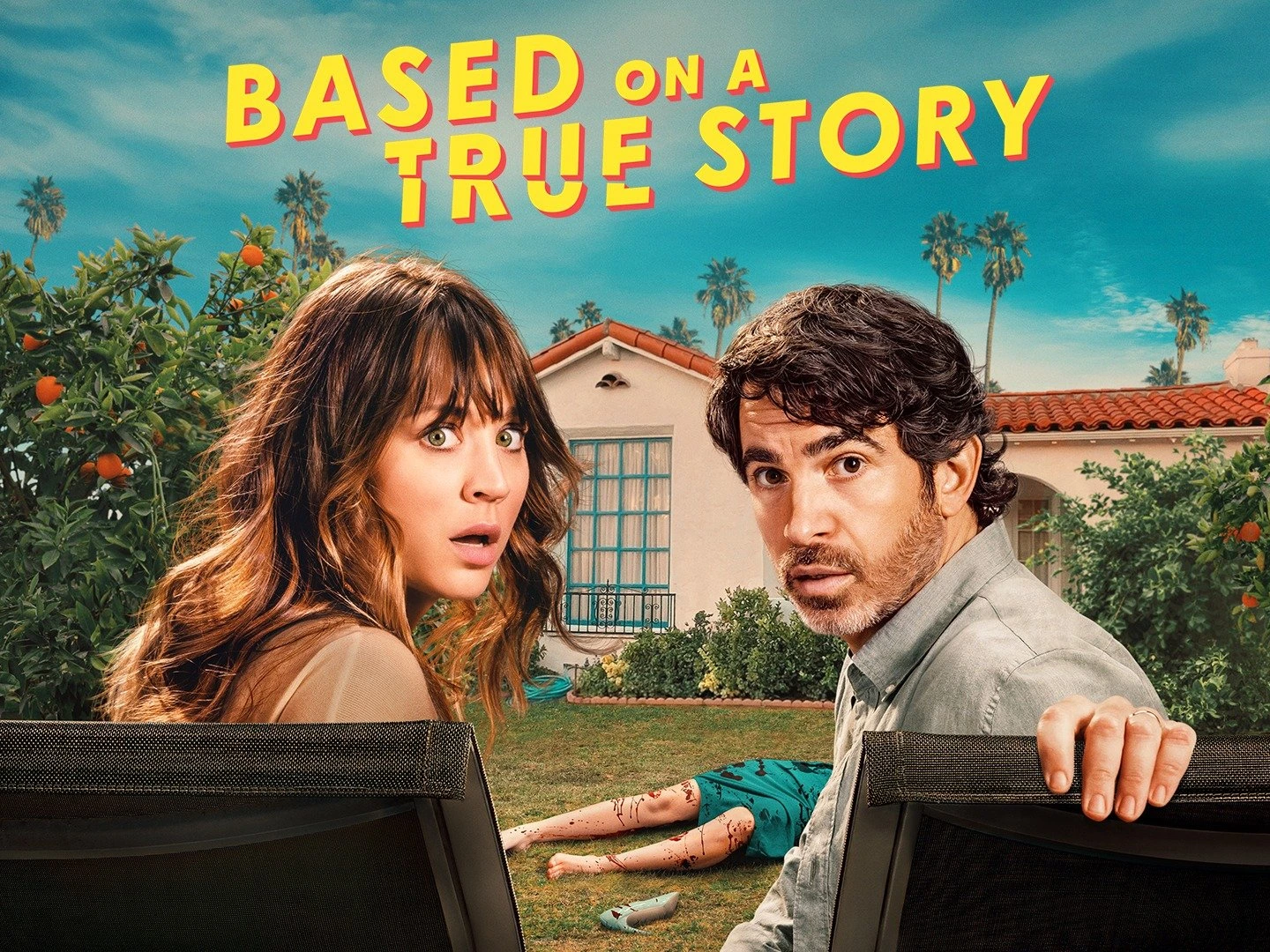 Superstore
If you're looking for a good laugh, Superstore is the series to watch. The show follows the lives of employees in a fictional big-box store called Cloud 9 and all its zany antics.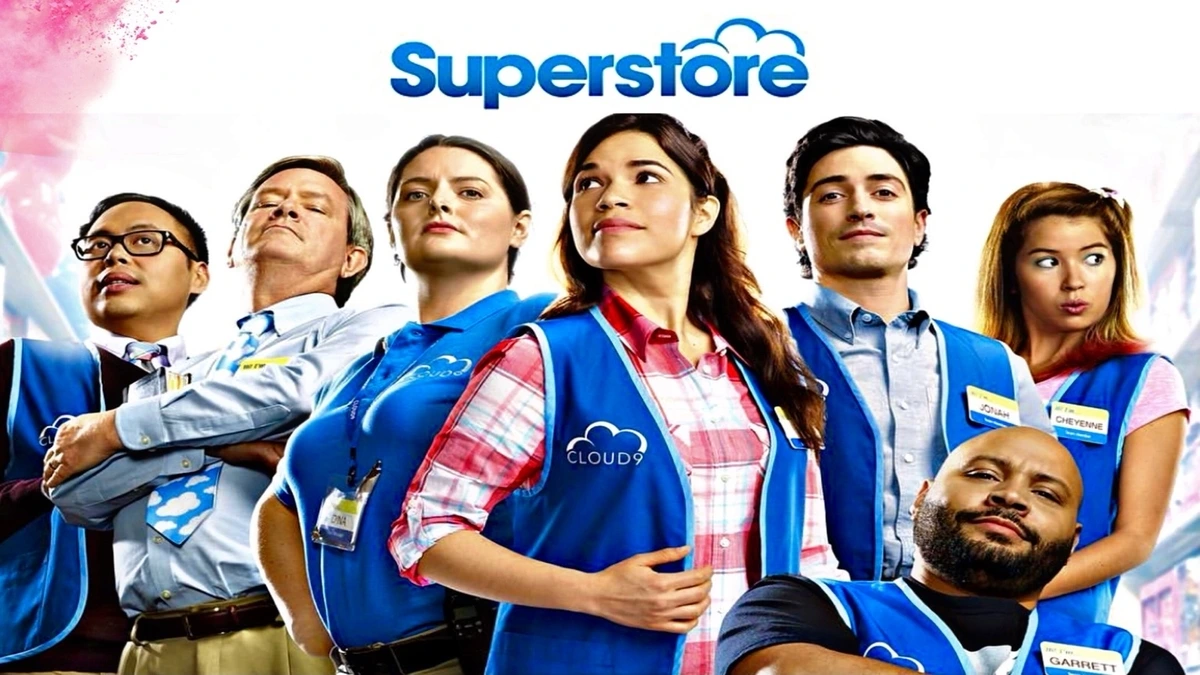 FAQs
Is Peacock TV available in Canada?
Not directly, due to streaming rights. But with a trusty VPN, you can easily circumvent these restrictions.
How much is Peacock TV?
The cost of a Peacock TV subscription starts at $5.99 a month plus tax or $59.99 per year plus tax depending on the region.
How can I pay for Peacock TV in Canada?
If you don't have a U.S. payment method, you can sign up for a virtual U.S. prepaid card to skirt around payment restrictions. Alternatively, you can use an iTunes gift card to sign up for a Peacock TV subscription.