TikTok, the globally popular social media platform that's taken the world by storm with its short, catchy video format, now faces a possible ban in the United States. This news has sent a ripple of concern through the millions of users who regularly use the app for entertainment and connection. But why is this happening? Will a TikTok ban in US really happen?
In this article, we delve into the reasons behind this uncertainty and explore the potential outcomes for TikTok in the US. We'll also take a closer look at what you can prepare to do to bypass a potential ban, continuing to use the app regardless of the powers-that-be.
Why is TikTok getting banned?
First things first: why is TikTok banned in the first place? Why is the app facing a possible ban in the US? These are good questions, especially if you're an avid user of the app.
So why does the US want to ban TikTok?
The short answer is security concerns. TikTok, owned by Chinese company ByteDance, has been accused of sharing user data with the Chinese government, thereby potentially posing a threat to national security in countries where the app operates. This has led to an ongoing investigation by the US government into the app's privacy practices and data collection policies.
But why would this be a problem? Imagine you're a TikTok user who frequently shares videos about your daily life. Over time, the app will collect data about your preferences, habits, and even your locations. If this information ends up in the wrong hands, it could pose a significant privacy risk.
TikTok banned in Montana: A precursor to a nationwide ban?
In a groundbreaking move, Montana became the first state to implement a ban on TikTok. Gov. Greg Gianforte ratified Senate Bill 419, aiming to safeguard Montanans' private information from being exploited. He identified the threat as the Chinese government itself, stating, "[That] the Chinese Communist Party [is] using TikTok to spy on Americans, violate their privacy, and collect their personal, private, and sensitive information is well-documented." (SOURCE?)
Though there is yet no tangible evidence of the Chinese government accessing TikTok's user data, critics highlight Chinese laws that permit governmental access to a company's customer records as a cause for concern.
Pursuant to Montana's new measure, platforms like the Google Play Store and Apple App Store, which provide access to TikTok, will be subjected to daily fines of up to $10,000 for any violation.
The state ban is set to become effective starting from January 1st, 2024. It is anticipated that TikTok will contest the bill in the federal court as unconstitutional, a claim supported by groups such as the American Civil Liberties Union. They argue that banning TikTok in US would infringe upon the First Amendment rights of American citizens.
If the state ban stands, it could set a precedent for a complete TikTok ban in US. Other states may follow in Montana's footsteps, and the federal government itself may also decide to take action.
Is TikTok getting banned in the US just the beginning?
Now, to be clear, The United States isn't the only country grappling with concerns about TikTok. Several nations, including India, Indonesia, Bangladesh, and Nepal, have already banned the app. These bans underscore the universal nature of the data privacy issues associated with TikTok.
This follows a pattern of growing international concern over TikTok's privacy practices. The U.K. penalized TikTok nearly $16 million for mishandling the data of minors. Meanwhile, in the U.S., President Biden banned the app from government devices last December. An all-out ban is currently under consideration if ByteDance, TikTok's parent company, fails to secure an American buyer.
The U.S. and its "Five Eyes" security partners — Australia, Canada, New Zealand, and the United Kingdom — have all already banned TikTok from federal government devices, citing national security concerns already mentioned.
TikTok banned in US: What can you do about it?
If you're a TikTok user worried about a potential ban in the U.S., one solution is to use a Virtual Private Network (VPN). Using a VPN routs your internet connection through a server located in a different geographical location. This process masks your actual location, making it appear as if you're accessing the internet from the location of the VPN server. This trick can allow you to bypass geographical restrictions and continue using TikTok even if it's banned in your location.
One VPN that users have found to be effective is ClearVPN — a Ukraine-based premium VPN service that offers a range of servers located in various countries around the globe. Users can choose to route their connection through any of these servers, thus gaining access to apps and services that may be restricted in their actual location.
For example, let's say that the US does ban TikTok, but the same never occurs in Canada. By using ClearVPN and routing your connection through a Canadian server, you may still be able to access TikTok without any issues.
So with ClearVPN, all you have to do is run the ClearVPN app and go to the "Location changer" shortcut.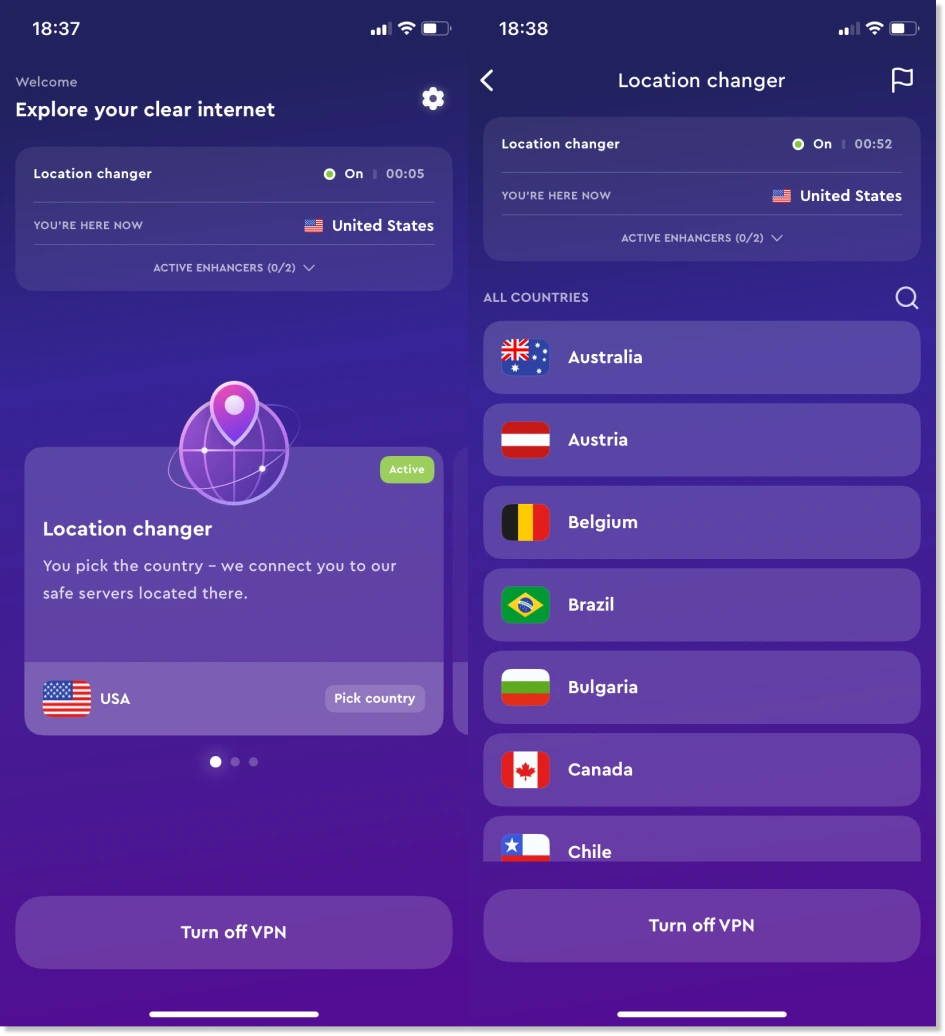 Then select the United States ( there are lots of servers) or choose Canada. (or any other country/region where TikTok is still accessible).
Of course, these are all hypothetical scenarios, and we can't say for sure whether or not TikTok will actually get banned in the US or if Canada won't follow suit. Still, it should give you an idea of how a VPN could potentially help bypass any restrictions on using the app.
So whether you're a casual user or a TikTok influencer, it's important to stay informed about the ongoing situation and have contingency plans in place.
FAQs
Is Congress trying to ban TikTok?
Yes, there have been ongoing discussions in Congress considering banning TikTok due to data security concerns raised by lawmakers and experts alike. These concerns revolve around the potential risks associated with the personal information of millions of users being stored and accessed by (potentially nefarious) foreign governments.
Which countries have banned TikTok?
Several countries have already banned TikTok due to security concerns, including India, Indonesia, Bangladesh, and Nepal. Other countries like the U.S., Australia, Canada, New Zealand, and the U.K. have banned it from government devices.
Will TikTok be banned from Europe?
While there are concerns regarding data security, as of now, there are no concrete plans to ban TikTok in Europe. However, the European Union has expressed concerns about the app's data privacy practices.