With over 75 million active users, Tinder is by far the most popular online dating app globally. However, is Tinder safe? Can your quest to find your soulmate end up with you falling victim to a scam or, even worse, risking your personal safety?
Read on to find out more about the safety of Tinder and how to ensure that you can use the app as safely as possible.
What is Tinder?
Tinder is an online dating app that changes how people traditionally date. Instead of meeting potential partners physically, you sign up and start swiping photos from a pool of candidates that you might be interested in. You can start pairing with potential partners on Tinder for free, but its Premium subscription offers features to help you find the perfect match more efficiently.
Tinder uses profile data such as gender preference, location, age, and distance to present users with photos of potential matches. When two users indicate mutual interest by swiping right, the app pairs them up and allows them to initiate conversations through a chat. With the right chemistry, the couple might end up meeting in real life and take their relationship to the next level.
Is Tinder safe?
Like any online dating app, Tinder can be risky for users who let their guard down on the internet. When you're attracted to a profile photo, it might be easy to ignore that it could be a criminal preying on potential victims. In some cases, an attractive partner who is amicable in chatting could also turn out to be a bot that tries to infect your device with malware.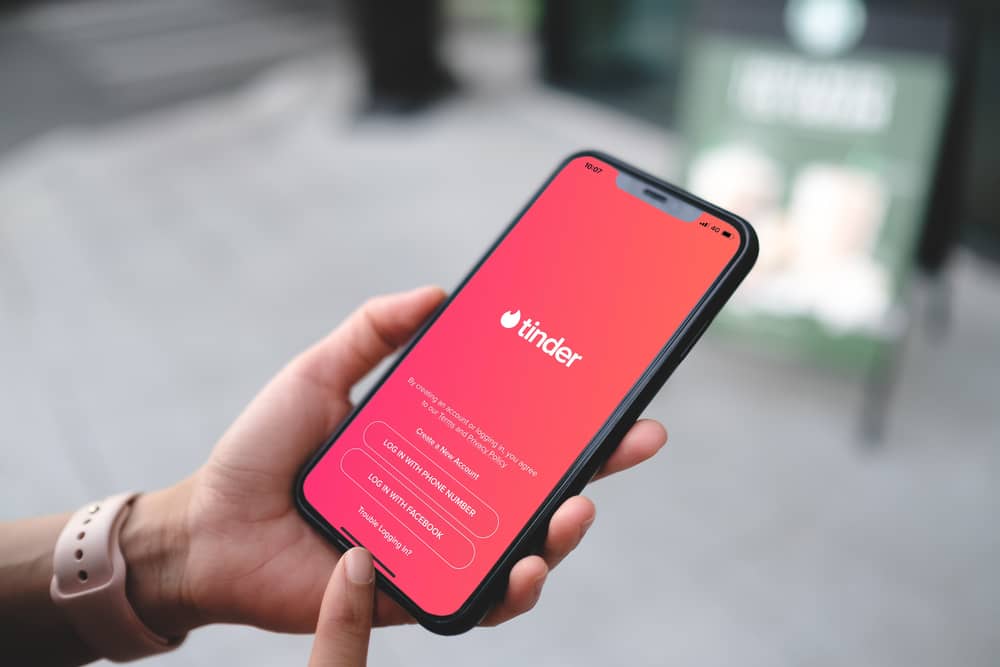 For example, in 2016, Tinder users were hit by a spam bot under the guise of "Tinder safe dating." The bot used artificial intelligence to chat naturally and pretended to be a real individual. It then convinced users to click on a link, apparently to vet the partner for criminal records (the "safe dating" part). When users did so, they were asked to sign up for the "free service" and enter their payment details, only to find that the next month they were billed over $100 for the service and then unintentionally subscribed to an adult entertainment site.
Unfortunately, falling victim to a scam that results in financial loss is not the worst that can happen. Meeting up with virtual partners is often a celebrated milestone, but not for these victims who met their untimely ends after using Tinder.
Tinder's convenience allows people to match and meet easily, but also makes it exploitable. It doesn't take much to create a fake profile and use the platform to exploit unsuspecting and lonely victims. With that said, safe dating on TInder is a shared responsibility between the users and the company.
Is there a Tinder privacy policy?
As an online dating service, Tinder collects highly-personal information from its registered users and is obligated to protect it from security breaches. Tinder spells out what information is collected, how it's used, and the protectionary measures the company takes to ensure its integrity in its privacy policy.
Generally, the platform collects information when you complete your profile, make payment, and interact with the app. Besides using the information to pair you up with potential partners, Tinder also shares the collected data with promotion partners and advertisers. The app ensures robust protection of the stored data to ensure your Tinder privacy is secured at all times.
Are there any Tinder safety features?
Tinder is well aware of the safety concerns of its 75 million monthly active users and has introduced features to minimize the risk of online dating.
Photo verification – Look for the blue tick on the profile picture amongst your potential matches. The blue tick indicates that the user has verified that they are not bots by submitting a couple of selfies with specific poses.
Message reporting – If you receive inappropriate messages such as spam, discrimination, and harassment, you can click on an automated prompt to report the user.
Noonlight panic button – This feature helps to keep you safe when you meet your date in real life. If you feel that you're in danger, press the panic button, and Tinder will send a discrete help signal to the local police with your location.
Criminal check – A recent inclusion that helps Tinder users vet potential partners for past criminal records.
What Is Tinder safe dating
Tinder safe dating is about practicing preventive measures and being self-vigilant when using the dating platform. Granted, people might be gullible when they are charmed by potential partners. Some scammers take advantage of this vulnerability to abuse your trust.
By staying on your toes, you can make Tinder a safer place for connecting and meeting strangers. For example, you can learn to identify red flags, such as spam bots pretending to be legitimate Tinder services or an attractive stranger demanding passwords in the chat.
Top Tinder safety tips
Here are more tips to ensure your safety while pursuing romance or short-term flings on Tinder.
Don't reveal personal information, bank information, or give money to strangers on Tinder. You'll never know if it's a scammer looking for a potential victim via cleverly-crafted words.
Arrange your first meetup in a public place. Let your friends or family know where you're meeting your date and when you'll be back home.
Do some background checks of your own. For example, reverse search the profile pic and see if there's anything suspicious.
Take note of Tinder's in-app safety features we've mentioned and learn how to use them to protect yourself.
FAQs
How safe is Tinder?
Tinder is reasonably safe as long as you're cautious about how you interact with strangers on the app. You shouldn't trust anyone on Twitter just because they look attractive in pictures, nor be convinced into parting ways with money or banking passwords through sympathy-inducing narratives.
Can Tinder be trusted?
As an online dating company, Tinder is free from adverse incidences that erode users' trust. However, unscrupulous parties use the platform to scam users and commit crimes. For example, scammers set up fake profiles to get victims emotionally invested before requesting money from them.
Is it safe to give WhatsApp number on Tinder?
It depends on how trustworthy your potential partner is. If the opposite number asked for your Whatsapp number in the first few conversations refuse firmly and politely. This is often a red flag that you're chatting with a scammer. Wait until you're comfortable and on solid footing with your match before giving your number away.
Don't be discouraged from finding your soul mate on Tinder just because of a few unfavorable experiences of others. Like physical dating, there are blindspots in online dating apps. We've shown you Tinder safety tips that make meeting new people on the platform less risky. Give love a chance and date away with Tinder.