If you've been wondering, "what happened to Popcorn Time?" and seeking an alternative to the popular free streaming site, you're not alone. The popular streaming service closed its doors in 2022, leaving a multitude of movie and series enthusiasts searching for their next best option.
That's where this comprehensive guide comes in — join us as we check out some of the best alternatives to Popcorn Time that you can't afford to miss. Let's get started!
What happened to Popcorn Time?
First, let's address the elephant in the room: what happened to Popcorn Time? You're not alone in your confusion.
Popcorn Time, often dubbed "the free Netflix," was a beloved platform for movie buffs worldwide. Its vast library of films and TV shows, coupled with an intuitive interface, made it a go-to choice for many. However, due to numerous copyright infringement issues, Popcorn Time was forced to shut down in 2022.
Most people don't know, however, that Popcorn Time's closure was not due solely to copyright lawsuits. There were also disagreements over monetization and, as a result, key developers jumping ship. A contingent of these developers were pushing to introduce a pay-per-view system to complement the free streaming model.
And while some Popcorn Time "forks" are still active (cloned open-source versions), the streaming experience is nowhere near as good as the original in terms of content and usability. Fortunately, movie and series fans still have plenty of great free alternatives. Lets look at some of the best ones below.
Alternatives to Popcorn Time You'll Love
Stremio
While Stremio is not exactly an app like Popcorn Time, it does offer a similar streaming experience. Not a streaming platform in the classic sense, Stemio provides access to a vast content library including movies, TV shows, and even Live TV channels through add-ons.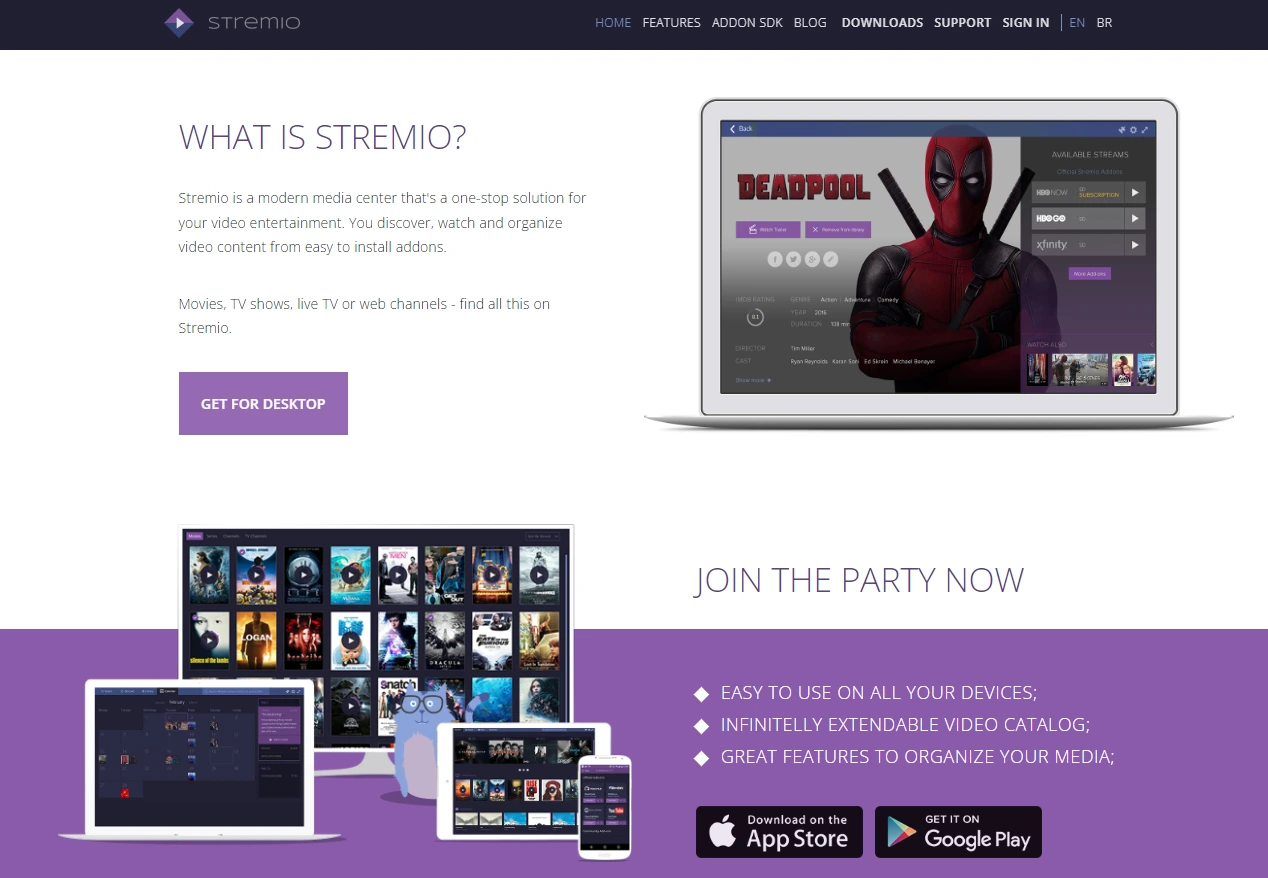 One good example is the Bit Torrent add-on which allows you to stream torrent content, greatly expanding your streaming options. Granted, this streaming platform is not well-optimized, so users will need a fast internet connection for a smooth streaming experience (at least 25 Mbps for 4K streaming). Still, in the world of streaming, this is not extremely abnormal.
Kodi
Kodi, a renowned open-source media player, is a versatile and powerful alternative to Popcorn Time. Like Stemio, it works a bit differently from your typical streaming service. It uses third-party add-ons for managing video sources and does not offer movies/TV shows directly. Instead, it acts as a hub where you can organize and play all your media.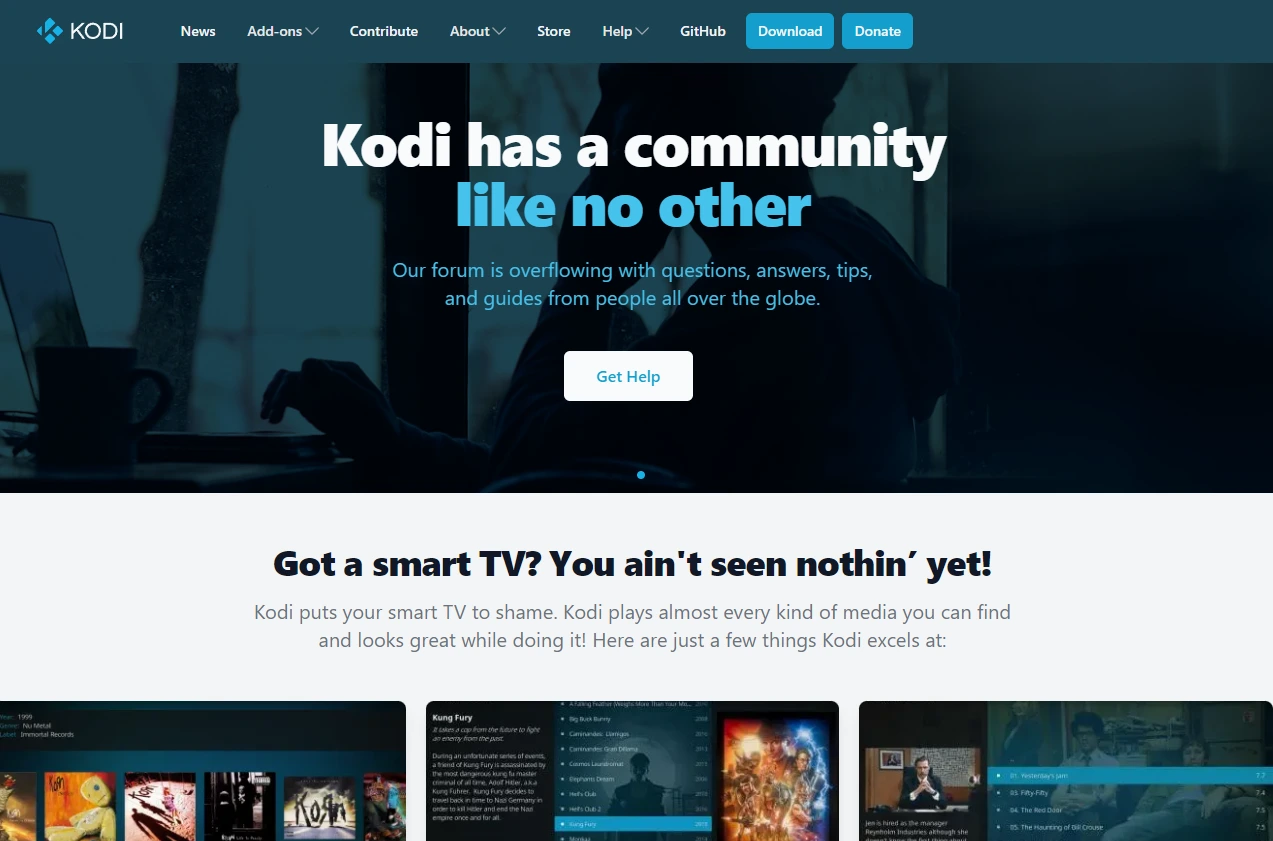 Among Kodi's major advantages is its highly customizable nature. You can tailor the interface to suit your personal preferences, add skins, etc. Many users also praise its compatibility across multiple devices. Whether you operate withWindows, Linux, macOS, iOS, Android, or even Raspberry Pi, Kodi has got you covered.
That said, Kodi's highly customizable nature can also be a drawback, especially for users who aren't tech-savvy. If you're looking for an alternative that is straightforward and "ready to use, " then you should look at other options on this list.
Additionally, while Kodi itself is legal, some third-party add-ons can stream pirated content. Users should be cautious and ensure they're using legal and official add-ons to avoid copyright infringement issues.
Putlocker
When it comes to online streaming, Putlocker is a name that has consistently stood the test of time. While it may not boast the same modern aesthetic as Popcorn Time, it more than compensates with a vast library of content. From the latest blockbusters to a vast collection of classics, foreign films to popular current TV series, Putlocker has something for everyone.
Of course, it also helps that Putlocker's approach to user experience revolves around simplicity and functionality. The interface is pretty straightforward and makes it easy for users to find their favorite movies and TV shows. One good example is its homepage which offers categories like trending, top-rated, and recently added content.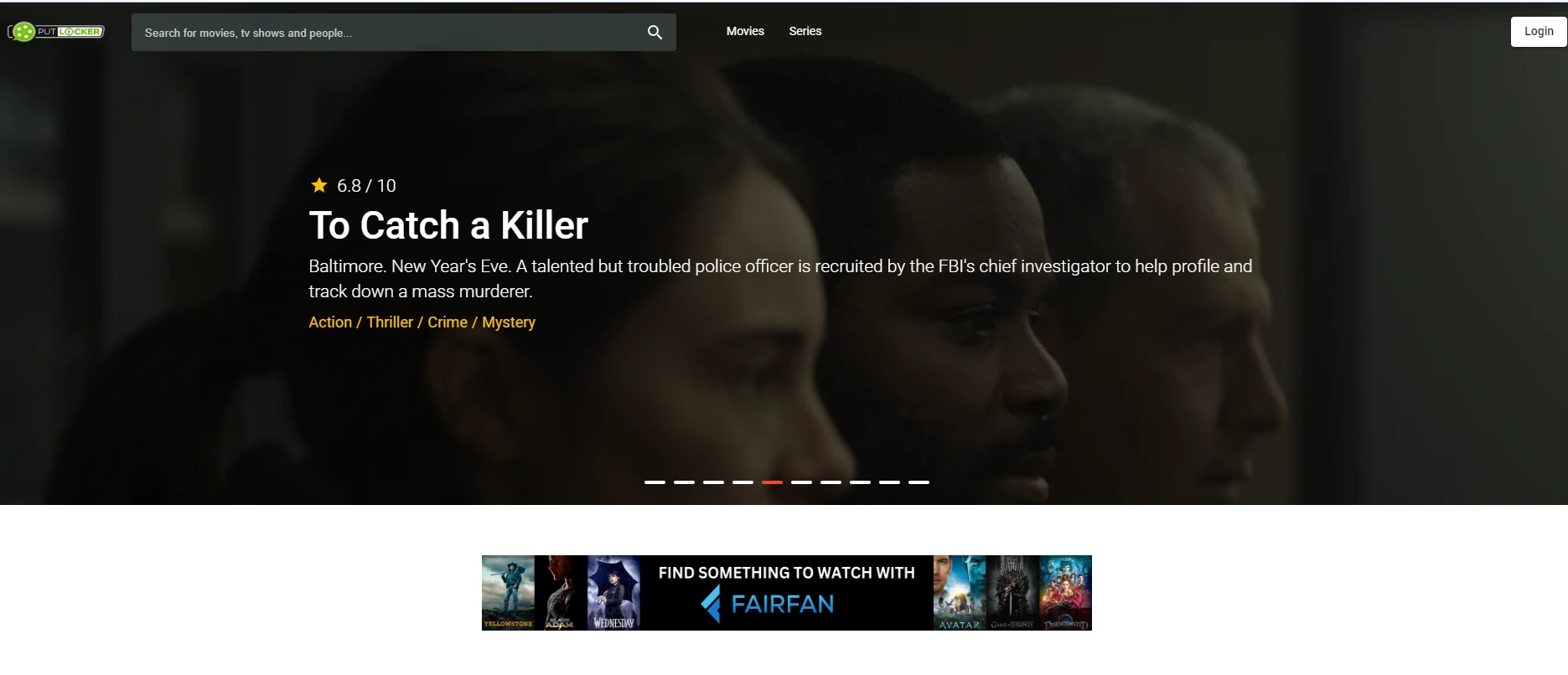 Additionally, Putlocker does not require any registration or subscription, allowing you to dive straight into your favorite content. This ease of access is a major draw for many users, making Putlocker a go-to platform for hassle-free streaming.
But while Putlocker is a great alternative to Popcorn Time, it isn't without its downsides. Given its free nature, the site relies heavily on ads for revenue. This means users often must navigate through multiple pop-ups before accessing the desired content. Moreover, since Putlocker hosts copyrighted content without authorization, its legality is questionable.
Plex
Users who already have an extensive personal media library might want to consider using Plex as a Popcorn Time alternative. Unlike other services, Plex empowers you to organize and stream your own content across multiple devices, offering a unique and seamless viewing experience.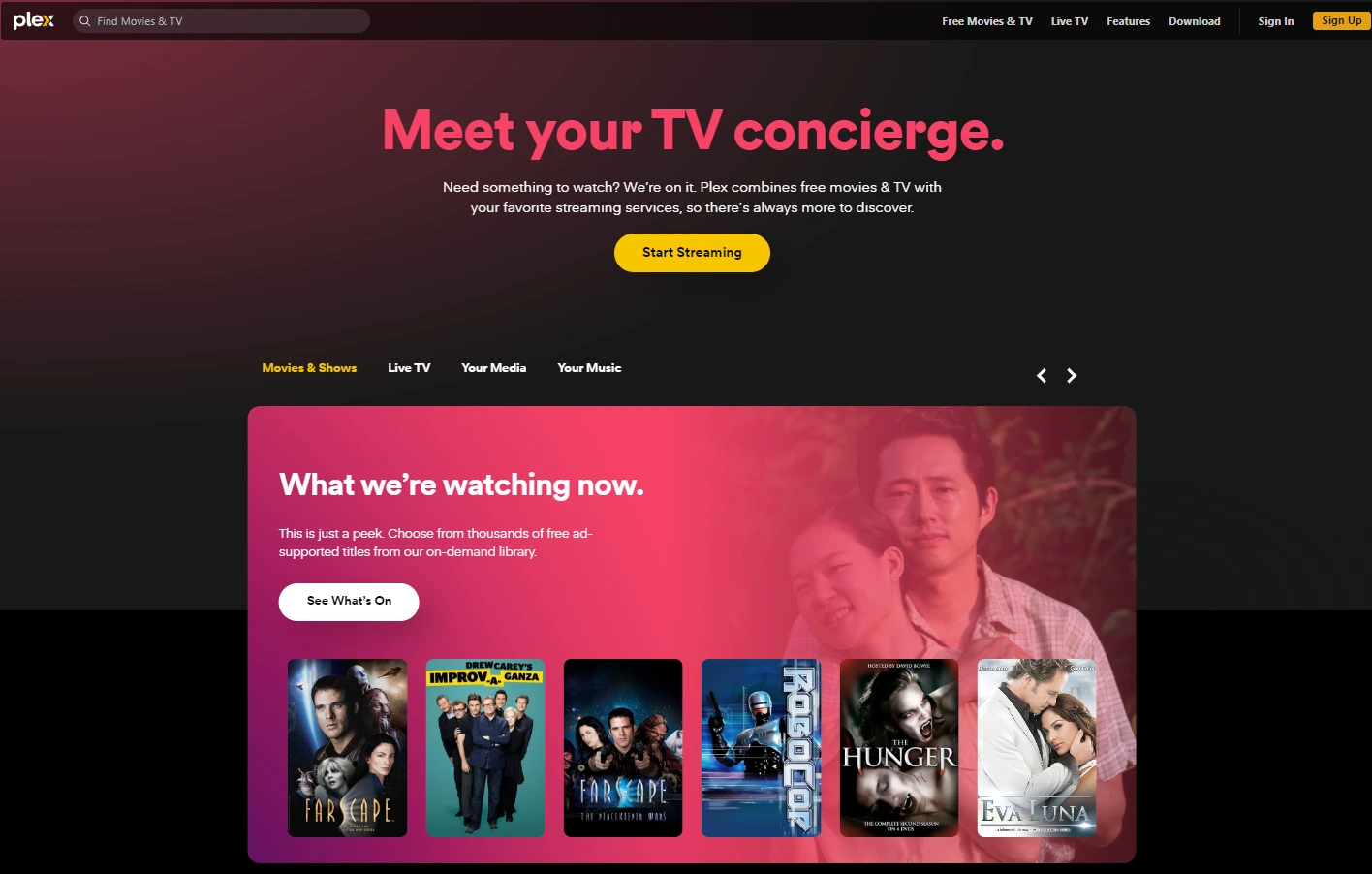 Simply put, Plex turns your computer into a personal media server. Once set up, you can access your music, movies, and photos from any device with the Plex app installed. Regardless of the size of your library, Plex also automatically categorizes your files and fetches artwork, title descriptions, and other related information, creating a professional-looking media library.
Another pro is Plex's compatibility across a wide range of devices, including Windows, macOS, Linux, Android, iOS, Amazon Fire, Roku, and smart TVs. This flexibility ensures you can enjoy your media wherever you go.
Of course, this level of personalization does have its drawbacks. For one thing, setting up Plex to work optimally may require some technical knowledge, which could be a hurdle for less tech-savvy users. Also, while Plex is free to use, some of its more advanced features are locked behind a paywall (Plex Pass) — a downside for users looking for a completely free alternative.
Bypass Geo-blocks in your search for a Popcorn Time alternative
While exploring alternatives to Popcorn Time, you might encounter an all-too-common hurdle: geo-blocking. This practice restricts access to content based on the user's geographical location.
Fortunately, you can get around this using ClearVPN — a secure and user-friendly VPN service that bypasses geo-restrictions by masking your IP address.
For example, let's say you're in the US, and a particular movie or TV show you want to watch on Kodi is only available in the UK. You can use ClearVPN's "Location changer" mode to connect to a server where the content is accessible (UK).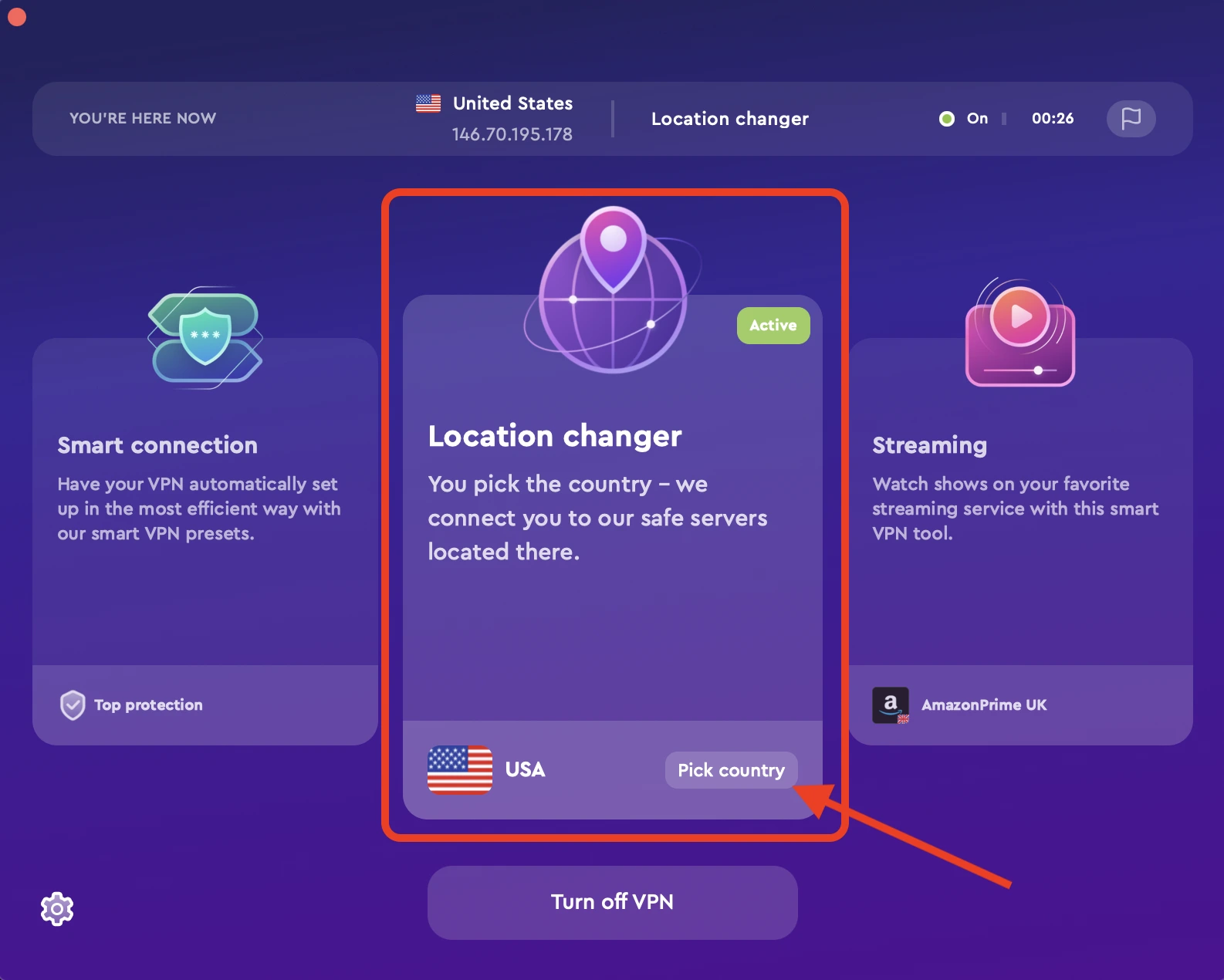 Note: While ClearVPN offers a free account, you'll need a premium subscription to access the Location changer feature and select a specific country/region to connect to.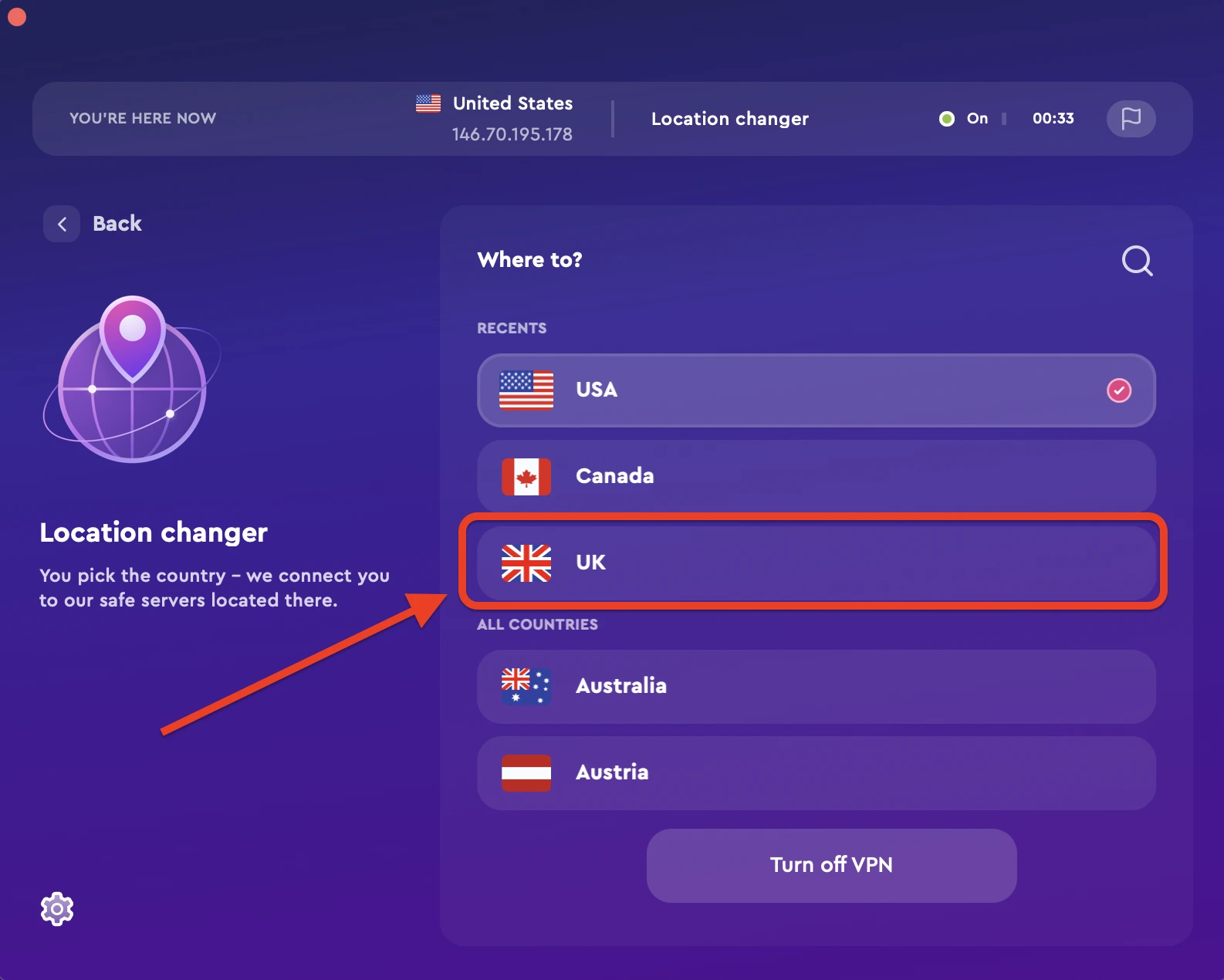 You can enjoy your desired media without any geographic limitations. How awesome is that? As an added bonus, ClearVPN also encrypts your data, making it unreadable to anyone who might try to intercept it (hackers, ISPs, etc.). This level of security is particularly valuable when you're accessing free streaming sites that may not have robust security measures in place.
FAQ
Is Popcorn Time still available?
No, Popcorn Time is no longer available. It was shut down in 2022 due to copyright infringement issues.
Why is Popcorn Time illegal?
Popcorn Time was deemed illegal because it provided access to copyrighted content without obtaining the necessary permissions from the rightful owners.