In today's world, streaming media is more popular than ever. From movies to TV shows to music, there are myriad options for enjoying your favorite content on the Internet. But did you know that the content you stream may be subject to geographical restrictions? That's one reason why using a VPN for streaming (Virtual Private Network) is becoming more popular nowadays, even among people not necessarily interested in cybersecurity.
If you're reading this, you probably have questions about how VPNs work and how to set them up. In this quick guide, we'll show you how to do just that, so make sure to read to the end.
Let's get right to it!
Why do you need a VPN for streaming online?
First and foremost, let's go over why you might need a VPN for streaming movies. When it comes to streaming content, many countries impose geographical restrictions. This means you may be unable to access certain content based on where you live or travel.
For example, let's say you're in the United States and want to watch a film or show only available in Germany. You normally wouldn't be able to do that due to copyright and licensing restrictions.
That's where a VPN comes in, allowing you to disguise your IP address, thereby making it appear like you're in, for example, Germany. As a result, the streaming service you use will interpret your traffic as coming from Germany, granting you access to the content.
So that's the gist of why you need a VPN for streaming movies — it masks your IP address and allows you to bypass any geographical restrictions for streaming content.
How about using a VPN for streaming sports?
Likewise, a VPN may be the perfect solution if you're a fan of certain sports but you cannot access the broadcasts due to geographical restrictions.
Like with streaming movies, a VPN will allow you to disguise your IP address and make it appear as if you're located in a different country. For example, let's say you want to watch an NBA game but don't have a subscription to the US-based broadcaster. With a VPN, you can connect to a server located in the US and access the game without any issues.
How to use VPN for streaming?
Now that you know why and when to use a VPN for streaming, let's talk about how to set it up. First, it is well worth noting that not all VPNs can unblock content in the manner described above.
For example, even if a VPN service manages to reroute your traffic, the streaming service may still be able to detect that you're using a VPN and block your connection. Unfortunately, this is often the case for many popular streaming services. They don't like it when people use VPNs to bypass their geographical restrictions. Such companies frequently employ sophisticated algorithms to find and blacklist VPN servers that people use to unblock their content.
As a result, only a few VPNs can reliably unblock streaming services. The few that can are engaged in a constant cat-and-mouse game to avoid detection and keep their users connected.
Finding the right VPN service for unblocking streaming services
If you have decided you want to use a VPN for streaming, your first step will beto find one that can unblock the content you're trying to access. These VPNs offer and maintain dedicated servers specific to a streaming service.
Let's take ClearVPN, for example — which has dedicated servers for streaming access that is tied to the specific streaming service they are designed to unblock.
Below is a complete list of dedicated streaming services that ClearVPN currently offers.
Movies and TV Shows Streaming 🍿🎬 :
Hulu
Netflix US
Netflix UK
HBO Max
Disney+ US
Disney+ UK
Amazon Prime US
Amazon Prime UK
BBC iPlayer
Paramount+ US
Stirr
Amazon FreeVee
Crackle
Megogo
PeacockTV
RakutenTV
Pluto TV
Shudder
Crave
LocalNow
NOW
Britbox
Roku
Tubi
Xumo
Sports Streaming Services ⚽🏈:
MLB TV
Fox Sports
FUBO TV
WWE Network
ESPN
NFL
ViaPlay
F1 TV
Note that while ClearVPN offers a free plan, Streaming Access is a premium feature. Users will have to upgrade to a paid plan to use it. That said, if you're interested, ClearVPN offers some of the most competitive pricing in the VPN market.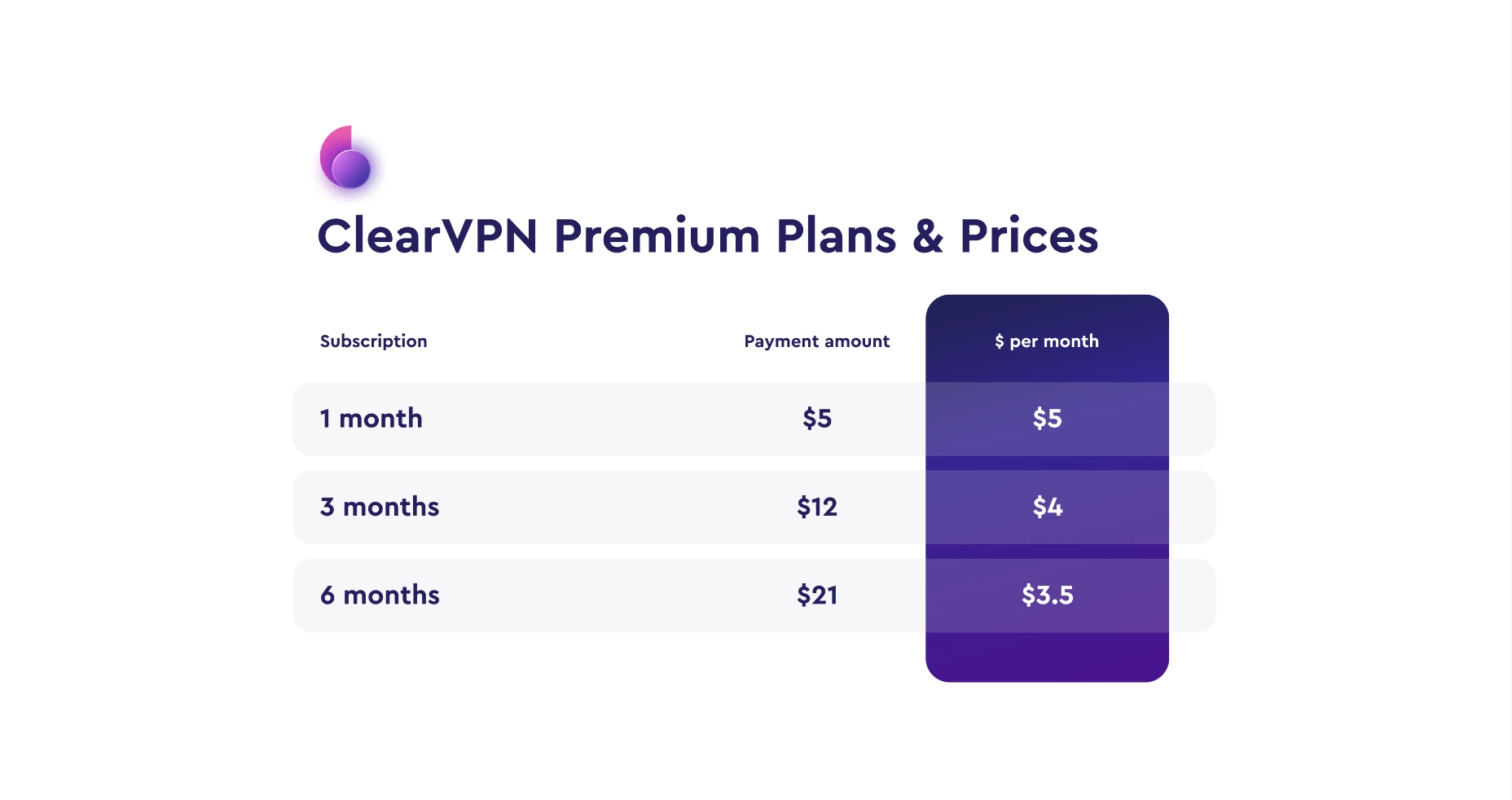 Prices start at just $5 per month, and you can drop that further to just $3.50 per month if you pre-pay for six months. Also ClearVPN has a 3-day Free Trial for all new users. So Try it now.
How to set up a VPN for streaming?
So, you found a good VPN that unblocks the streaming service you want. How exactly do you go about setting it up? The good news is that it's not as complicated as you might think. The process is relatively straightforward, and you don't need any special equipment or anything like that.
The following is a step-by-step guide for streaming with VPN. We'll use ClearVPN as an example, but the process should be similar to other VPN services.
1. Go to the ClearVPN website and download the installer for our VPN app. You can do that by clicking the "Download for free" button.
2. Run the installer on your device and complete the setup process like any other program. You can use ClearVPN on Windows, macOS, Android & iOS devices.
3. After the VPN software is installed, run the ClearVPN app. You'll then be asked to sign up for an account. Again, ClearVPN offers a free plan, but if there's a streaming service you wish to unblock with VPN, then you'll need to upgrade to a paid plan.
4. Sign in to the ClearVPN app and select Streaming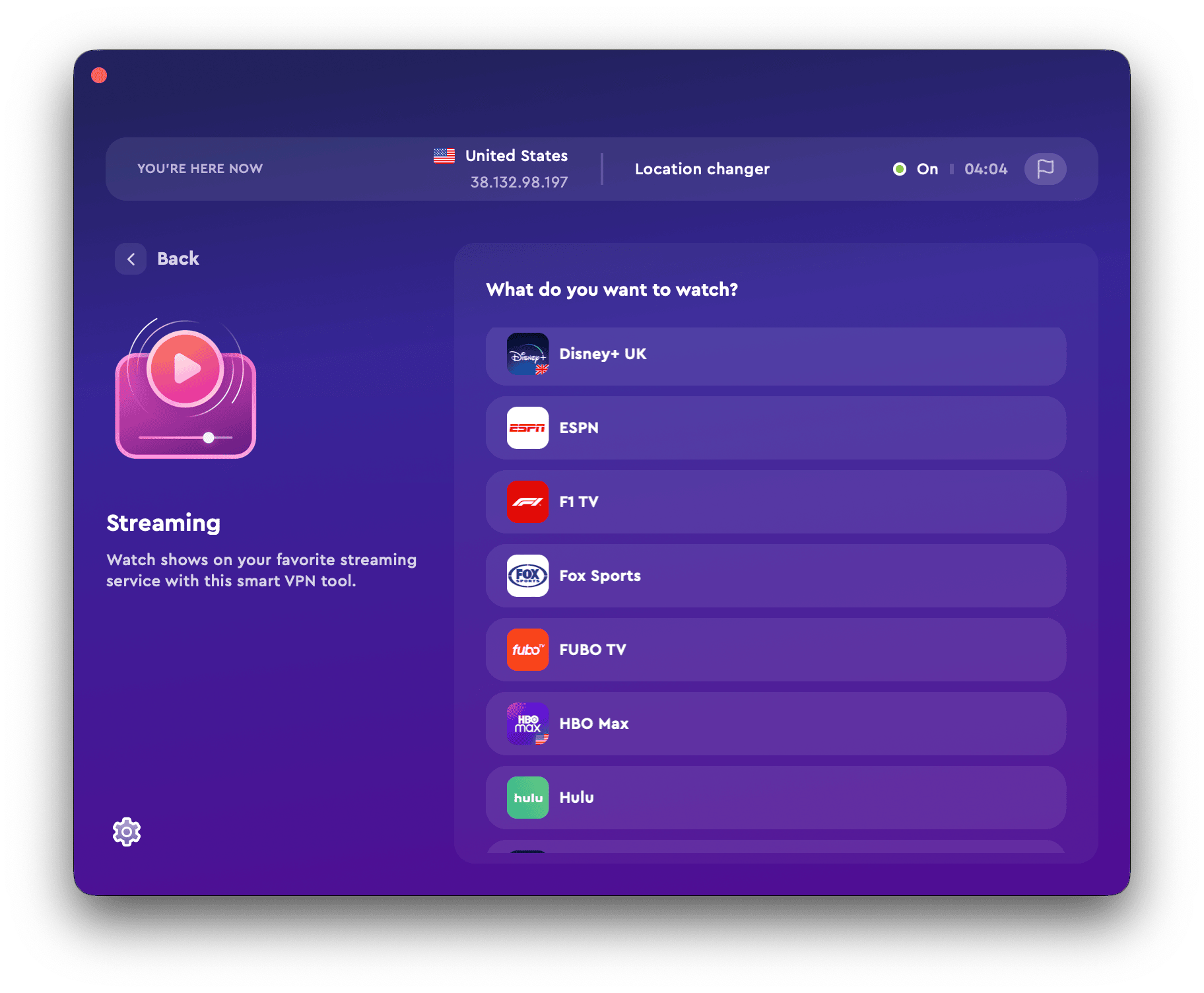 5. Select the streaming service that you wish to unblock with VPN.
And that's it — ClearVPN will initiate a connection to that dedicated streaming server. You can then go to the streaming service's website or app and watch your favorite content without geoblocking restrictions.
FAQs
Does a VPN slow down streaming?
While various factors can affect streaming performance, a good VPN should not noticeably slow down your connection. If you experience buffering or lag turn off the VPN. If the lag continues even with the VPN turned off, the issue likely lies with your Internet connection, not the VPN.
Can I use a free VPN for streaming?
We do not recommend free VPNs, whether for streaming or anything else. Free VPNs are known for slow speeds, unreliable connections, and minimal features.
Moreover, many free VPNs have been found to be logging user data or injecting ads into users' web traffic. For the best streaming experience, it's worth investing in a premium VPN that offers dedicated streaming servers.
Is it legal to use a VPN to unblock a streaming service?
While most streaming services are geo-restricted and require you to access their content in a particular country or region, using a VPN is perfectly legal. That said, it's important to note that some streaming services have strict policies against using VPNs, so it's best to check any terms of service before you start streaming.