Are you on a quest to find where to watch Star Wars movies on the internet? Well, you're in luck! The force has brought you here, where we'll go over some of your best options for watching your beloved Star Wars movies online from start to finish.
Let's get right to it!
Your Best Options for Where to Watch Star Wars
There is no denying that Star Wars is one of the most iconic and beloved movie franchises of all time. Many of their titles have been around for decades and are available on various platforms. That said, one option stands out as the best place to immerse yourself in the Star Wars Universe!
Disney+: The Home of Star Wars
Disney currently owns Lucasfilm and all its assets (which includes the entire Star Wars Universe). This makes it the best place for streaming everything Star Wars!

What's more, you're not just limited to the movies. Disney+ also offers all of the spin-off series like "The Mandalorian," "Obi-Wan Kenobi," and "Andor." If you're a huge Star Wars fan, this is definitely the place to be.
One caveat is that Disney+ is not yet available in a few countries — Cuba, Cyprus, Madagascar, Pakistan, etc. But don't fret! You can use ClearVPN to unblock access and watch Star Wars movies on Disney+, no matter where you are. We'll delve into how exactly to do that.
Other platforms on where to watch Star Wars movies
If Disney+ isn't your cup of tea and you're looking for other options, you'll be happy to know that Star Wars movies are also available for purchase or rent on Amazon, YouTube, Google Play, iTunes, and Vudu.
Granted, most of these platforms don't offer the full range of Star Wars movies. Youtube, for example, only offers "Star Wars: New Hope" to buy or rent. You may have more options depending on your region, but you get the idea.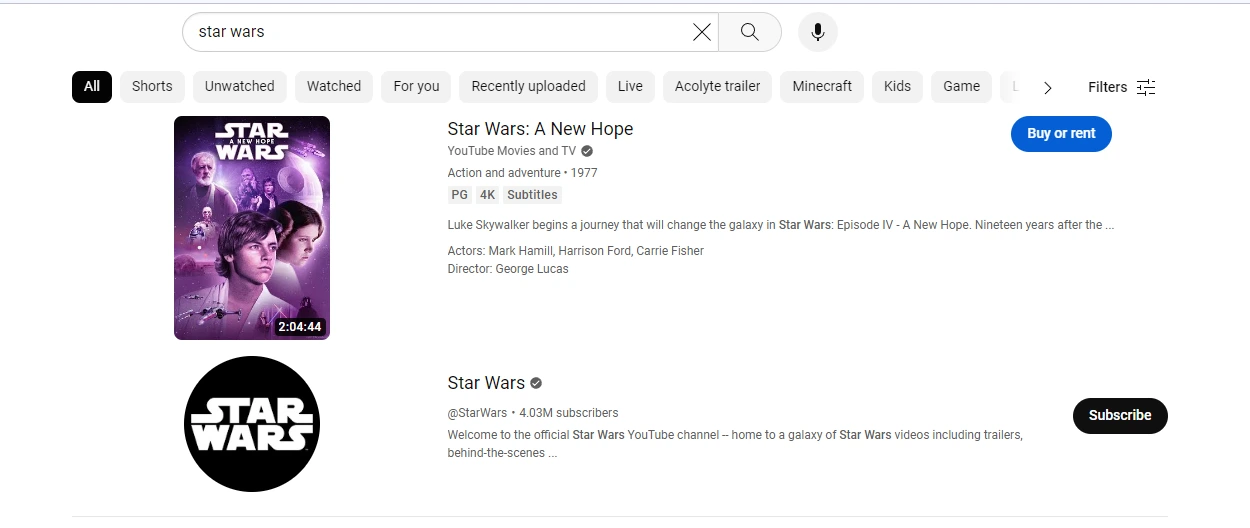 But still, if you're on Youtube anyway and already accustomed to buying and renting movies on the platform, then it's worth considering.
How to watch Star Wars on Disney+ using ClearVPN
As mentioned earlier, Disney+ is inarguably the best place to be if you want to watch all current and upcoming Star Wars movies. So if it's not available in your region, then it's worth looking for ways to unblock it.
One of the best ways is to use ClearVPN — a fast and user-friendly premium VPN (Virtual Private Network) service with a dedicated server for unblocking Disney+. That server is based in the US, so once you're connected to it, Disney+ will think you're located in the US, giving you access to their streaming platform. That's how all VPNs work, but ClearVPN is a premium service specially designed for working with streaming services
Here's how to use ClearVPN to stream Star Wars content through Disney+:
1. Download and install the ClearVPN app on your streaming device. This works on most popular operating systems, including Windows, macOS, iOS, and Android.
2. Sign up for a paid account. You will need a premium subscription (starting at $5 per month) to unblock streaming services with ClearVPN.
3. Log on to your ClearVPN account, select the "Streaming" mode, then click/tap on the "Change" button on the lower right.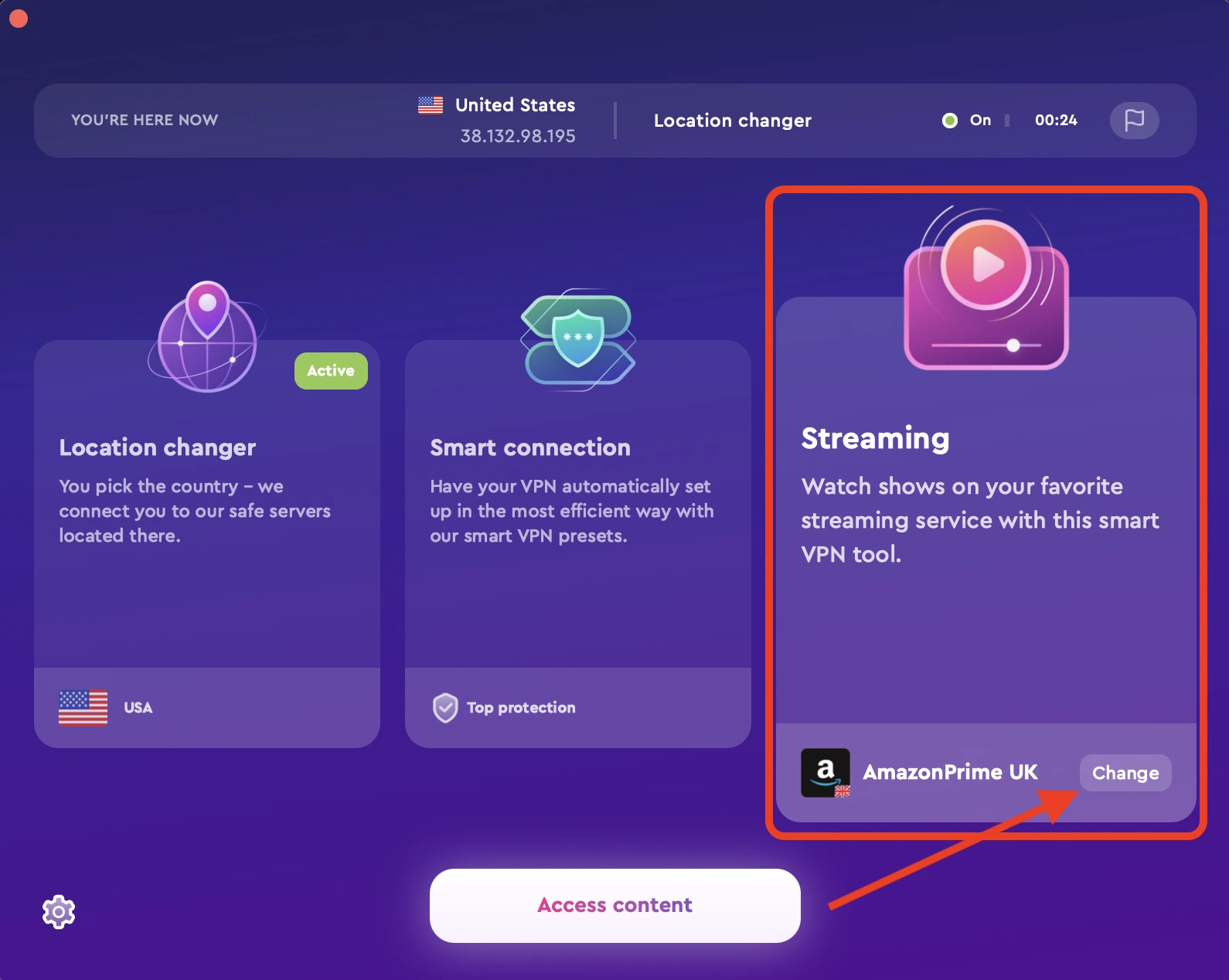 4. Select "Disney+ US" from the list of streaming services.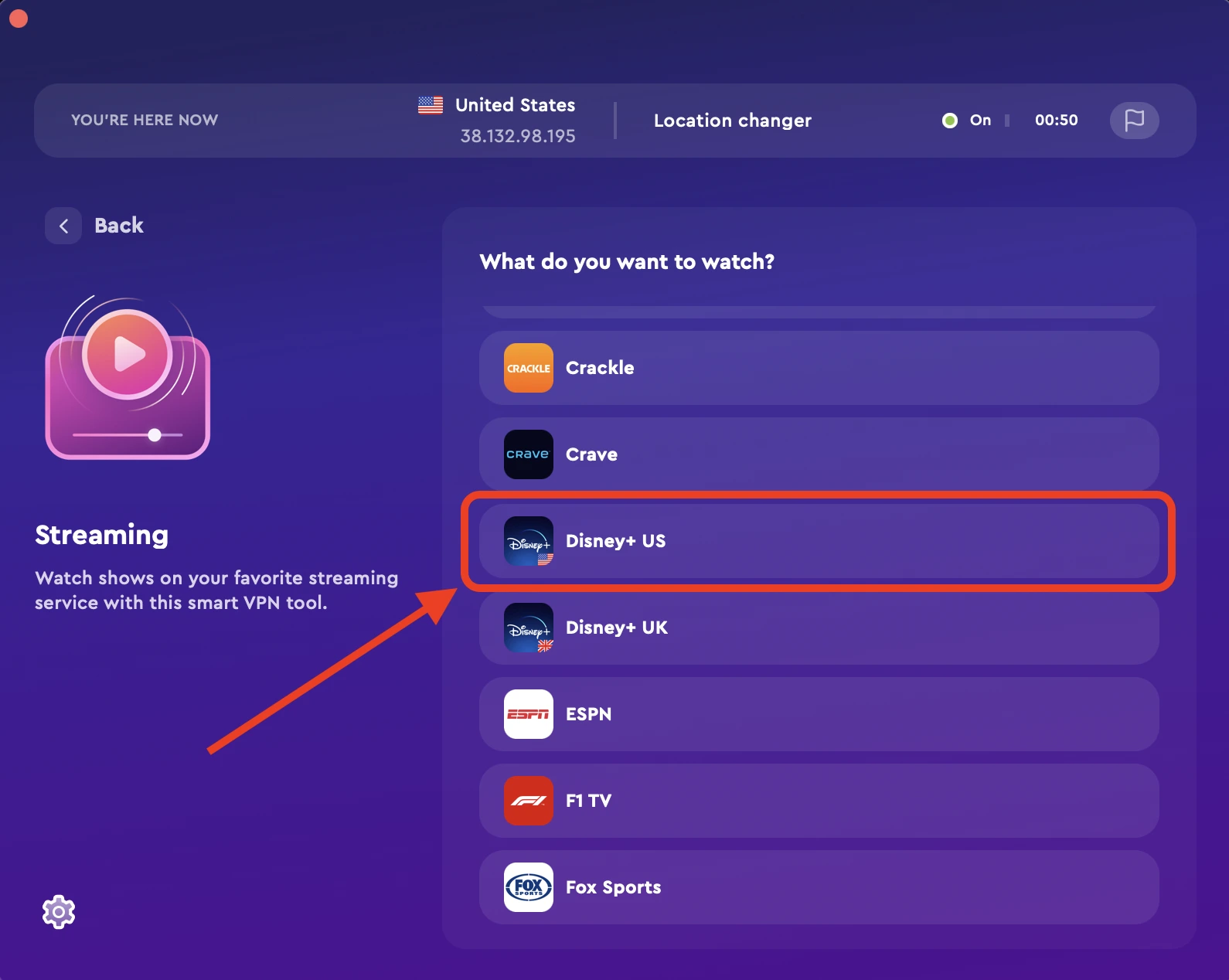 Your IP address will now show as coming from the US (as long as the ClearVPN connection is active), and can now access the full Star Wars library on Disney+, as well as everything else offered on that platform. Note that you can do this on other popular streaming services as well.
One thing to keep in mind is that not all VPN services are capable of unblocking access to streaming services. Disney+ in particular, uses anti-VPN software that detects and blocks VPN users. Very few VPN services have the resources to circumvent these measures, but ClearVPN is one of them.
How to watch Star Wars movies in order
The Star Wars universe is vast and rich, offering a unique viewing experience especially when watched in the right sequence. Let's dive into the recommended order to watch these iconic movies:
Start your journey with Star Wars: Episode I – The Phantom Menace (1999), where Jedi Knight Qui-Gon Jinn discovers young Anakin Skywalker, a slave possessing an unusually strong connection to the Force.
Star Wars: Episode II – Attack of the Clones (2002). Anakin, now a Jedi apprentice, falls for Padmé Amidala while tasked with protecting her. At the same time, a massive clone army is being built for the Republic.
Star Wars: The Clone Wars (2008). This acclaimed animated film bridges the gap between the start of the Clone Wars and Anakin's fall from grace.
Star Wars: Episode III – Revenge of the Sith (2005). As the Clone Wars near their end, the real enemy reveals itself, manipulating Anakin into betraying the Jedi order.
Solo (2018). Explore Han Solo's origins and witness how he met his loyal partner Chewbacca in a lawless universe.
Rogue One (2016). This prequel to the first movie illuminates the sacrifices made by the Rebel Alliance to steal the Death Star plans, giving the resistance a fighting chance against the Empire.
Star Wars: Episode IV – A New Hope (1977), the original Star Wars movie that established the franchise as one of the most iconic sci-fi films ever.
Star Wars: Episode V – The Empire Strikes Back (1980). The Emperor tightens his grip on the rebel alliance while Luke struggles to embrace his Jedi lineage under Master Yoda's guidance.
Star Wars: Episode VI – Return of the Jedi (1983) Luke, after significant training, battles Darth Vader and the evil Emperor Palpatine while his comrades launch an attack on the second Death Star.
Star Wars: Episode VII – The Force Awakens (2015). Thirty years after the Empire's defeat, a new threat arises in the militant First Order. Defected stormtrooper Finn and scavenger Rey get caught up in the Resistance's search for Luke Skywalker.
Star Wars: Episode VIII – The Last Jedi (2017). In this part of the Skywalker saga, the Resistance faces the First Order once again.
Star Wars: Episode IX – The Rise of Skywalker (2019). The surviving members of the Resistance face the First Order once more in the final battle that will determine the galaxy's fate.
FAQs
Does Netflix have Star Wars movies?
Netflix does not currently offer any Star Wars movies.
Where can I watch all 12 Star Wars movies?
All 12 Star Wars movies are available on Disney+.
Where can I watch Star Wars besides Disney?
You can buy or rent Star Wars movies on Amazon, YouTube, Google Play, iTunes, and Vudu.