Browsing on Safari is a pleasant experience until you click on one of the many pop-up ads. Some ads disguise themselves as a "play" button, which brings you to their website instead of playing a video. Thankfully, these best ad blockers for Safari will stop any unwanted ads.
Best ad blockers for Safari
These ad blockers caught our attention because they are effective in stopping ads, fast, user-friendly, and affordable.
1. Total AdBlock
Total AdBlock is one of the best ad blockers for Safari, although it only works on iPhones and iPads. Besides blocking ads, Total AdBlock provides a custom filter that allows you to stop social media trackers and widgets. This means you can stop seeing attention-seeking "like'' and "share" buttons when you visit websites.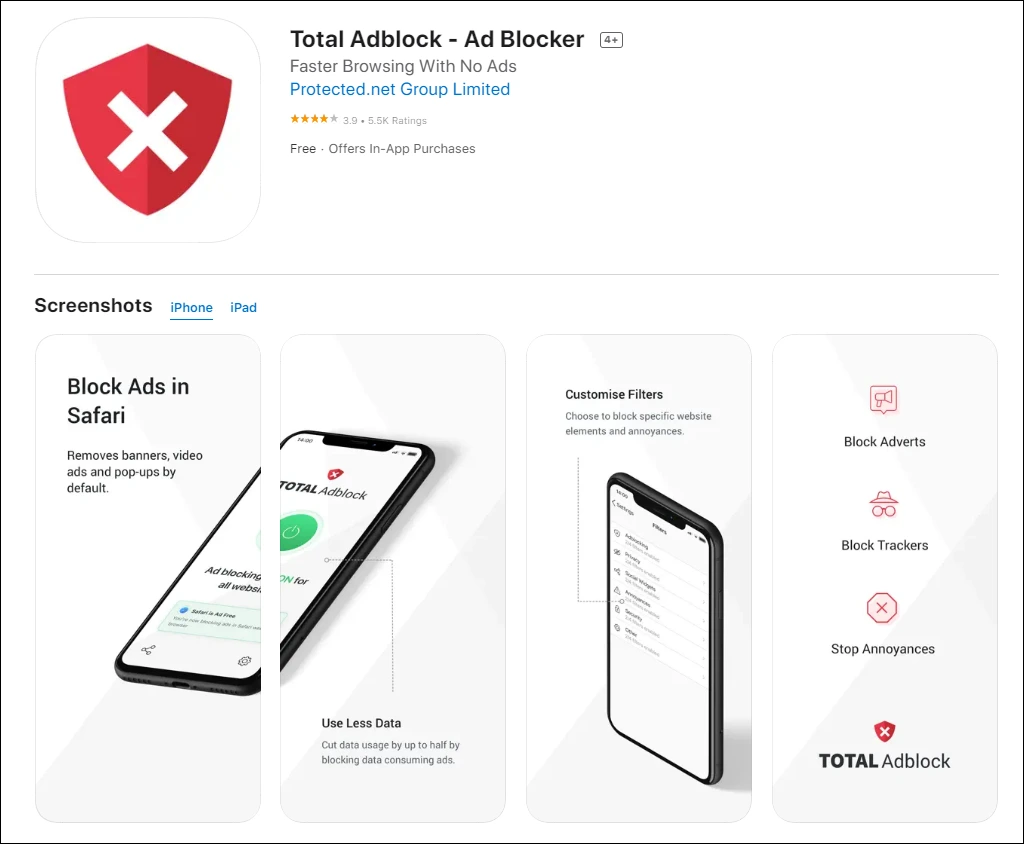 Users also favor Total Adblock for its ability to remove certain web elements, such as the cookie dialog box. You can also safelist certain websites if turning on ad blockers prevents them from loading correctly.
Total Adblock is free, but you need a premium plan to block ads from popular websites.
2. AdLock
AdLock is a versatile ad blocker that enables ad-free video streaming on Safari. It works as a paid standalone app for iOS and macOS or a free Safari browser extension. Each AdLock subscription plan allows users to install the app on up to 5 devices.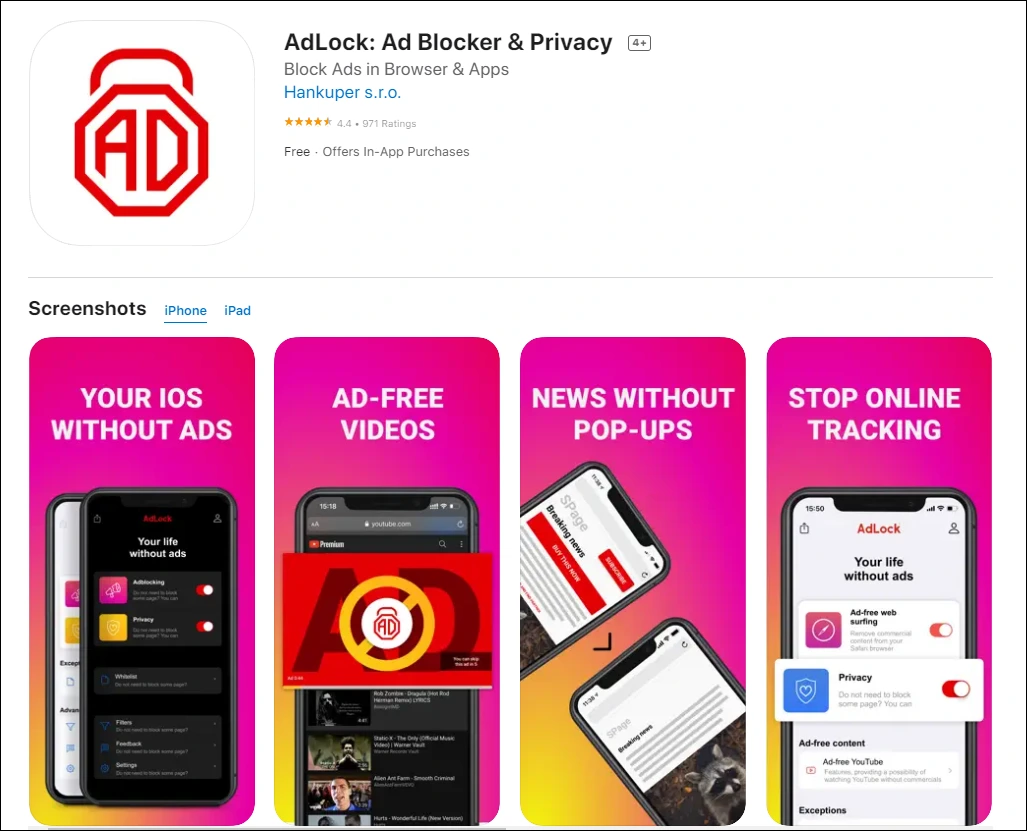 Besides Safari ad blocking, AdLock doubles as a security watchdog for malicious websites. It detects and warns you of potential privacy breaches stemming from malicious attempts and advertising trackers alike. AdLock's anti-adblocker detector lets you stream videos or browse specific sites without disabling the ad blocker.
AdLock starts from $1.05 monthly with a 30-day money-back guarantee.
3. AdGuard
AdGuard is the best free ad blocker extension for Safari. When enabled, it blocks all types of ads, interstitials, pop-ups, text, banners, and more. AdGuard also warns you if you unknowingly land on a malicious website.
Still, all ad-blocking extensions are limited to the browser's capability. To enjoy AdGuard's full benefits, you'll have to download its app for iOS and Mac devices. The apps allow you to block ads before they are downloaded, which reduces data usage and improves speed.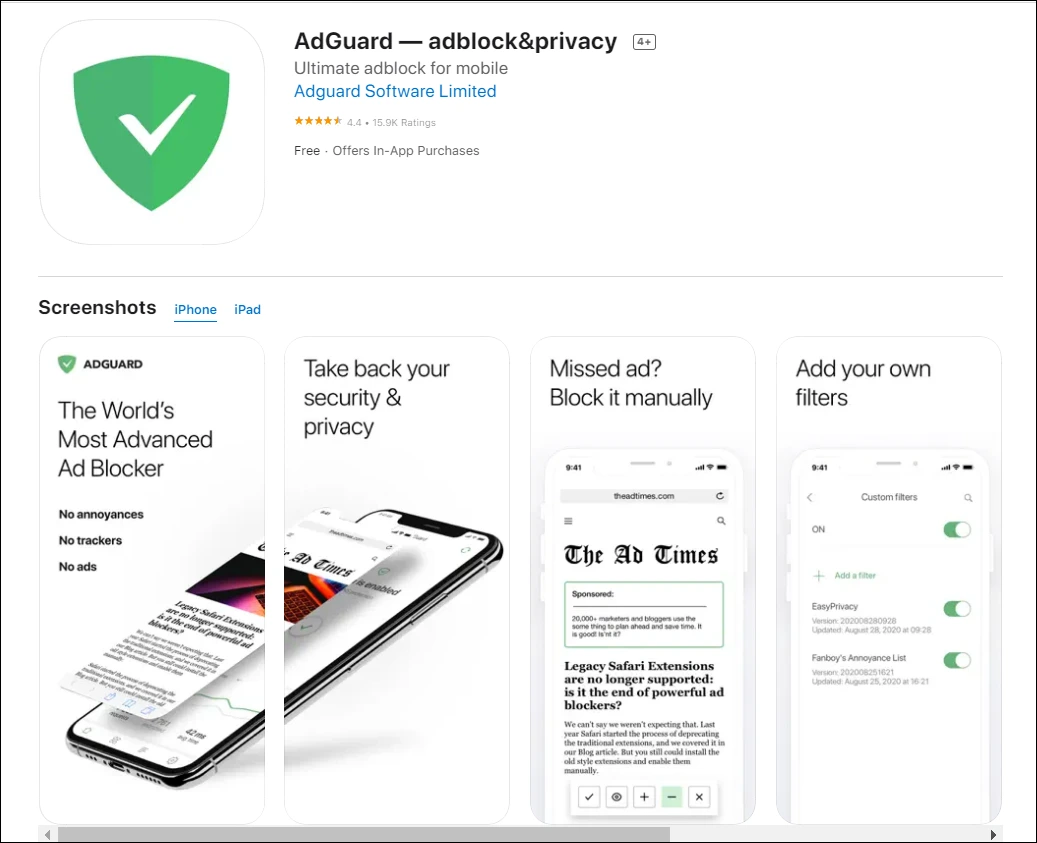 AdGuard costs $39.99 for a lifetime license that supports up to 3 devices.
4. Wipr
Wipr is a powerful Safari ad blocker that stops crypto miners, GDPR notices, trackers, and various ads from ruining your browsing experience. More importantly, it does so with no configurations needed. Once you install the app, Wipr works seamlessly with Apple's native content blocker system in the background.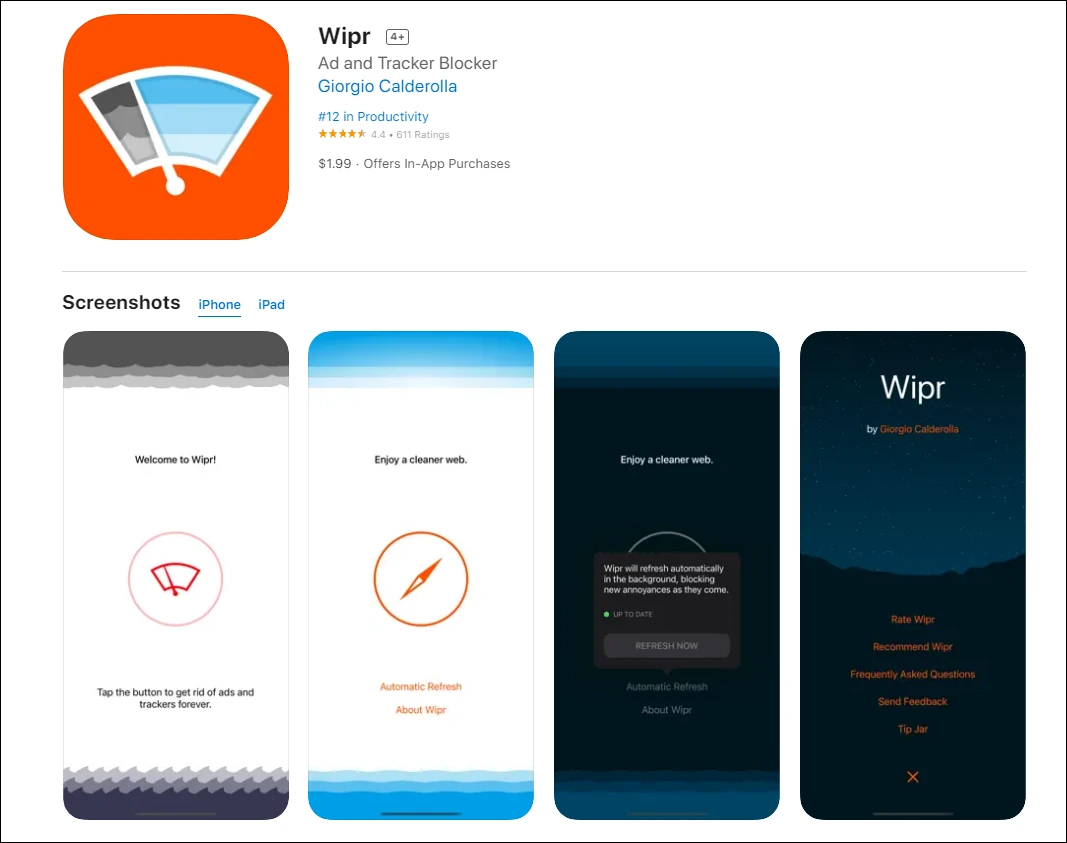 As an Apple-exclusive ad blocker, the app works for both iOS and macOS devices. Wipr's developer, Giorgio Calderolla, continuously improves the app to provide better privacy and features. Moreover, Wipr constantly updates its block list to ensure no trackers slip past its anti-ads mechanism.
Wipr is available on AppStore with affordable in-app purchases.
5. Magic Lasso
Over 200,000+ Apple users trust Magic Lasso to stop ads from popping up. It uses the native Safari API to block ads while ensuring a fast browsing experience. Magic Lasso works on all Apple devices running on iOS and macOS.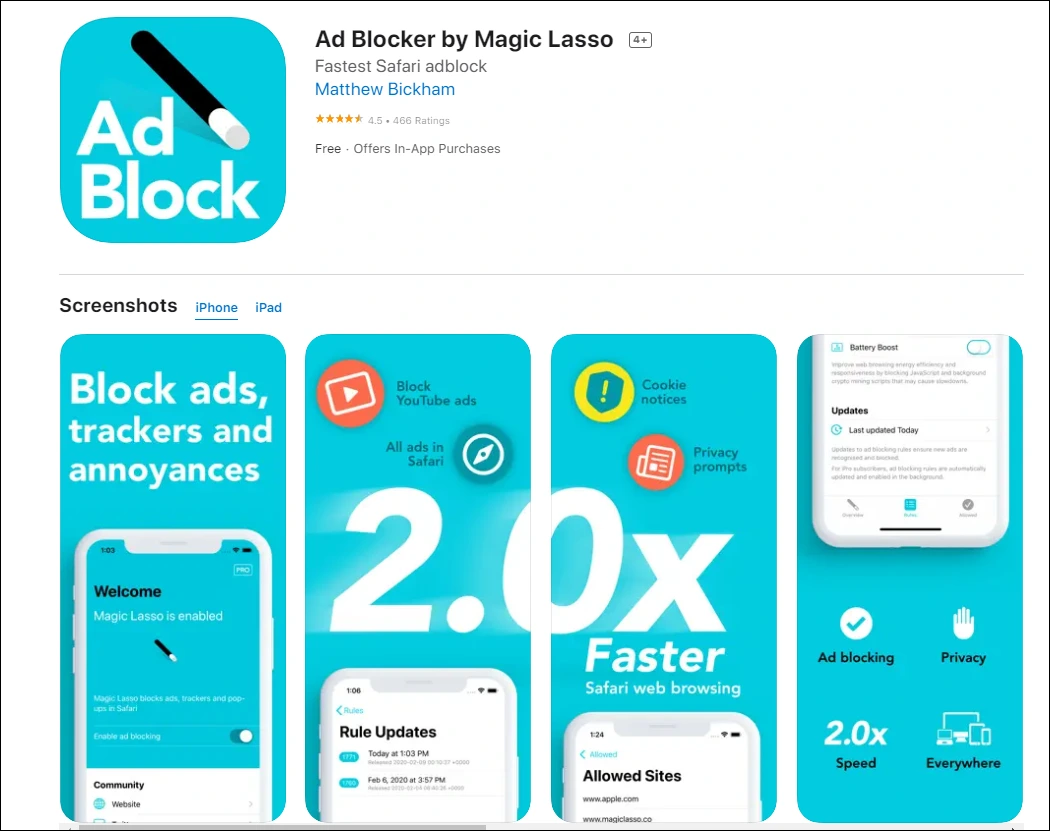 Built for ease of use, Magic Lasso spares you from the complexity of setting up an ad blocker. It has a default ad-blocking rule, which works in most browsing scenarios. Alternatively, you can easily configure Magic Lasso to exempt certain websites via Safari.
Magic Lasso is a freemium ad blocker for the Safari browser, with paid plans for unlocking advanced features.
How to add ad blockers for Safari
Most ad blockers provide installation instructions on Safari, but if you need simple instructions, follow these steps.
Adding an ad blocker app
Download and install the ad blocker app on AppStore.
Open Settings on your device and tap Safari.
Select Content Blockers from the menu.
Tap on the toggle button to enable the ad blocker app.
Adding an ad blocker extension
Go to Safari and open Safari Extensions.
Search and download the ad blocker extension.
Wait for the installation to complete.
Follow the instructions provided by the ad-blocker extension.
Then, choose Safari and select Safari Extensions again.
Browse for the installed extension and enable it with the checkbox.
How to disable ad blocker on Safari
Sometimes, you might need to turn off the ad blocker to view certain websites or media on Safari. Here's how to do so.
Disabling an ad blocker app
Launch the Settings on your device and select Safari.
Navigate the menu and choose Content Blockers.
Toggle the ad blocker app to disable it.
Disabling an ad blocker extension
Tap Safari and select Safari Extensions.
Select the active ad blocker extension.
Uncheck the checkbox to disable it.
FAQs
What is the best ad blocker for Safari?
It depends on your preferences and needs. Total AdBlock is a handy app for users who spend most of their time streaming videos on Safari. Meanwhile, Wipr is excellent for users who don't want to deal with ad-blocking rules. If you're concerned about accidentally landing on malicious websites, AdLock's alerts will prove helpful.
Do I need an ad blocker for Safari?
Yes, if you don't want banners and pop-ups ruining your browsing experience. Besides the annoyance, ads might intrude on your privacy and safety. Apple has no control over what ads appear on your Safari browser; some might lead you to malware-infected sites.
However, if you're concerned about ads, privacy, and security, you'll need more than a Safari ad-blocker. For example, ClearVPN, which has an ad-blocking feature, stops annoying ads and hide IP address. Macworld listed ClearVPN as one of the best Mac apps because of its sleek interface.
Does Safari have an ad blocker?
Yes. Safari does have an integrated ad blocker. The feature is called "Content Blocker" and was first introduced in iOS 9 and macOS EL Capitan. Additionally, there are several third-party ad blockers available for Safari.
Why can't Safari block ads?
While Safari has an integrated ad blocker, it does not block all ads entirely. This is because its ad-blocking feature only works on cookies and does not affect server-delivered ads or pop-ups.