What a day! Our team is thrilled to announce that ClearVPN has won the "Hot Company VPN" award from Cyber Defense Magazine (CDM)!
About the Award
The 10th Annual Global InfoSec Awards was held during the RSA Conference 2022, June 6. Cyber Defense Magazine honors InfoSec innovators. It was a fierce competition among startups and public companies from around the Globe.
TBT, ClearVPN was selected as the winner of the "Mobile VPN Solution of the Year" award from the CyberSecurity Breakthrough in 2021.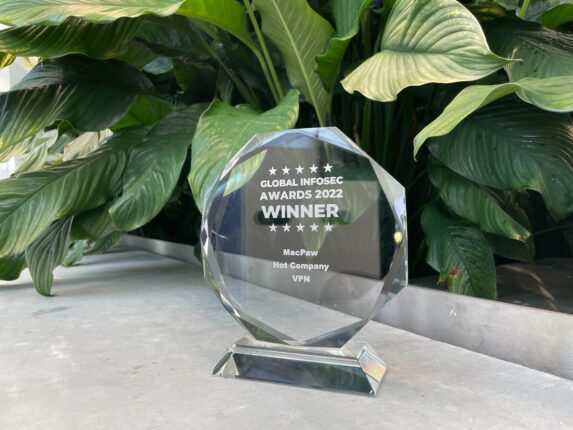 What Makes ClearVPN So Secure
We've launched ClearVPN in 2020, as a hassle-free VPN solution for users who want to expand and protect their online experience. Security has been our top priority since the first day.
The app has a strict no-log policy. We've created an app that adds value to your internet experience without compromising your security and privacy. We keep no logs and prevent anyone from tracking your online activity. Read more about our Privacy policy here.
Your data is safe with our top-tier encryption and cutting-edge protocols: OpenVPN, IKEv2, and our custom protocol. ClearVPN chooses the protocol depending on the region you're connected to, as some local internet providers may block IKEv2 or OpenVPN. Learn more about our AES-256 encryption here.
Want to know more about how you can have a more secure online experience? Follow simple steps with our Cybersecurity Checklist.
How ClearVPN Helps Ukraine Win the War
On February 24, Russia started a full-scale war to destroy all Ukrainian and all Ukrainians. ClearVPN is a product of MacPaw, a software company based in Ukraine, and all our VPN team members are Ukrainian. We can't stand aside.

ClearVPN is now free for Ukrainians. Users can privately access content blocked on the temporarily occupied territories. Ukrainians can now have a free secure connection regardless of whether they are in Ukraine or had to relocate.
ClearVPN strives to help everyone oppressed by online censorship and propaganda. The Russo-Ukrainian war, once again, proved how critical access to the internet is. That's why we launched a special Partner program. If you are a non-profit organization, NGO, or media/journalist who covers the war in Ukraine and fights against pro-Russian propaganda — ClearVPN is here to help.
Read more about what ClearVPN is doing for the Ukrainian victory here.
We'd like to thank everyone who supports ClearVPN, and most importantly — our devoted users ❤️