We're excited to announce the release of ClearVPN 2 — the reinvented VPN solution that requires no extra tech skills and is designed to help users effortlessly and securely enjoy their online presence.
ClearVPN Origins
We launched ClearVPN in 2020. The concept behind this VPN solution was simple — we wanted it to be as easy to use as possible. And we gave our users a simple idea — they could solve any online goal without a hassle (say "bye" to a tedious choice of a server). That's how we came up with "Shortcuts" that addressed the causes of why users chose VPN in the first place. Whether you wanted to access content, browse securely, or stay private — the original ClearVPN app helped you fully enjoy every online journey.
However, "solving all problems in one place" wasn't ideal. Eventually, we faced the ugly truth: our customers perceived the product as "frustrating" and "difficult to understand."
We've also learned what users liked the most and why they loved ClearVPN more than other VPN solutions — "beautiful and nice design," "the VPN which is a pleasure to use."
During our multiple kinds of research, we've concluded that a significant update to ClearVPN was necessary. Yet, more than just a mere update but a complete redesign and upgrade.
ClearVPN's new version was called for this.
ClearVPN 2 — The Reinvented VPN
Meet ClearVPN 2 — the VPN solution designed to help you effortlessly enjoy your online presence. It's your powerful master key to any corner of the internet.
Redesigned. Refreshed. Powered-up
A brand-new user interface without the clutter of features. ClearVPN 2 has only the essential VPN solutions users need in everyday digital life — three Shortcuts to help users make ClearVPN 2 their daily habit.
Secure browsing
ClearVPN 2 analyzes your location and selects the best settings for the endpoint (server and/or DNS) to ensure this. The user may not know which countries have the harshest data protection policies and which servers provide the fastest speed. But ClearVPN 2 knows. Basic secure browsing modes are free for all users worldwide because we believe everyone has the right to privacy and online security.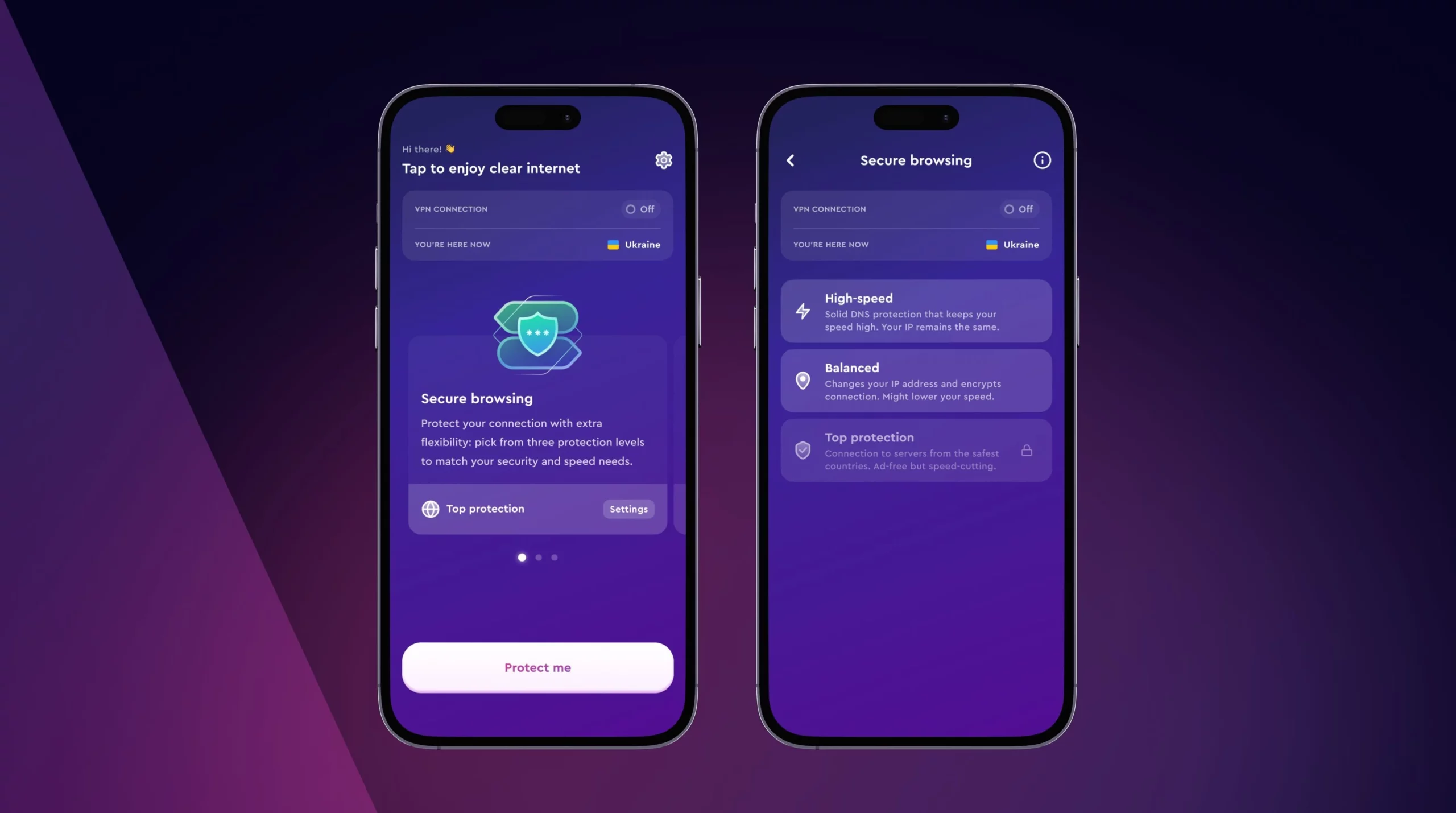 Location changer
You can safely choose any location from the list of countries in the app — every server is secure. However, remember that some countries are obliged to give access to your data to law enforcement if requested. So if you're worried about your privacy — choose the location thoroughly.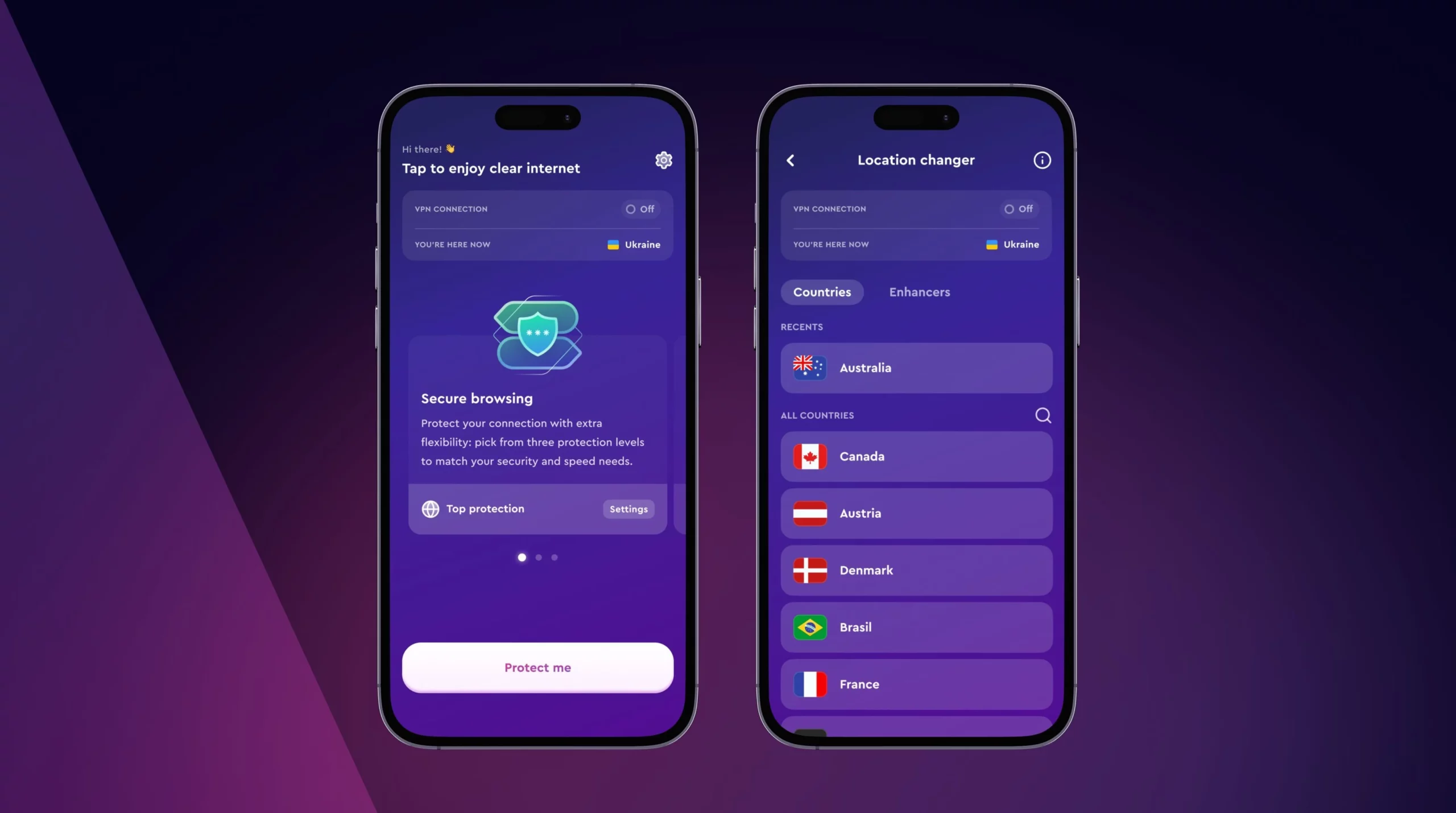 Streaming access
Stream movies and TV shows with the best speed and stable connection. We combine the usage of Residental IPs and P2P servers to make your streaming experience flawless.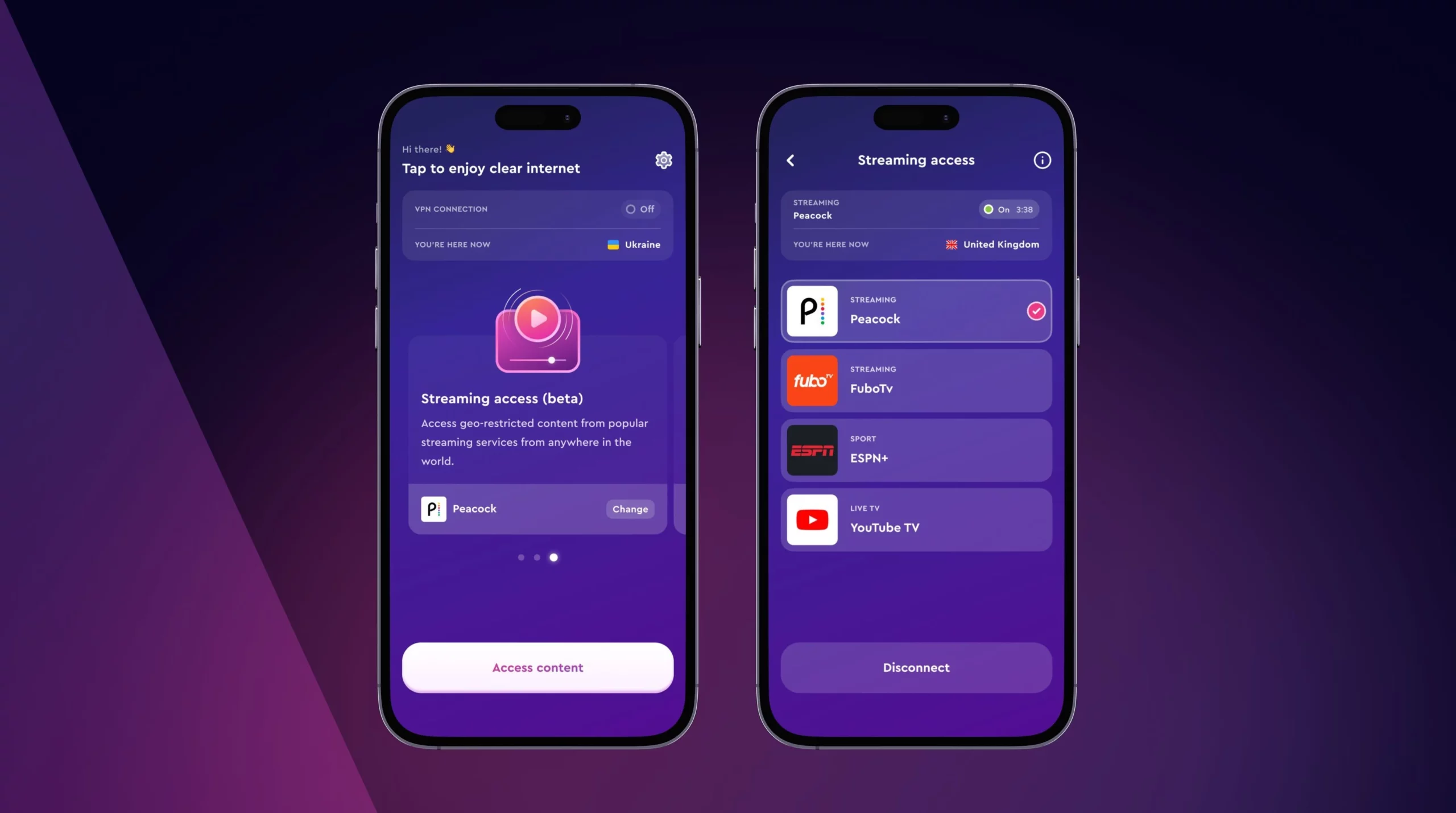 More countries and servers to connect to. We've heard user requests and enlarged our server list to 40 countries.
A stellar performance and quality of our servers. ClearVPN 2 offers a unique new approach to balancing servers that always gives you the best VPN channel for all your needs, ensuring a stable and fast connection.
Privacy: ClearVPN 2's Backbone
On February 24, 2022, russia launched a full-scale military invasion of Ukraine. Millions of people had to relocate, and tens of thousands were killed by russian missiles or their armed forces. Some Ukrainian cities no longer exist — they have been wiped off the earth. Millions of Ukrainians remain hostages on the temporarily occupied territories.

The full-fledged war made us reevaluate our core values — user privacy and security — as fundamental human rights. We've learned the price of these values the hard way — while providing safe internet connection to our fellow Ukrainians in the occupied territories, so they would always have access to trusted sources of information and their internet traffic wouldn't be analyzed for further persecution.
Obviously, like the previous version, the new ClearVPN 2 does not operate with low-trusted server providers, e.g., russia, belarus, Iran, and China, for ethical and safety reasons.
ClearVPN 2 uses AES-256 encryption to eliminate any security vulnerabilities and achieve a high-speed connection, and it relies on IPSec IKEV2 and OpenVPN. Users can browse, play, stream, and communicate without any tracking from the ISPs.
Additionally, ClearVPN 2 has a zero-logs policy. The app doesn't store, share, or even collect users' online activity, personal info, IP address, etc.
Last year, ClearVPN won the "Hot Company VPN" award from Cyber Defense Magazine (CDM), the industry's leading electronic information security magazine. In 2021, ClearVPN was selected as the winner of the "Mobile VPN Solution of the Year" award from the CyberSecurity Breakthrough.
How to Download ClearVPN
ClearVPN 2 is available on all your favorite devices and platforms: iOS, macOS, Android, and Windows. Connect up to 6 of them to your account.
ClearVPN 2 offers 2 weeks (until March 15) of free usage of the Premium plan for all customers. The app remains entirely free for Ukrainians anywhere. You can learn more about what our team does for the Ukrainian victory.