Are you a true cinephile and TV enthusiast looking for the hottest movies and TV shows? If so, you are undoubtedly aware of HBO Max. With its expansive library of premium shows and movies, HBO Max has quickly become a favorite streaming platform for viewers across the globe.
Unfortunately, Canadians cannot access this incredible service due to licensing restrictions. The good news is that there is a solution: by using certain methods, you too can gain access to the vast content library of HBO Max.
Why HBO Max is not available in Canada?
HBO Max has been steadily expanding its reach, with availability in several countries, including the United States, Latin America, and parts of Europe. However, in some regions like Canada, the platform remains conspicuously absent. So, what's keeping HBO Max from crossing the border?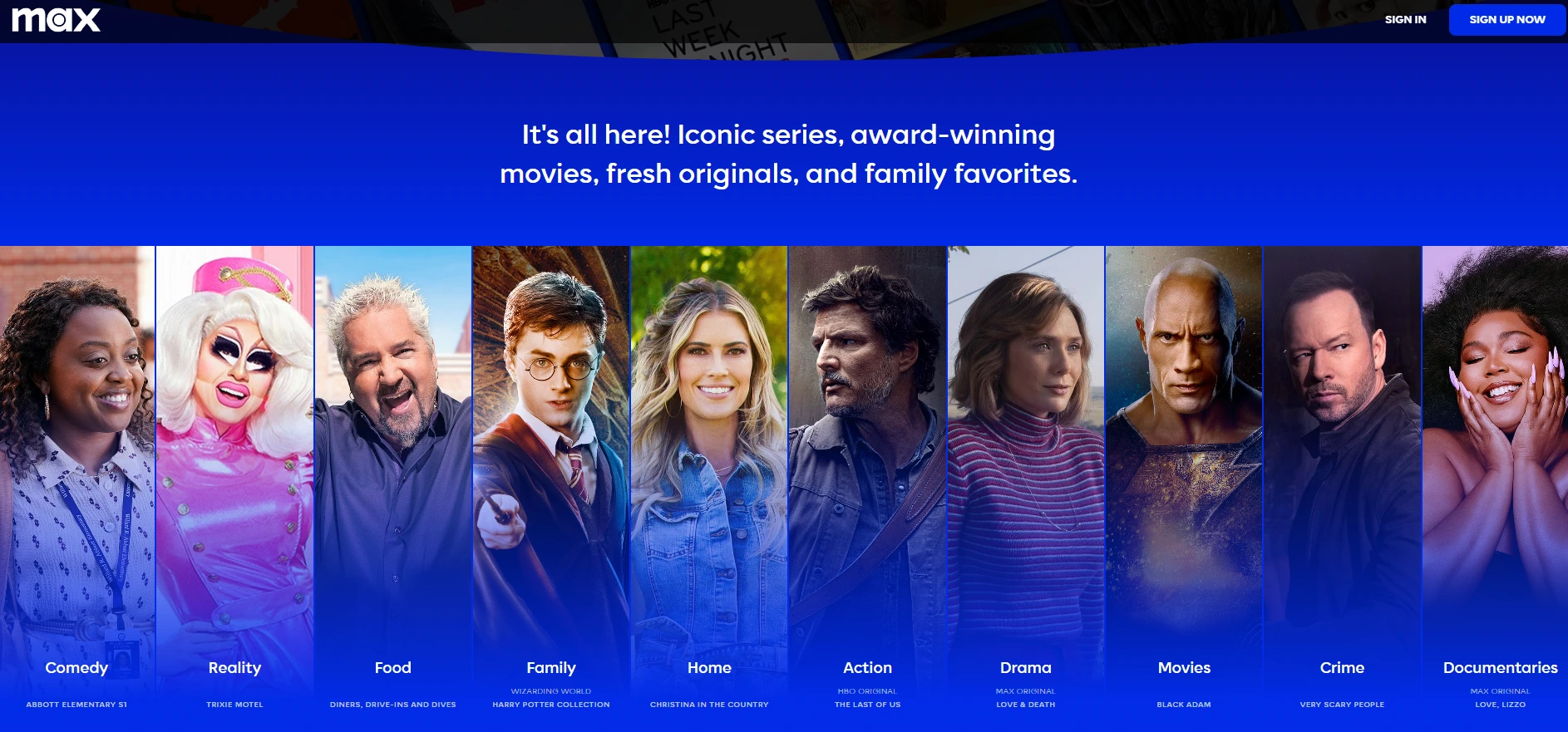 Well, the primary reason behind HBO Max's unavailability in Canada lies in the complex world of licensing agreements. These agreements dictate which content can be distributed in specific regions. To bring HBO Max to Canada, the company must secure individual rights for each show and movie, a process that can be both time-consuming and challenging.
Fortunately, there are steps that you can take to get around this restriction and access HBO Max in Canada.
How to watch HBO despite the restrictions?
Now there exist several methods of bypassing geo-restrictions imposed on HBO Max. These include using a VPN (Virtual Private Network) service, proxies, and smart DNS.
VPNs work by connecting your device to a server located elsewhere in the world, such as in the United States. Once connected, all your traffic will be routed through this server and appear as if you're located in that country. This allows you to access geo-restricted content like HBO Max without any issues. Plus, VPNs offer the added benefit of encrypting your data so that third parties can't monitor or track you.
Proxies and smart DNS work similarly to VPNs but don't encrypt your data like a VPN does. While you may access geo-restricted content, your data is vulnerable and can be monitored or tracked by third parties. They are also typically slower and require more technical knowledge to set up correctly.
How to watch HBO Max in Canada with a VPN?
If you want the quickest and most effective method to access HBO Max in Canada, then a VPN is the way. You can easily do so with ClearVPN.
ClearVPN is a secure and user-friendly VPN service that helps you access content worldwide with just a few clicks. It gives you instant access to geo-restricted platforms like HBO Max, Netflix, Hulu, and more, no matter where you're physically located.
Plus, it offers advanced security features such as military-grade encryption and built-in IP leak protection, so your data is always secure.
With ClearVPN, you can unblock HBO Max from Canada in 3 easy steps:
1. Download the ClearVPN app from the website (tap/click on the "Download for free" button and install it on your device. Also, ClearVPN now has a 3-day free trial, so you can try it for free!
2. Run the ClearVPN app and sign up for an account. Once done, you can log on to the VPN service and select "Streaming access".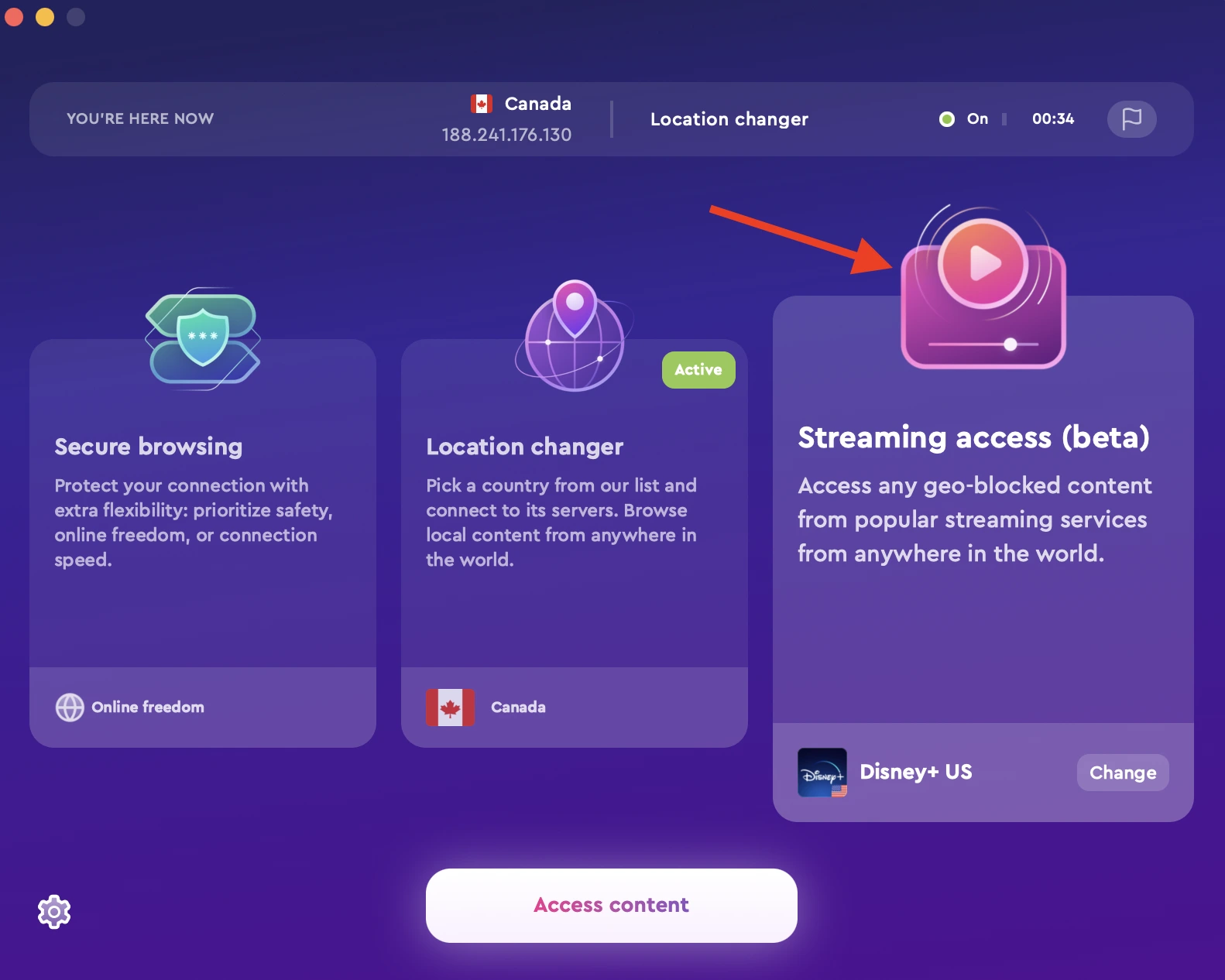 3. Click/tap on the "Change" button and select HBO Max from our list of streaming services.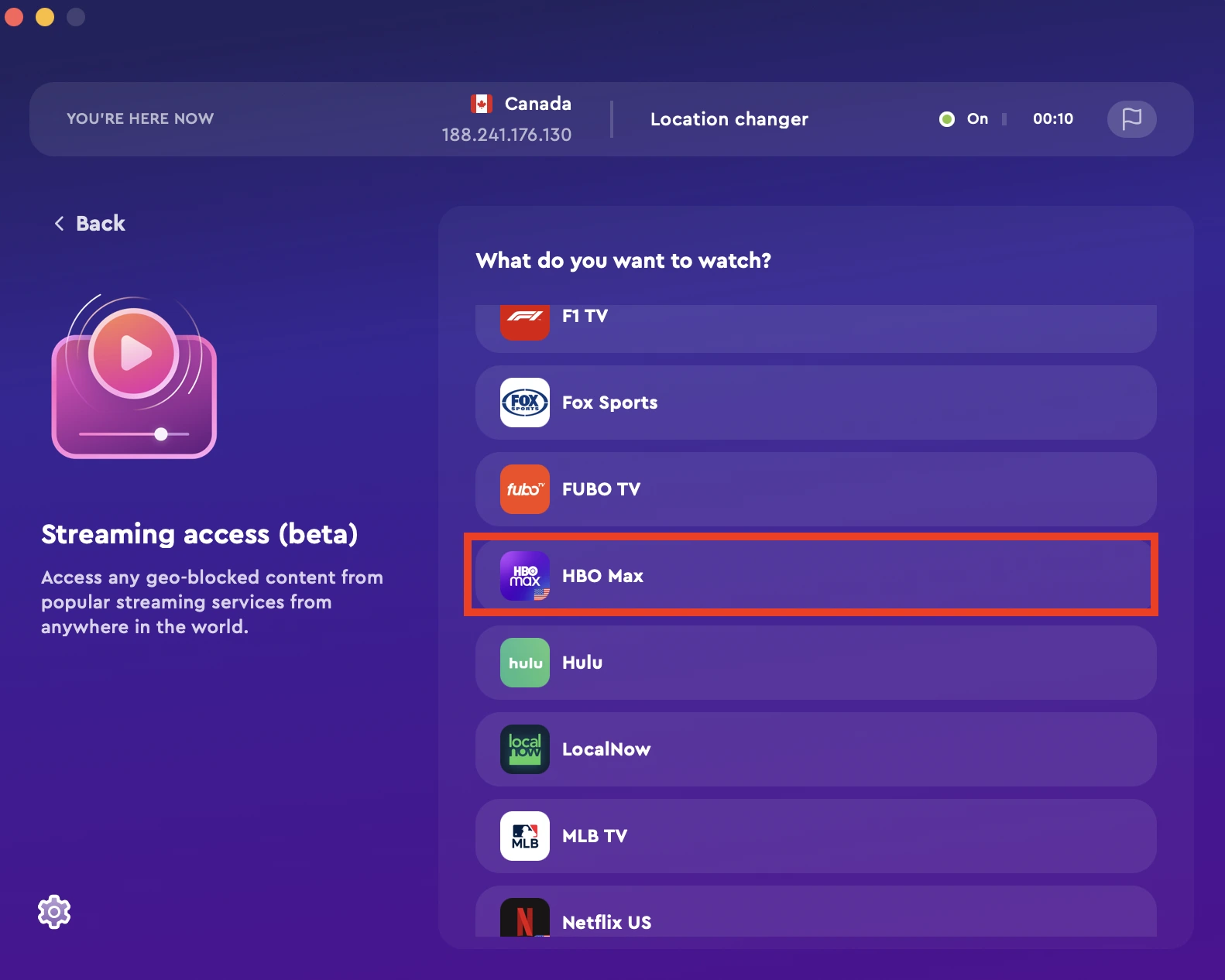 And that's it! Once you've followed these steps, you can watch HBO Max from anywhere worldwide and enjoy all the content offered.
What to watch on HBO Max?
Now that you know how to watch HBO Max, let's take a look at some recommended shows and movies that are available on the service:
Succession: This critically acclaimed drama follows a dysfunctional family of billionaires struggling to maintain control over their media empire.
White House Plumbers: A dramatization of how two White House staffers orchestrated the infamous break-in and cover-up during Richard Nixon's presidency.
Love & Death: This romantic comedy follows two star-crossed lovers in Hollywood as they navigate life and love.
The Last of Us: Based on the popular video game of the same name, this post-apocalyptic thriller follows Joel and a teenage girl named Ellie as they journey through a dangerous world filled with fungus-infected humans.
Barry: This dark comedy follows hitman-turned-aspiring actor Barry Berkman as he strives to find meaning in his life.
Titans: This live-action series based on the classic DC comics tells the story of a new generation of heroes and their quest to save the world.
FAQs
Is HBO Max Canada free?
No, HBO Max is not free in Canada. While you can unblock it with a VPN, you will still have to pay for the subscription to use it.
How much is HBO Max in Canada?
Since HBO Max is not officially available in Canada, prices will be USD. Prices for their subscription streaming service start at $9.99 per month.
Does Crave include HBO Max?
Crave is a Canadian streaming service that offers HBO content access but does not include HBO Max. This means that not all HBO titles are available through Crave. If you want to watch HBO Max shows in Canada, then ClearVPN is your best option.