YouTube TV is a great way to watch live television without having to pay for cable. However, the service is currently only available in the United States. If you are traveling or living abroad, you may be wondering how to access the service with a Youtube TV VPN.
In this article, we will show you how to unblock YouTube TV and access the service from anywhere in the world!
Why are there YouTube TV location restrictions?
First things first — why does YouTube TV restrict their service within the USA in the first place? Wouldn't it be better to have as many customers as possible?
The answer is that they are limited by licensing agreements. YouTube TV, like other streaming services, signs deals with television networks in exchange for the right to host content on their platform. These agreements typically only cover distribution within a set region or country (typically where the network's headquarters is located).
If YouTube TV were to allow access from people outside of the US, they would be breaking their contracts and could face legal action. The same is true for other popular streaming services like Netflix, Hulu, and Amazon Prime Video.
How to watch YouTube TV outside the USA?
The good news is that there is a way to get around the location restrictions and watch YouTube TV from anywhere in the world. All you need to do is use a VPN with YouTube TV.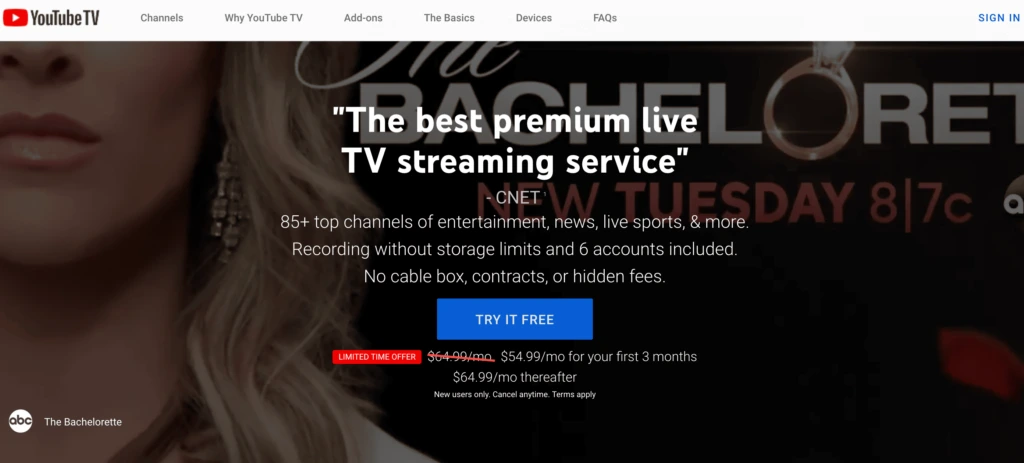 A VPN (Virtual Private Network) is a service that allows you to connect to the internet via a server located in a different country. This simple trick allows you to "mask" your IP address, making it appear as if you were accessing the internet from another location.
This way, you can access Youtube TV while abroad and pretend to be in a different country, such as the United States!
The only problem is that not all VPNs are created equal. Some aren't good at unblocking services like YouTube TV or Netflix (the most popular streaming service). Others may be too slow to stream video, while others may not even have servers in the US.
To make matters worse, some VPNs do the complete opposite of what they're supposed to — they actually log your data and sell it to third parties. This practice is particularly prevalent among free VPNs.
This is where ClearVPN comes in! ClearVPN is one of the few VPN services on the market capable of unblocking popular streaming services like YouTube TV, Netflix, and Hulu. They have servers located in the US, so you'll have no trouble unblocking YouTube TV with a VPN from just about anywhere in the world.
What's more, ClearVPN is one of the few VPNs that does not keep logs of your data. This means that you can use their service without worrying about your privacy or security.
How to get around country restrictions on YouTube?
This begs the question — how do you use a YouTube TV with a VPN? Well, it's not as complicated as you might think, even a beginner can do it! For this example, we'll be using ClearVPN:
Here's how:
First, sign up for a ClearVPN account. You'll have to register a valid payment method into their system.
The next step is to download and install the ClearVPN app on your device. It supports a wide range of operating systems including PC/Windows, macOS, iOS, and Android.
Complete the installation process. At that point, ClearVPN is now installed and ready to unblock Youtube TV outside the US.
How to trick YouTube TV location
Run the ClearVPN app on your device. Enter your username (email address) and password to log on to their VPN network.
At this point, you should now be looking at the ClearVPN dashboard. Choose the Location changer mode and click on the Pick Country button and choose USA to bypass the Youtube TV location.
You can now access Youtube TV outside the USA.
Is it legal to use a VPN to unblock YouTube TV outside the US?
Yes. VPNs are legal in most countries.
VPNs allow you to bypass geo-blocking measures that prevent you from streaming content from certain websites or regions. By connecting to a VPN server located in a country where the website is available, you can access the website as if you were physically located in that country. This allows you to access YouTube TV outside the USA despite the geo-blocking restriction which is perfectly legal except for a few countries — China, North Korea, Russia, etc.
If I use a VPN, can I watch YouTube TV for free?
No, you cannot watch YouTube TV for free by using a VPN. While a VPN can help you access YouTube TV while outside the USA, it will not allow you to bypass the need to pay for a subscription to YouTube TV. Also, you can check our recent post about top YouTube alternatives that you can watch for free.
Can I use a free VPN to unblock YouTube TV?
No, we wouldn't recommend that you use a free YouTube TV VPN. Free VPNs usually have a data cap, which means you will quickly reach your limit and be unable to watch any more videos. In addition, free VPNs are often slow and unreliable, which means you will likely experience buffering and lag while watching YouTube TV.
Paid VPNs offer unlimited bandwidth are typically much faster and do a better job when trying to bypass YouTube TV location restrictions. They also offer military-grade encryption, which means your data is safe and secure.
So there you have it — all you need to know about how to access YouTube TV outside the US with a VPN! Again, if you're looking for some of the best YouTube TV VPNs, we highly recommend that you give ClearVPN a try. It offers unlimited bandwidth and is capable of unblocking most geo-restricted streaming services like Youtube TV, Netflix, Hulu, HBO Max etc.