Many people consider iOS devices to be the most secure mobile operating systems available. However, even with the latest iPhone security features in place, your data is only as safe as your willingness to use them.
In this article, we'll look at some of the lesser-known security tips on iPhone that you can use to protect your data. We'll also discuss how you can use these settings to improve your privacy.
Why improve your iPhone security?
First things first — why should you care about improving the security settings on your iPhone?
Well, there are a few reasons:
The more data stored on your device, the greater the risk of it being compromised. This is especially true if you use your device for work or to store sensitive information.
As our lives move increasingly online, our data is becoming more valuable. This means that criminals are more likely to target our devices to steal this data.
As we become more reliant on our devices, the consequences of them being lost or stolen also increase. This is why it's essential to ensure that your device is as secure as possible.
Now Apple is known for its commitment to security and privacy, and the company has built several features into its devices to help protect user data. However, these features are only effective if they're actually used.
This is where you come in. By using the security features available to you, you can significantly reduce the risk of your data being compromised.
Known iPhone security issues
Before we look at how to improve your security settings on iPhone, it's worth briefly discussing some of the known security issues that have affected iPhones in the past.
These issues include the "Spectre" and "Meltdown" vulnerabilities. In 2018, it was discovered that all processors (including those used in iPhones) were vulnerable to two security exploits known as "Spectre" and "Meltdown".
Attackers could exploit these vulnerabilities to access sensitive data stored on the device. Fortunately, Apple released updates to address these vulnerabilities and protect user data. However, it's important to note that these updates are only effective if installed.
Another well-known security issue is "Stagefright". In 2015, it was discovered that a critical security flaw in the Android operating system could be exploited to gain access to a device simply by sending a malicious text message. Although this exploit was not specific to iPhones, it's still worth being aware of.
iPhone security tips
Now that you understand why iPhone security is essential and some of the known security issues that have affected iPhones in the past, let's look at how you can improve your security settings on your iPhone.
1.Use a strong passcode
One of the simplest and most effective ways to improve your iPhone security is to use a passcode. A passcode is a numerical code that you use to unlock your device.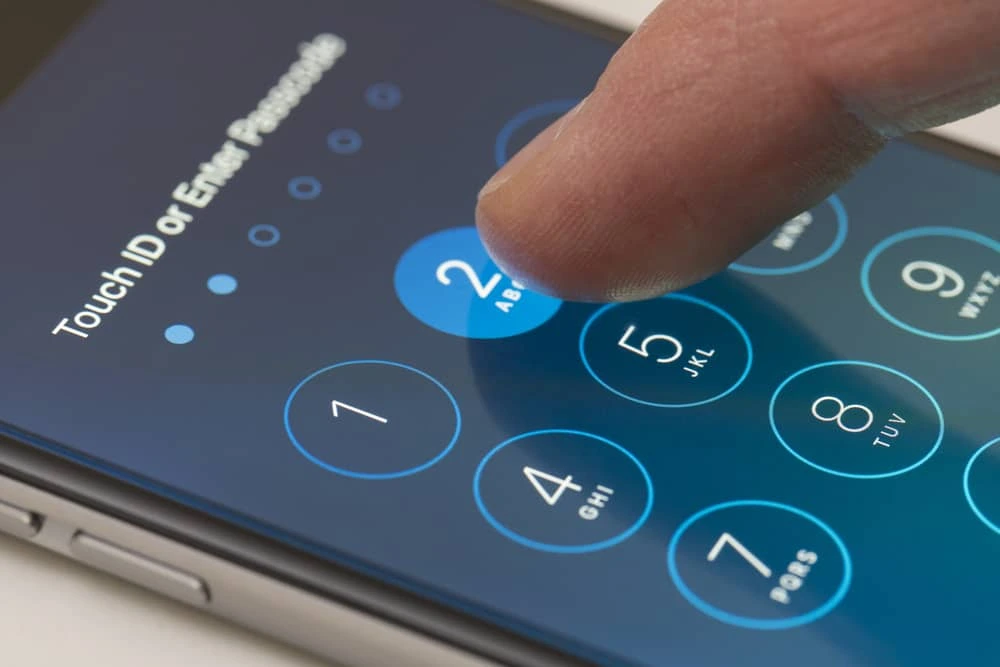 The longer and more complex your passcode, the more difficult it will be for someone to guess it. As such, you should always use a passcode that is at least six digits long. And don't forget to change you passcode regularly.
2.Use Touch ID or Face ID authentication
If you're concerned about someone being able to guess your passcode, you can also enable Touch ID or Face ID. These features allow you to unlock your device using your fingerprint or facial recognition.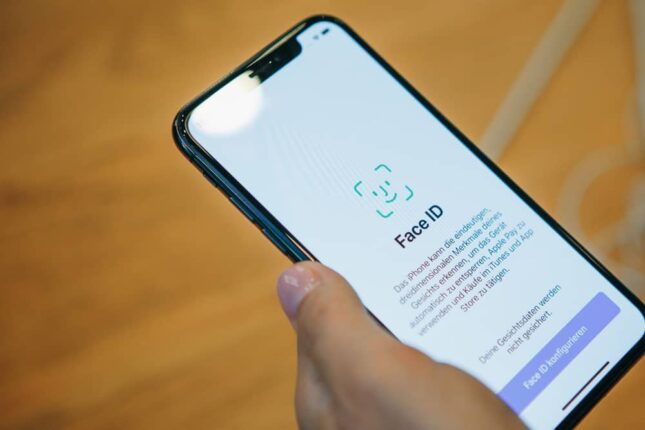 You can enable these features by going to Settings > Touch ID & Passcode (or Face ID & Passcode).
3. Use two-factor authentication
Another way to improve your iPhone security is to use two-factor authentication. This is an extra layer of security that requires you to enter a code sent to your iPhone.
You can enable two-factor authentication by going to Settings > "Your Name" > Password&Security > and Tap on Two-Factor Authentication.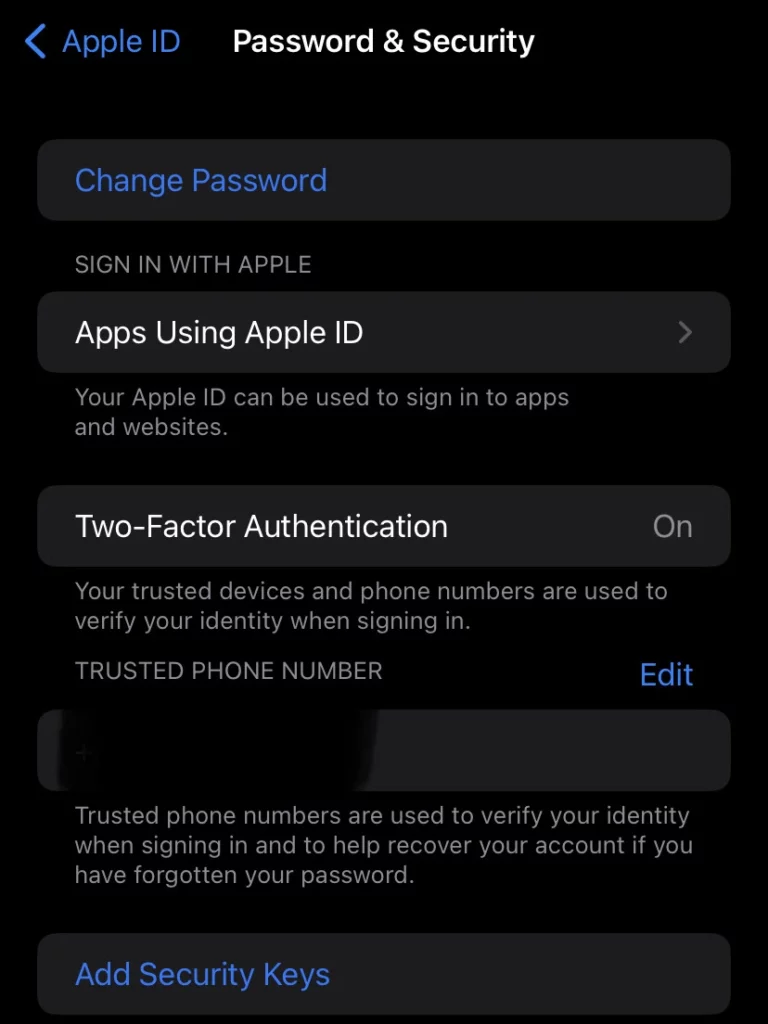 4. Use iPhone security recommendations
Another great thing you can use is Apple security recommendation that are very easy to use.
Go to your Settings > Passwords > Security Recommendations
Next, choose Toggle on the "Detect Compromised Passwords"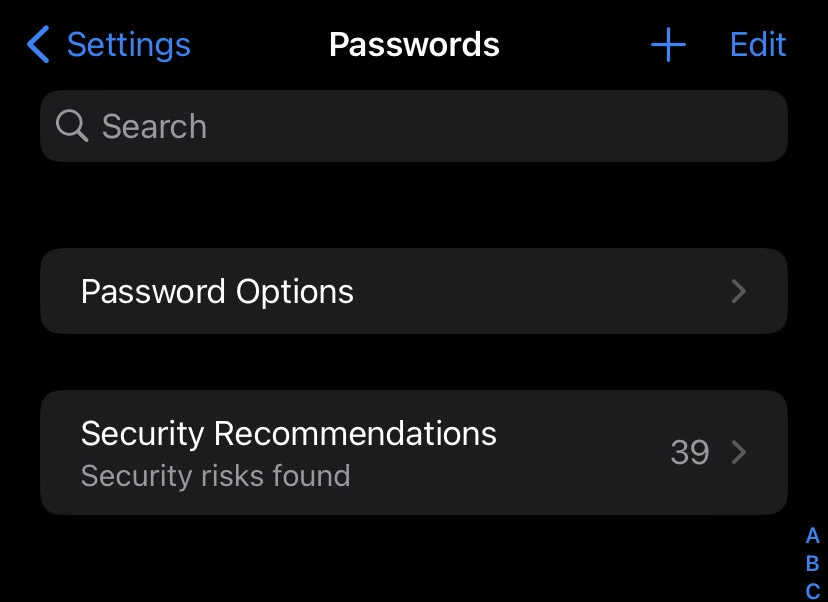 Iphone will show you a list of your passwords that were compromised, so you can change or delete them for good.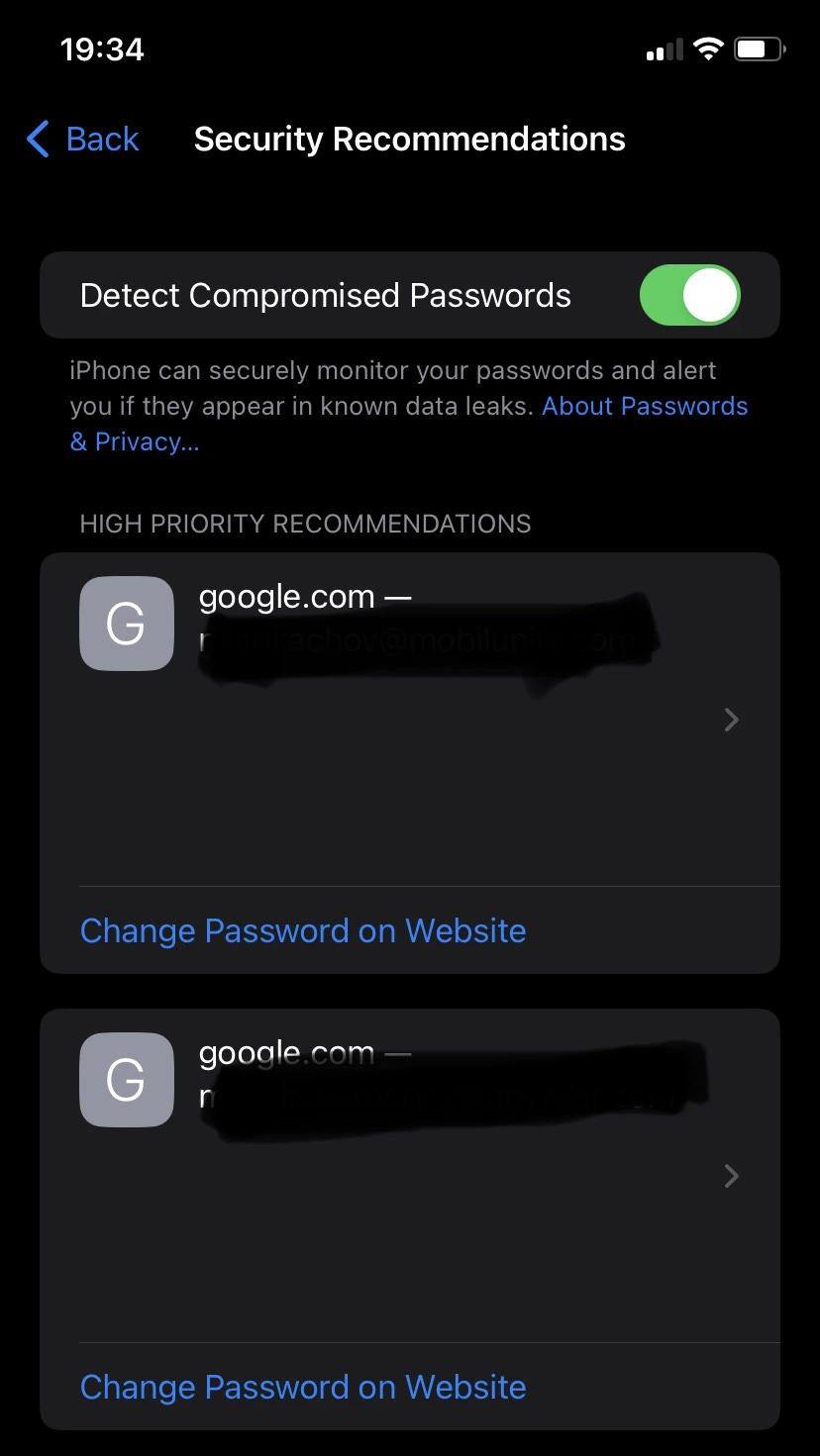 5. Always keep your software up to date
iPhone sends you notifications about new iOS updates regularly, so don't ignore them and try to instal it as soon as possible. If you don't receive messages about updates, so maybe they are turned off.
Go to your Settings > General > Tap Toggle Automatic Updates to on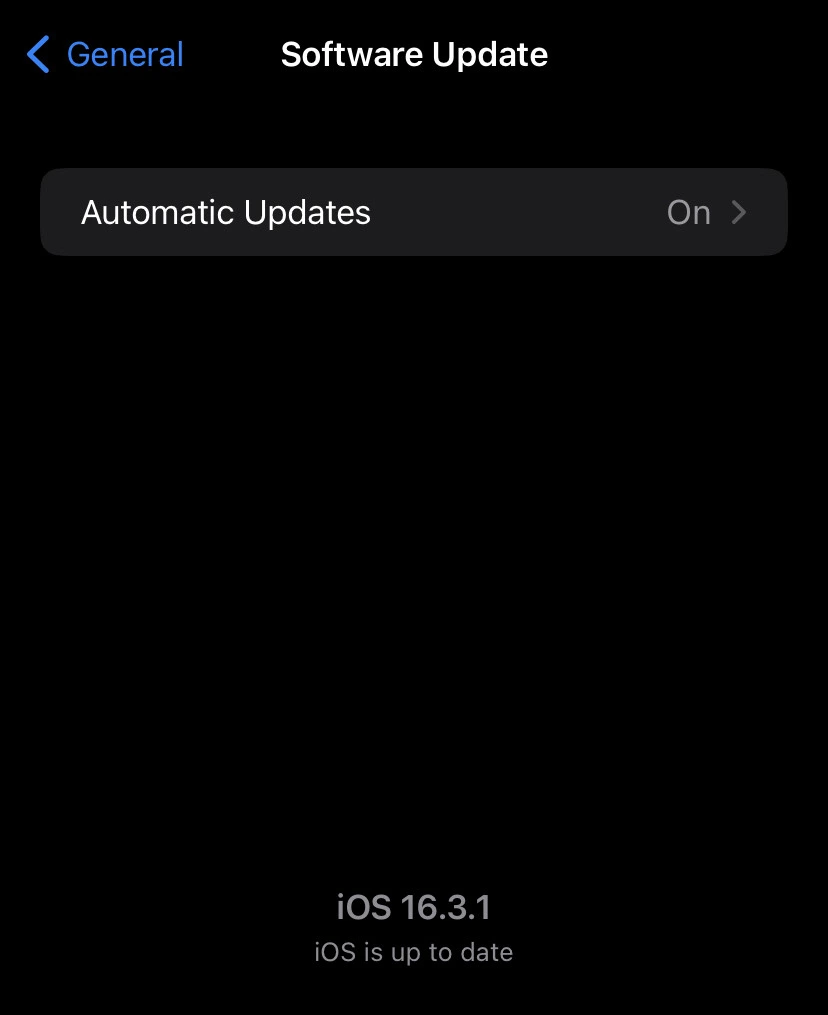 That's all, now you will receive notification when new iOS update is ready to be installed.
How to secure your iPhone
If you want to take your iPhone's security up a notch, we recommend that you add an extra layer to your smartphone's security settings and use a VPN (Virtual Private Network) service.
A VPN is a tool that encrypts all of your device's traffic and routes it through a secure server. This makes it much more difficult for someone to intercept and read your data. VPNs are particularly effective against public WiFi threats, like "Honeypot" exploits.
If you have no idea where to start, we recommend using ClearVPN. This provider offers a high level of security, fast speeds, and 24/7 customer support.
Getting started is easy and something anyone can do with a few simple steps:
Go to the ClearVPN website and sign up for an account. They offer a free plan (with limitations)
Download the ClearVPN app and install it on your device. Their VPN service supports PC, macOS, Android, and iOS devices.
Open the app and sign in with your account details (email address and password)
Select the shortcut "Smart connection" and tap on the "Connect me" button.
At this point, all of your traffic will be encrypted and routed through a secure server. This will make it much more difficult for someone to hack your device or intercept your data.
What to do if you have an iPhone security lockout
When someone tries to unlock your device with an incorrect passcode too many times, your iPhone will lock them out. When this happens, your iPhone will be disabled, and you will not be able to use it. If you find yourself in this situation, don't worry! There are a few things that you can do to fix it.
First off, note that an iPhone security lockout gives you a maximum of 10 attempts to enter the correct passcode. Hopefully, you'll be able to remember it by the time you get to your tenth attempt.
If you can't provide the correct input, then your iPhone will no longer accept passcode inputs from you. At that point, the only way to fix it is to reset your iPhone:
On the iPhone security lockout screen, look for the "Erase iPhone" option in the lower right corner and tap on it.
A confirmation message will pop up, asking if you're sure that you want to reset your iPhone. Tap on the "Erase iPhone" button to confirm.
Enter your Apple ID and password. This ensures that only you (the legitimate owner) will be able to reactivate and use your device.
Once your iPhone is reset, you'll be able to set it up as new and create a new passcode.
FAQs
Does Apple have security on iPhones?
Yes, Apple does have security on iPhones. The iPhone has a built-in security system that protects your device and data from unauthorized access. This includes features like Touch ID and Face ID, which use biometric authentication to ensure only the rightful owner can access the device.
Additionally, the iPhone comes with built-in encryption that helps keep your data safe from prying eyes.
What iPhone security settings let me check for viruses?
To check for viruses on your iPhone, you can download and run an antivirus app from the App Store. Some popular options include Avast Security & Antivirus, Lookout Mobile Security, and Malwarebytes Anti-malware for Mac. These apps will scan your device for any malicious software and remove it if found.
Can iPhones get hacked?
Yes, iPhones can be hacked. While the iPhone is considered to be one of the most secure devices available, it is still vulnerable to attack. Hackers can target iPhones in several ways, including through malicious apps, websites, and WiFi networks.
One of the most common ways that hackers target iPhones is through malicious apps. These apps may look legitimate, but they are actually designed to steal your data or infect your device with malware. To protect yourself from these attacks, only download apps from trusted sources, such as the App Store.
So there you have it — some security settings and features on your iPhone that can be used to keep your data safe. By taking advantage of these features, you can make it much more difficult for someone to hack your device or intercept your data.
We would also recommend using a VPN service like ClearVPN to encrypt your traffic and protect your privacy. VPNs are incredibly effective at deterring hackers and keeping your data safe.