The new WhatsApp Privacy Policy caused an uproar in early 2021.
The document tried to explain how WhatsApp shares data with Meta, its parent company, but it didn't do the job very well.
Let's take a fresh look at the Privacy Policy of WhatsApp and figure out what kinds of data it collects and where this data ends up eventually.
WhatsApp new Privacy Policy & what data it collects
Here's a detailed list of what WhatsApp collects about you, according to its Privacy Policy.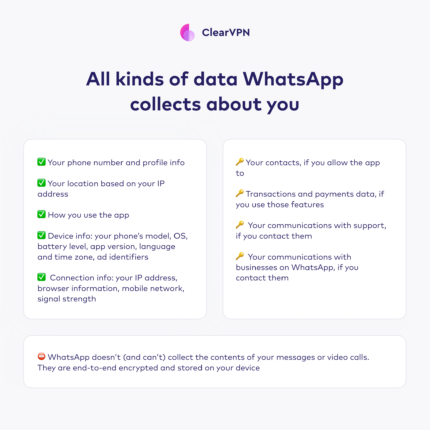 Certain pieces, however, require some further investigation.
WhatsApp privacy: your messages and media 📝
WhatsApp doesn't collect your messages, and, what's more important, it can't. All text, audio, and video messages, voice, and video calls are end-to-end encrypted.
End-to-end encryption means all your communications are stored on your device only. A service that uses end-to-end encryption doesn't keep the data on its servers; it can't see what you send even if it wants to.
But if WhatsApp can't deliver a message, it will stay on its servers for 30 days while the app tries to resend it. If it's not delivered after 30 days, WhatsApp will delete it forever.
WhatsApp also keeps photos and videos on its servers for 30 days. According to the messenger, this media is encrypted, and it's needed for more efficient delivery.
WhatsApp Privacy Policy 2021: your location 🌎
Spoiler alert: WhatsApp always knows where you are. The app records your location even if you opt out of its location features,
WhatsApp finds out where you are by looking at your IP address. As you navigate the internet, all apps and websites can see your IP, which shows your general location.
WhatsApp privacy: your device & network info 📲 📡
The messenger collects your phone's hardware model, information about the operating system, language and time zone, battery level, and ad identifiers.
WhatsApp also likes to know things about your network. The app records your IP address, browser information, mobile network, and signal strength.
New Privacy Policy of WhatsApp: how is your data used?
Let's break down where your data goes, according to WhatsApp's Privacy Policy.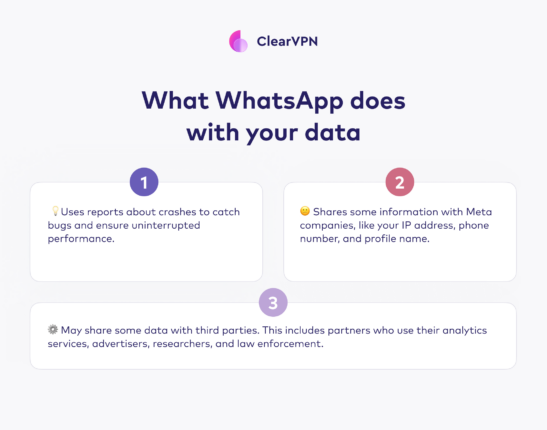 WhatsApp shares your data with Meta
Meta gets some data from WhatsApp to "connect their services with other company products." This data includes your IP address, phone number, profile name, and other things.
This means Meta knows your Facebook profile, Instagram, and WhatsApp belong to the same person.
WhatsApp uses it to keep their service working
WhatsApp cannot afford to be down: around 2 billion people use the messenger monthly. The developers rely highly on user reports about crashes to catch bugs and ensure uninterrupted performance.
WhatsApp may provide your data to third parties
When you talk to businesses on WhatsApp, it may share some information with them for ad optimization.
WhatsApp can also share data with third parties, including analytics services, partners, vendors, service providers, researchers, and law enforcement.
WhatsApp Security: Let's Sum It Up
Is Privacy Policy of WhatsApp safe?
More or less, the WhatsApp Privacy Policy tries to tell us about the data-sharing practices of WhatsApp and Meta. Still, it's somewhat hard to understand what data is shared with other Meta companies and what stays on WhatsApp servers.
Of course, the messenger may feel creepy due to its close relations with Facebook. At the same time, WhatsApp privacy is OK: the security of your texts and media is robust and reliable. The company uses end-to-end encryption and doesn't store your messages for more than 30 days.
If you don't feel like you can trust Meta, try other secure messengers. Signal, for example, is a free end-to-end encrypted messenger, and it doesn't belong to a Big Tech company.
If switching to an entirely new messenger isn't an option, you can use ClearVPN to at least hide your location from WhatsApp.

Our final grade for WhatsApp's Privacy Policy: Not great, not terrible 👌
WhatsApp Privacy Policy: how we review a privacy policy
To review a privacy policy, we examine the document closely. We also research similar topics in media to present the information in the most informative and precise way. Here's a list of sources we used for this review.
All the data WhatsApp and Instagram send to Facebook by Wired