Wondering where to watch Twilight movies online? These romantic fantasy films based on the work of renowned American author Stephenie Meyer, have captivated the hearts and imaginations of millions of fans from around the world. So where do you start?
That's where this guide comes in! Here, we'll go over some of the best streaming platforms to watch the Twilight Saga. We'll show you how to watch them in order (for the full Twilight experience) and even discuss options for how you can watch them for free.
Let's dive right in!
So where to watch Twilight Saga?
Now the good news is that there are actually plenty of places online that offer the Twilight Saga movies. This makes it easy for fans to just sit back and watch their favorite movies, at any time.
Here are some of our top picks:
Amazon Prime Video
Amazon Prime Video is one of the best places to watch Twilight movies on the Internet. For one thing, they have the entire series available on the platform, ready to stream for Prime Members.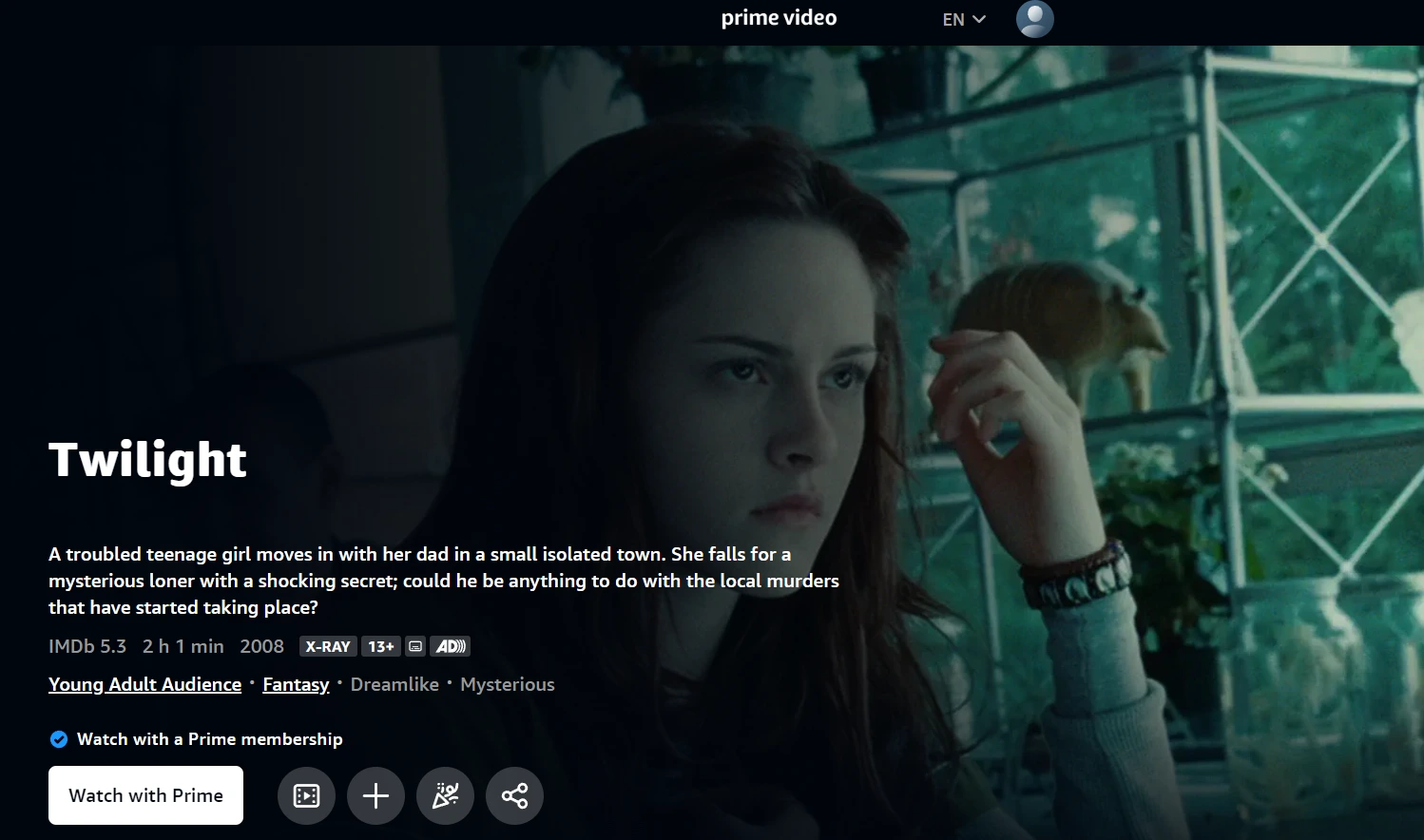 Now as popular as Amazon is, many people already have Prime membership, so it's a quick and convenient way to get started. Plus, even if you're not signed up for Amazon Prime, there's still the option to buy or rent the movies individually.
As for the streaming experience, well, it's just what you'd expect from a major tech company like Amazon. The movies and TV shows they offer are all HD quality, maximizing your streaming experience. Of course, users still have the option to stream in lower quality (SD) in the event of a slow connection.
Another great thing about streaming Twilight movies on Amazon Prime is that you can do it across various devices. Amazon Prime Video works on PCs, smartphones, tablets, and smart TVs. So, you can get your Twilight fix no matter where you are or what device you're currently using.
DirectTV
If you've already signed up for Direct TV's cable and satellite television service, then you're in luck! They offer one of the few premium online streaming platforms where you can find all the movies in the Twilight series.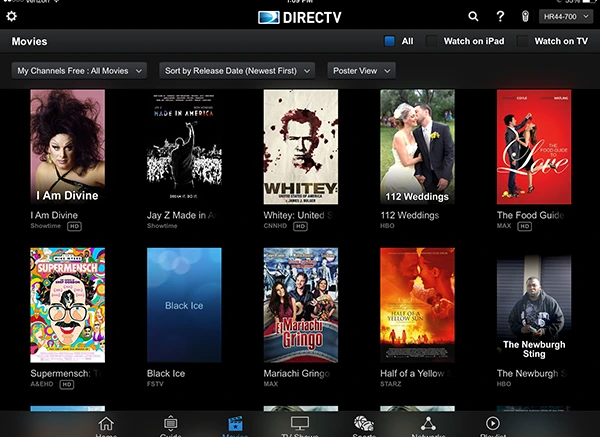 Plus, even if you currently don't have a DirectTV subscription, the vast selection of movies and TV shows that you'll find on this platform (aside from the Twilight movies), makes it an option worth considering.
Similar to Amazon Prime Video, Direct TV's online streaming service also works on mobile devices, computers and smart TVs. However, they do not offer an option for renting or buying movies individually.
Freeform
Freeform, from the American Cable Channel, is another solid option for Twilight fans looking to watch their favorite movies online.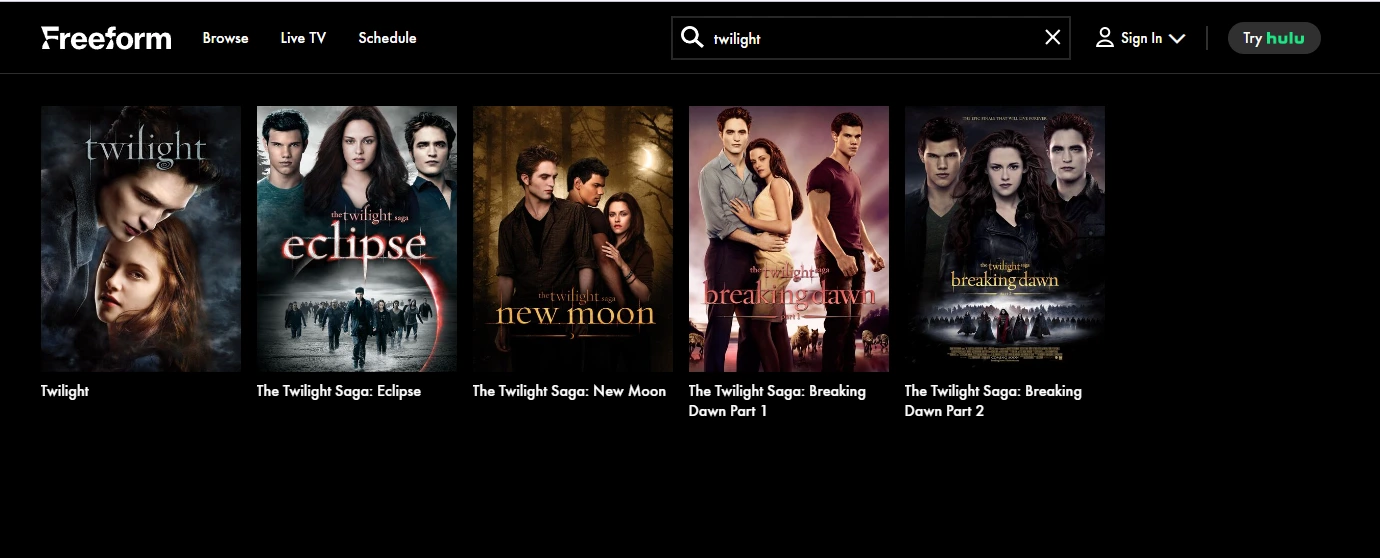 Similar to Direct TV, you'll need a cable subscription to access this streaming platform, but its large selection of movies and TV shows definitely make it a good option. If you need a cable service anyway and don't want to have to spend extra on an online streaming service, then Freeform is definitely worth considering.
Apple TV
If you're on a Mac or iOS device (iPhone, iPad) looking to watch Twilight movies online, then Apple TV might be the best option for you. However, there are a few things that you need to consider first.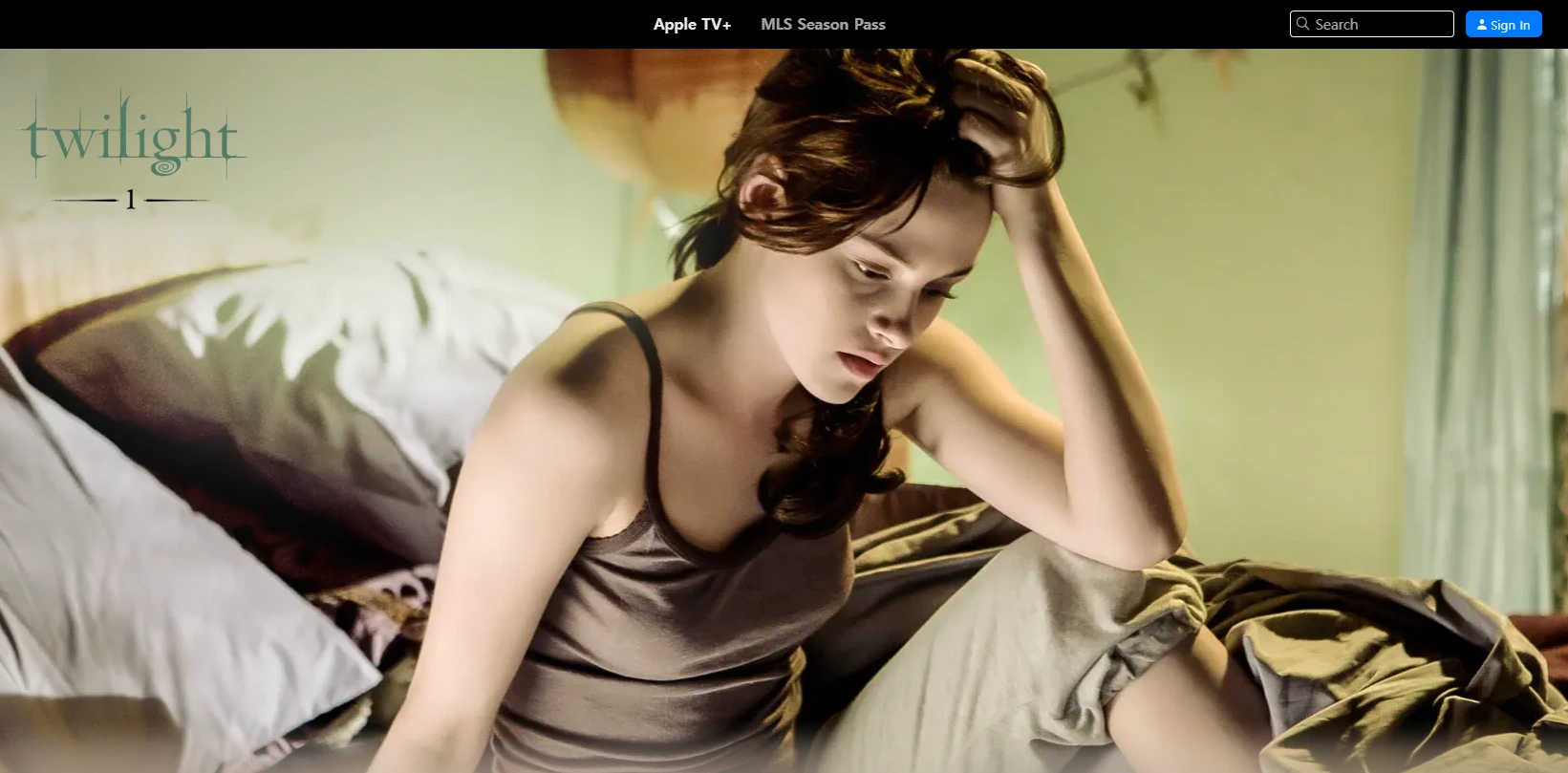 While Apple TV does offer a streaming subscription, it does not include the Twilight Saga. Instead, users must either buy or rent the Twilight movies from the platform. Either way, Twilight fans on Apple devices have a convenient and efficient solution for watching the Twilight saga on Apple TV.
Google Play
Just like Apple TV, Google Play is not a streaming platform per se, but rather a digital marketplace where you can buy or rent all the Twilight movies you want. You'll find all 5 movies in the series there, and you can enjoy them on your schedule without committing to a subscription service.
One good thing about using Google Play to watch Twilight movies is that they actually allow you to download movies on your device, and then watch them online. This is perfect for when you just want to have the movies handy and watch them from anywhere without having to worry about whether you'll have a good Internet connection or not.
It is also worth mentioning that Google Play is a lot more accessible compared to Apple TV, as you're not limited to a particular device ecosystem (macOS and iOS). That means you can enjoy your Twilight movies on just about any platform and device you want.
Where to watch Twilight movies for free?
Premium platforms have many advantages, but what if you just want to watch the Twilight movies for free? Well, that's certainly possible, as there are a few places online where you can watch these movies for free. However, before we mention any particular source, it's important to take note of the following things:
Free streaming sites of popular movies and TV shows are often littered with ads. That's how these websites generate revenue.
Free streaming websites often purposefully reduce the quality of videos to save on bandwidth. This can lead to a poor viewing experience for Twilight fans
Many free streaming sites offer content without authorization from copyright owners, the legality of which is dubious at best.
Considering the downsides mentioned above, it's a good idea to be cautious and make sure that you don't end up infringing copyright laws. For one thing, don't share links to free streaming sources on social media unless you're certain that they are displaying legally acquired content.
As for specific websites where you can watch Twilight for free, one good example is a platform called TheFlixer. For a free streaming site, it offers a wide selection of popular movies and TV shows, including the complete Twilight series.
How to watch Twilight in order?
At this point, you might be wondering — what's the correct order for watching the Twilight series? After all, watching the movies in the wrong order is bound to create confusion and take away from the experience.
Here's how to enjoy the Twilight Saga in chronological order:
Twilight: This is the first movie in the epic romance fantasy series. Witness the origins of Bella and Edward's unconventional love story and their struggles to navigate the complexities of their forbidden relationship.
New Moon: The second film picks up where the first Twilight movie leaves off, with Bella struggling to make sense of her separation from Edward. She finds solace in the company of her childhood friend, Jacob, only to discover the hidden world of werewolves.
Eclipse: The love triangle between Bella, Edward, and Jacob reaches a boiling point as an army of newborn vampires make their move against the Cullen family, and age-old loyalties are tested.
Breaking Dawn Part 1: Bella follows her heart and makes the decision to become a vampire and join Edward's family. This leads to unexpected challenges including a perilous pregnancy and drawing the ire of the Volturi — the most powerful vampire coven in the series.
Breaking Dawn Part 2: This film is the epic conclusion to the Twilight saga. Bella learns to control her gifts as a newborn vampire and joins her family in a last stand against the Volturi.
Whether you're completely new to the Twilight series or just want to watch it again, you can look forward to a one-of-a-kind movie experience filled with romance, action, and mysticism.
How to watch Twilight on geo-blocked streaming platforms
Have you found that you're not able to access Twilight movies from your desired platform? If so, then it's probably because that service is geo-blocked in your region. That means that the platform, streaming site, or specific content thereof is not accessible to users from a particular location, like yours.
Fortunately, there is a way around this limitation — a VPN (Virtual Private Network)! By using a premium VPN service, you can encrypt and redirect your connection to a server located in a different region.
For example, let's say that you want to watch Twilight movies on Amazon Prime Video, but it's not available in your region. You can use a VPN to connect to a server located in the US and unblock access to the streaming service. Keep in mind that you will still have to subscribe to and pay for this service.
Best of all, you can easily start doing that with ClearVPN — a fast and user-friendly VPN service that requires no technical knowledge to set up. Here you'll find dedicated VPN servers for unblocking access to specific streaming services or platforms.
ClearVPN runs on most popular operating systems and devices, including Windows, macOS, iOs and Android. All you need to do is select "Streaming" from the list of modes and determine a particular streaming service that you want to access.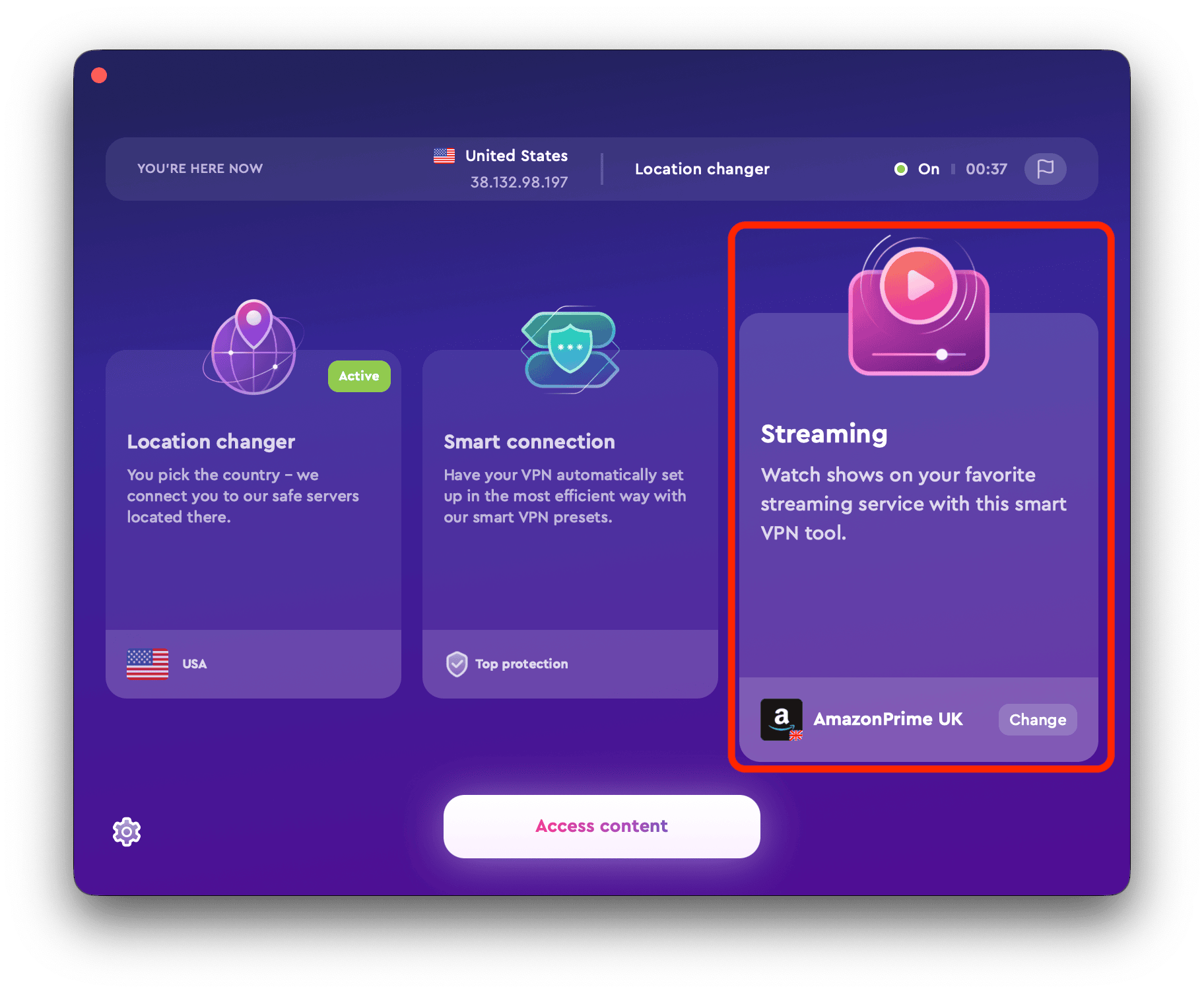 So, if we go by the example above, that would be Amazon Prime US.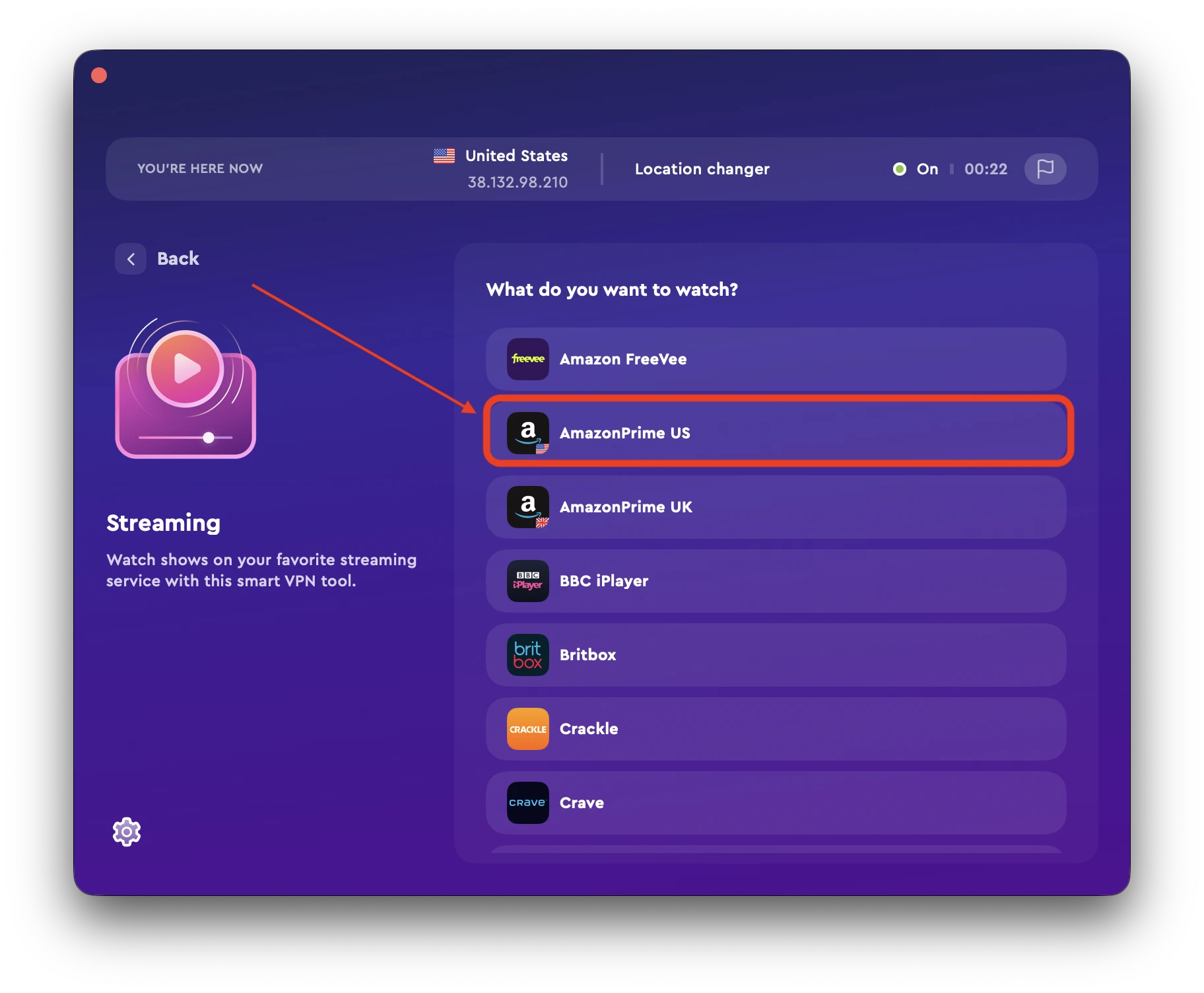 At this point, you can now access Amazon Prime Video and stream your favorite Twilight movies without geo-restrictions. Happy streaming! Also, if you are a Harry Potter fan, you might be interesting where to watch Harry Potter movies, don't miss our detailed guide about it.
FAQs
When did the Twilight Saga movies come out?
The movies in the Twilight series were released over a period of 4 years from November 2008 to November 2012.
What is the correct order to watch Twilight movies?
The chronological sequence of events in the series is as follows — Twilight, New Moon, Eclipse, and Breaking Dawn part 1 and Breaking Dawn part 2.
How many Twilight movies are there?
The Twilight Saga consists of a series of five movies based on the popular book series of the same name.