Nowadays, there's no denying that there is a lot of inappropriate and potentially harmful content circulating the Internet. Probably the easiest avenue for misinformation to reach us is through our mobile devices. So learning how to block websites on iPhone (still the most popular smartphone in the world) is one way to help ensure a safer and more pleasant browsing experience.
That's where this guide comes in — we'll walk you through the process involved along with additional solutions that you can implement to keep yourself safe from malicious and potentially harmful websites.
So let's dive right in!
Why learn how to block certain websites on iPhone?
Before anything else, you might be wondering if there's any merit to learning how to block sites specifically on an iPhone device. After all, thousands (if not millions) of websites come and go on the Internet every day. Also, isn't iOS the most secure mobile operating system out there?
While that things may be true, it's no reason to be complacent. The truth is that there are plenty of perfectly good reasons why more people would benefit from learning how to block websites on iPhones.
Some of these reasons include:
Keep yourself and your family (especially children) from being exposed to inappropriate content online
Block out temptations by cutting access to websites that are time-wasting or potentially addictive.
Maintain a productive environment at work
Avoid malicious websites that can compromise your device and keep your personal information from falling into the wrong hands
Block ads from annoying websites
Whatever your reasons, accomplishing these goals require that you learn how to block websites on your iPhone. Let's go over the steps in the next sections.
Blocking websites via iPhone Screen Time
If you prefer going with the easiest method, then using Apple Screen Time is your best bet. Initially designed to track and manage device usage, Apple has since expanded this feature to natively control and implement a wide range of security features. This, of course, includes the ability to block websites from ever appearing on your iPhone device.
Here's how to do it:
Open the "Settings" app on your iPhone.
Scroll down and tap on "Screen Time".
Enable Screen Time by tapping 'Turn On Screen Time" and following the on-screen instructions.
Tap "Content & Privacy Restrictions".
Enable "Content & Privacy Restrictions" by toggling the switch on.
Tap Content Restrictions, then scroll down and tap Web Content.
Choose one of the following options:
Unrestricted Access: Allows access to all websites (default)
Limit Adult Websites: Automatically blocks adult websites.
Allowed Websites Only: Provides access to a limited list of child-friendly websites. You can add additional websites to this list if desired.
How to block websites on Safari?
If you're wondering how to block websites on Safari itself, unfortunately there's no direct way to do this — but that's not necessarily a bad thing. Every restriction that goes through the Screen Time app is then automatically reflected in Safari.
For example, if you choose "Limit Adult Websites", then this block immediately gets applied to Safari as well. What's more, if you use Safari on your other Apple devices (iPads, MacBooks, iMacs, etc.), then those websites get blocked there as well.
But let's say that you wish to block a specific website. Well, that's handled through Screen Time as well, specifically under the "Limit Adult Websites" option. Just scroll down a bit and you'll find a section where you can add a site to the "Never Allow" list.
Blocking websites on iPhone using third-party apps
Aside from Screen Time, you can also make use of third-party apps to block unwanted websites from your iPhone.
One good example is an app called "AdGuard" which acts as an additional content blocker for your Safari browser. More importantly, these apps maintain a comprehensive database of malicious websites and prompt your device to block them immediately.
To use this App, you can download AdGuard from the Apple App Store and set up your website blocking preferences.
Enhancing Internet Privacy & Security with a VPN
While blocking unwanted websites from your device is certainly a start, it's likewise important to consider other aspects that affect your online privacy and security. One such factor is the use of a VPN (Virtual Private Network) service to encrypt your data as it's transmitted over the Internet.
The use of a VPN, in addition to website blocking, provides an additional layer of security for your mobile browsing experience. While learning how to block websites definitely helps prevent access to unwanted sites (or types of websites), a VPN takes that one step further by encrypting your connection and making sure that your data stays private.
You can quickly and easily start doing all that with ClearVPN — a fast and user-friendly VPN service that encrypts your internet connection, preventing hackers, advertisers and other third parties from accessing your personal information and tracking your online activities.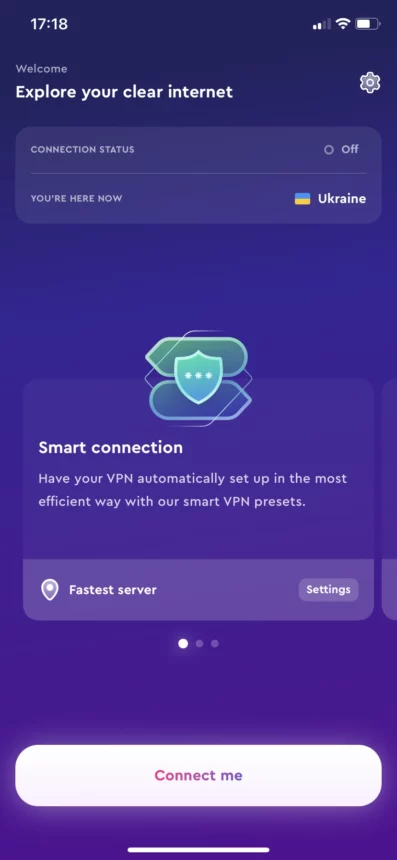 Here are some ways ClearVPN can complement website blocking on iPhone:
Maximum privacy — ClearVPN encrypts your Internet traffic and keeps out third parties from accessing your data and monitoring your online activities.
Bypass geo-blocks — Some websites/apps may be inaccessible to you due to content restrictions. ClearVPN can help you get around that by rerouting your traffic to a server from a different region.
Use public WiFi networks responsibly. If you often connect your iPhone to unsecured networks, then you need a good VPN to ensure that none of your sensitive data gets intercepted and stolen by cybercriminals.
FAQs
Does Safari have a content blocker?
Yes, Safari does have an integrated content blocker which is accessible through the Screen Time app on your iPhone.
Does Google block illegal websites?
Google does its best to protect users from malicious websites by filtering such sites from its search results. However, users shouldn't rely on that alone and take steps to maximize their Internet security — using antivirus programs, VPNs, ad blockers, etc.
Do police monitor Google searches?
It's unlikely that police are monitoring your Google searches unless they have a reason to be suspicious, allowing them to obtain a warrant or other legal authorization.