Did you know that globally there are approximately 1.59 billion freelancers? In addition, 30% of employees now work at exclusively remote companies. Since the pandemic, remote working or hybrid work has become the new norm for many.
However, with one of the top cons of remote work being loneliness, many remote workers and freelancers have started to use coworking spaces. Not only does this help you to feel more connected but most spaces offer high-speed internet and great coffee.
But, before you ask Google for your nearest co-working space, take a few minutes to read this article to make sure your cybersecurity is up to scratch. The last thing you would want is to be hacked or your company hacked because you're using a shared internet connection.
In this article, we explore the coworking digital infrastructure, cybersecurity risks, and ways to safeguard your data in a shared working environment.
What is a coworking space and how does it work?
A coworking space is an environment that's designed specifically for remote workers. In short, you can opt to work remotely from their venue (that includes meeting rooms) for a subscription.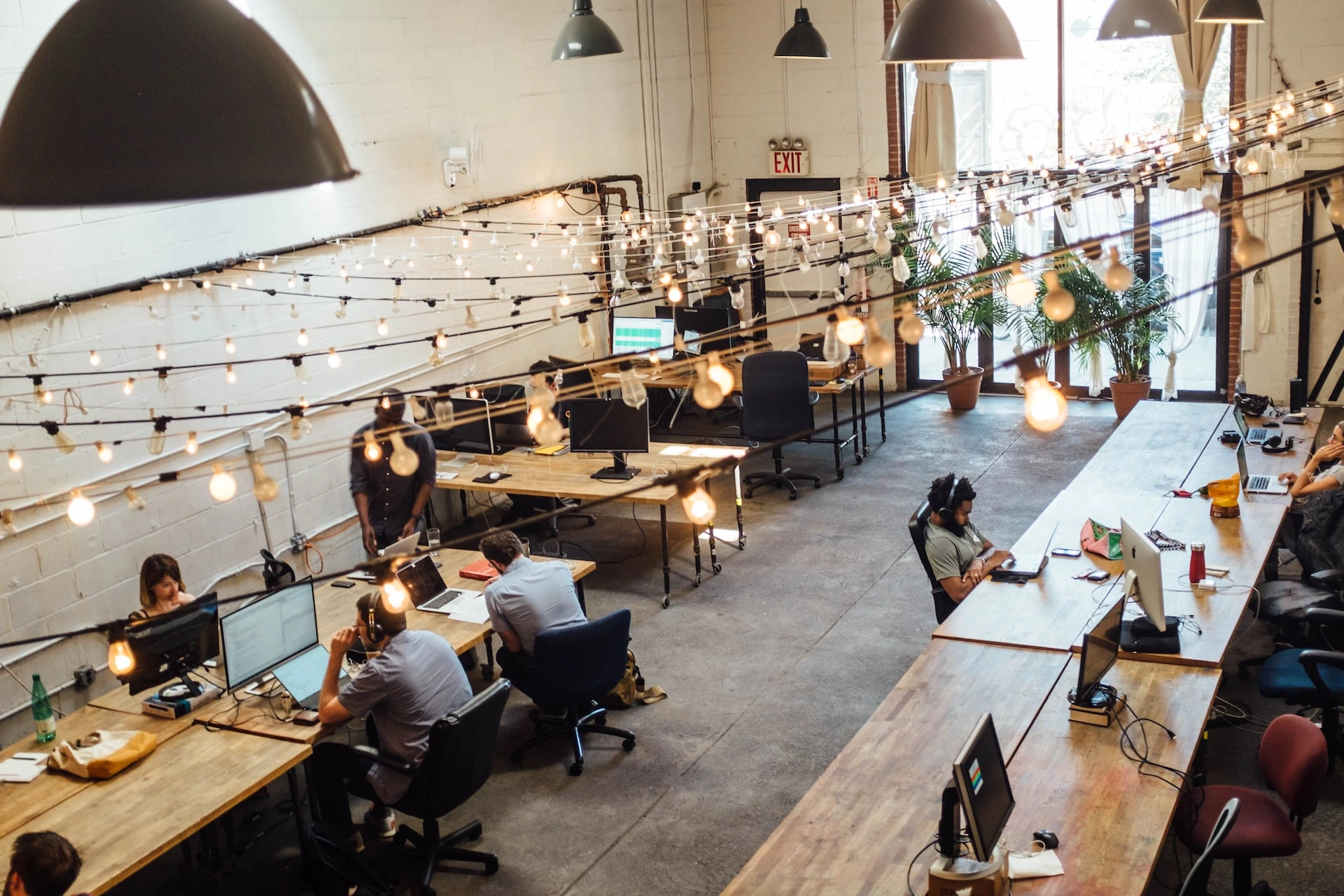 While coworking spaces have been around for more than a decade, since the global pandemic, they have become increasingly popular as many companies settle down with the hybrid workforce model. According to Statista, there are currently 18,700 coworking spaces globally and this is expected to increase to 41,975 by the end of 2024.
Employees, freelancers, entrepreneurs, and founders choose coworking spaces because of their affordability, convenience, and work-friendly environment.
Whether it's an international brand like WeWork or city-specific coworking spaces, they promise fast internet as part of the package. When you sign up for a shared workspace, they give you a WiFi ID and password to connect instantly.
However, a WiFi credential — unique or shared — doesn't guarantee security or privacy. Teemu Airamo. a digital media agency founder, was shocked and dismayed by the lack of security when he moved into WeWork in 2015. He ran a scan to identify network vulnerabilities and found hundreds of publicly visible files of other tenants.
Teemu's story is the tip of the iceberg: WiFi security in smaller coworking offices might be less robust. Many tenants face the same predicament but are only aware of the data threats if they diligently probe the network for vulnerabilities. Unfortunately, not all of them are as tech-savvy as Teemu.
Why coworking WiFis may not be secure
A password-protected public WiFi gives the impression of security, but it's not. Even if each tenant uses a unique credential, it's unwise to assume that your privacy is assured. To understand cyber security and risks at coworking spaces, let's explore WiFi basics.
First, most coworking WiFis use the WPA2-PSK security protocol. WPA2 is a security standard that protects devices on wireless connections. It is designed to overcome vulnerabilities found in its predecessor, WEP. Theoretically, WPA2 is a more robust protocol featuring strong encryption and certification authentication. But it's not foolproof.
Hackers might use a network sniffer program like WireShark to intercept and decode information sent in the coworking space. All they need to do is sign up as a tenant, connect to the network, and run the sniffer app. Furthermore, tutorials on intercepting WPA2-PSK data packets, such as this, are available easily on the internet.
Some coworking spaces may have shifted to a newer version of the password security protocol, WPA3. Despite the security improvements, it still suffers from vulnerabilities that expose users to man-in-the-middle attacks. In such attacks, the hacker sends you to a fake website that steals your data.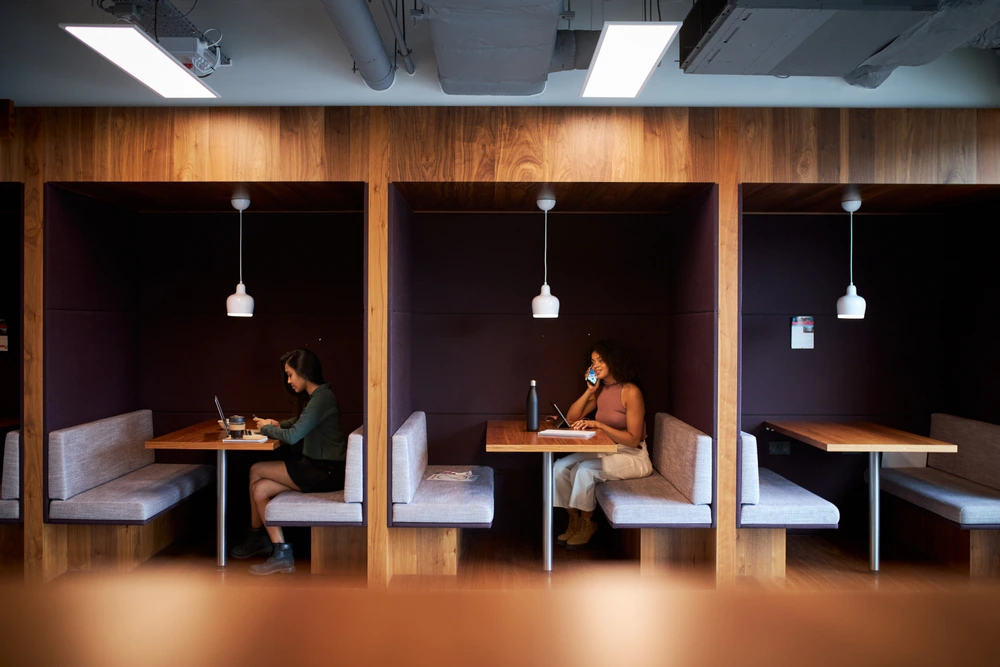 At best, you enjoy a single layer of protection against simple threats. The primary security that password-secured WiFi provide is useless against a well-coordinated attack.
Potential threats from insecure coworking WiFi
You are vulnerable to cyberattacks if you connect to WiFi at your coworking space without additional protection. This includes:
Industrial espionage: Your competitors can intercept sensitive files when you share them across the network or they could retrieve them from unsecured folders.
Man-in-the-middle attack: Hackers redirect you to fake websites that mimic the real ones. There, you enter sensitive information, such as banking credentials, which the perpetrator used to access your accounts.
Ransomware and malware: Infecting a computer with malicious programs is easier when hackers do that from the inside. A ransomware attack is highly disruptive, threatening to delete your files unless you pay the ransom. Even then, there's no guarantee that the hacker will unlock your files.
Other targeted attacks: Your private and public IP addresses are exposed to everyone on the same coworking network. Hence, perpetrators can launch attacks that target software vulnerabilities on specific computers.
Securing your devices with a VPN
Rather than risking potential cyber fallouts in a coworking space, use a VPN to protect your devices and data. A VPN provides a more robust layer of security for your computers and devices. It hides your device's IP address and encrypts all data that it sends or receives.
Accessing coworking WiFi via a VPN dramatically reduces the chance of cyberattack. Without knowing your IP address, hackers have a tougher time targeting your computer. And even if they did, they can't read the encrypted data that passes through. This effectively blocks targeted attacks, industrial spying, and other snooping attempts.
How to choose a VPN for coworking spaces?
Considering the vulnerabilities in coworking spaces, security features are a top priority when choosing a VPN. For example, a VPN that uses AES-256 encryption and WireGuard protocol will protect corporate documents, passwords, and sensitive data in a shared network. Meanwhile, the Kill Switch feature disconnects your device from the internet if the VPN connection is disrupted. This provides continuous protection and leaves no gaps for the perpetrators.
While security is crucial, so is speed. A VPN serves little purpose in coworking spaces if it greatly reduces the connection speed. After all, many professionals opt for coworking spaces because of their stable and fast internet connection. In this regard, ClearVPN is an ideal candidate for its security, speed, and ease of use.
ClearVPN offers military-grade encryption, WireGuard-based protocol, and a Kill Switch to keep data safe in coworking spaces. Moreover, CultOfMac commended ClearVPN for its secure and fast connections. ClearVPN also stands out for its user-friendly shortcuts.
Here is what you need to do to protect your connection on a public WiFi:
Download and install the ClearVPN app for your device.
Create your account and login into the app.
Choose "Secure Browsing" mode and click on the "Protect Me" button.
That's all, now your connection is secure and you can use your device without any worries.
Coworking is here to stay and while it's great to connect with others and work in an environment that's specifically designed for remote working, it's best to make sure that your cybersecurity is up to scratch. Using a VPN is one of the easiest ways to keep your data safe.