Get ClearVPN 2 for

Windows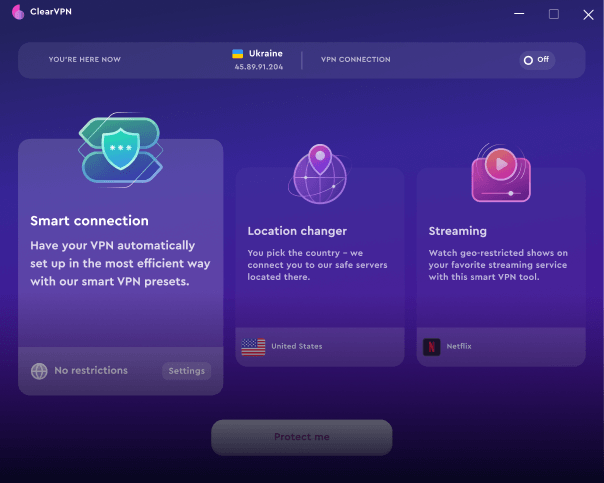 Works on Windows 10 Update 1809 and higher
Get ClearVPN 2 for
Windows
Enjoy a hassle-free experience with VPN for Windows. Upgrade your online life: game, stream movies and TV shows, work, and protect yourself online with one tap!
Download ClearVPN 2
The essential VPN solutions you need in everyday digital life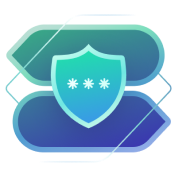 Smart connection
Have your VPN automatically set up in the most efficient way with our smart VPN presets.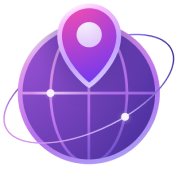 Location changer
You pick the country - we connect you to our safe servers located there.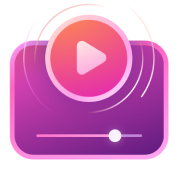 Streaming
Watch geo-restricted shows on your favorite streaming service with this smart VPN tool.
You can install ClearVPN 2 on Windows 10 x64 (1809) and newer.
How to set up VPN
on Windows
Step 1
Download the installation file and Open ClearVPN
Step 2
Sign in or create a new account if this is your first time using ClearVPN.
Step 3
Welcome to ClearVPN! Click the Protect me button to get private and secure
Why choose
ClearVPN
Meet the most intuitive VPN solution that requires no extra tech skills. It's your powerful master key to any corner of the internet.
Download ClearVPN 2
Cross-platform solution
We don't store, share, or even collect your online activity, personal info, IP address, etc. We don't have your data — we don't need it.
VPN Kill Switch
It automatically disconnects your device from the internet until the VPN connection is restored. You remain private and secure.
No-log policy
The app doesn't collect any data about the users: no IP addresses, browsing history, DNS queries, etc. Learn more in our Privacy Policy
Fast and reliable servers for streaming
ClearVPN 2 is a VPN you can trust. It's a creation of MacPaw, a Ukrainian software company with 30M users worldwide.
Industry-grade encryption
…and top-notch VPN protocols: IPSec IKEV2 and OpenVPN! We make sure you're always secure and private on your online journeys.
Don't just take our word for it
ClearVPN's happy users are the best recognition we can ever get. What we also get are reviews we're proud of.
Trustpilot Reviews 844

•

Excellent
4.5
I like this VPN. It's much better than Windscribe I used earlier. It provides unlimited speed and amount for Ukrainians through Diia verification.I tested several servers in different countries (UK, preferably for me). Everything worked fine with good speed (tested with speedtest.net); it showed an average of approximately 40 Mbps upload and download, which is cool for a VPN, as many other VPNs provide a speed below 5/10 Mbps.
Very nice and stable. Very nice and stable, easy to use.
The VPN service is a veritable panacea for online privacy and security. Its intuitive interface makes it a breeze to use, while its robust encryption protocols ensure that all of your data is kept safe from prying eyes. The service is also exceedingly fast, allowing for seamless streaming and browsing. In short, it is a consummate choice for anyone looking to safeguard their online identity.
In the area, when there so many options regarding VPNs, this one I can mark as a best (was using other too before). Can underline simple, straightforward UI/UX, that is equally simple to use for 'power-users' or beginners. Functionality is perfectly fine.
Fast and Easy to useGreat app, also better than any browser plugins as some sites can see you're under VPN.
This is my second time reviewing ClearVPN. In my previous review, I mentioned how good the VPN is and that they need to increase their data speeds. After various new updates, data speeds have increased significantly, and the user experience is much more enhanced than earlier. I would definitely recommend this VPN to all of my colleagues :)
Try ClearVPN
for free
Start you journey with ClearVPN for free and unlock the full potential of your digital life with VPN on Mac. Your connection is secure with us, and so is your money: we have a 30-day money-back guarantee.
Download ClearVPN 2