We're in the golden age of streaming movies and series. Gone are the days when you had to wait months (or years) for a new release to hit your nearest DVD store or cable subscription. These days, there are a ton of great movie streaming sites to choose from, each with its library of content. So which one is right for you? Check out our list of the 15 best movie streaming sites below and find out!
But before we get into my site recommendations, let me warn you that the use of sites to stream movies can get you into trouble if it turns out that the sites do not have the distribution rights for the content. This has to do with a largely misunderstood area of law known as "secondary copyright infringement," which holds the people who help distribute pirated content just as liable for piracy as the ones who download and upload illegal copies of it.
To protect yourself, we recommend using a good VPN service that can guard your connection and obscure your IP address. A VPN is also great for making it look like you're in a different location, so you can use foreign streaming services, unblock censored sites, and access geo-blocked content from anywhere in the world.
Now that we got the disclaimer out of the way let's jump right into our recommendations for the best streaming sites on the Internet!
Top 10 Best Movie Streaming Sites
First, let's take a look at some paid options — paid sites for streaming are great since you don't have to worry about viruses, malware, and other annoyances that tend to plague free movie streaming sites. More importantly, these platforms have invested in the necessary distribution rights for their content, so you don't have to worry about running into any legal issues.
One downside is that they do cost money to use, and their content library is blocked depending on your location. Fortunately, you can get around this by using a good VPN service. For example, let's say you're an American living in Germany. You could connect to a VPN server in America and trick the streaming site into thinking you're actually in the United States, which will give you access to their American library.
But enough of that — check out our top 10 list of paid movie streaming websites!
HBO Max
HBO Max comes with everything you would want and expect from the HBO brand. It's got tons of great new releases (Peacemaker, Dune, Space Jam 2, etc.), highly rated television shows, and a massive back catalog of older classics for you to enjoy.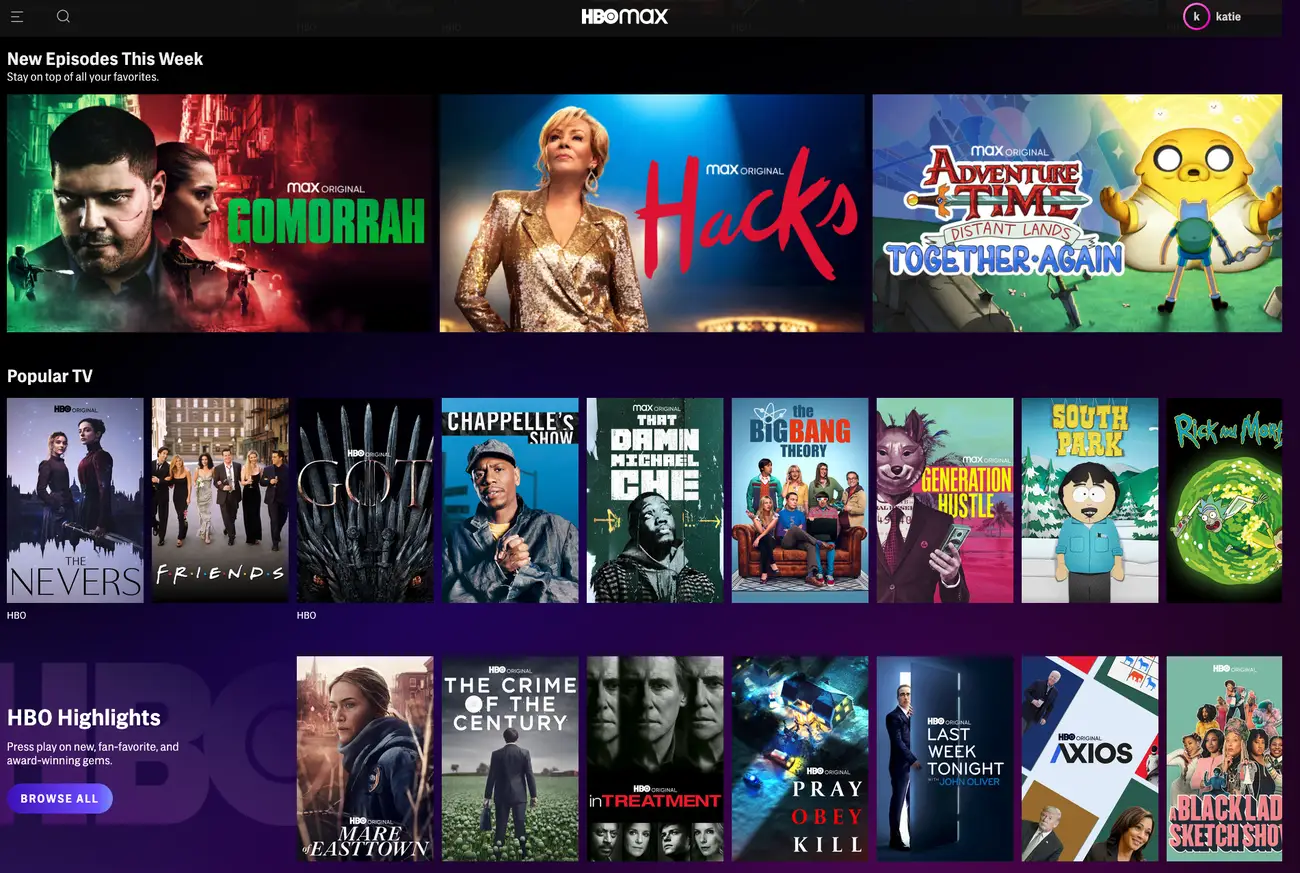 The only real downside to this otherwise perfect streaming service is the cost. Prices start at $9.99 per month, and that's with ads. If you want to get rid of the ads, it will set you back $14.99 per month — which is pretty steep compared to other streaming services. Still, HBO Max is a good option, especially if you're already a fan of the HBO TV catalog.
The only problem with HBO Max is that it is available only in North America (except Canada), partly in South America and Latin America, and in some countries in Europe. The whole list of where HBO Max is available read here. Also, if HBO Max is not available in your region, check this post and discover how to use HBO Max outside their availability zone.
Netflix
Where Netflix shines is the sheer amount of great content they have. Where else can you find such critically acclaimed hits like Bird Box, Roma (a personal favorite), and many others? Where else can you get access to entire seasons of some of your favorite series like Breaking Bad and Better Call Saul? If you're looking for quantity, Netflix probably has what you're looking for.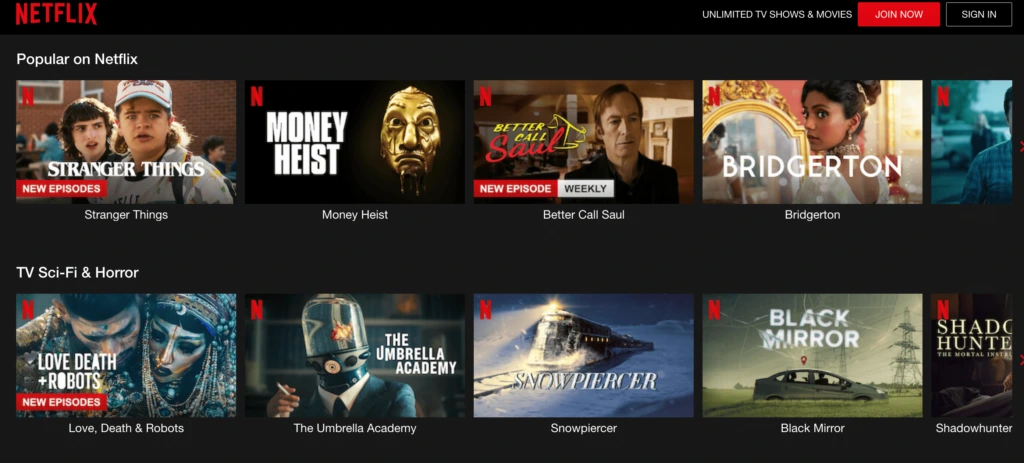 Netflix is the biggest movie streaming site globally with more than 230+ million users worldwide! Netflix offers a massive library of movies and TV shows, all available at a price point that won't break your budget. Even better, you can use this service from just about anywhere thanks to its wide availability across different platforms — Android, iOS, macOS, Windows, and more.
Netflix is available in more than 190 counties (except China, North Korea, Syria, and russia). The only problem with Netflix is that its' libraries differ in each country because of territorial licensing, so, for example, if you are living in Germany, you wouldn't be able to see some of the exclusives that are on the US Netflix catalog. But there is a solution, check our post and discover how to change your Netflix region or to watch other region library with VPN.
Amazon Prime Video
There's a reason why Amazon Prime Video has earned the number three spot on our list, and that's because it deserves it. Other than Netflix, no other streaming service can boast of having such a great library of both movies and TV shows at their disposal. And while you'll have to pay for this service (at $8.99 per month), it's still pretty affordable considering what you get.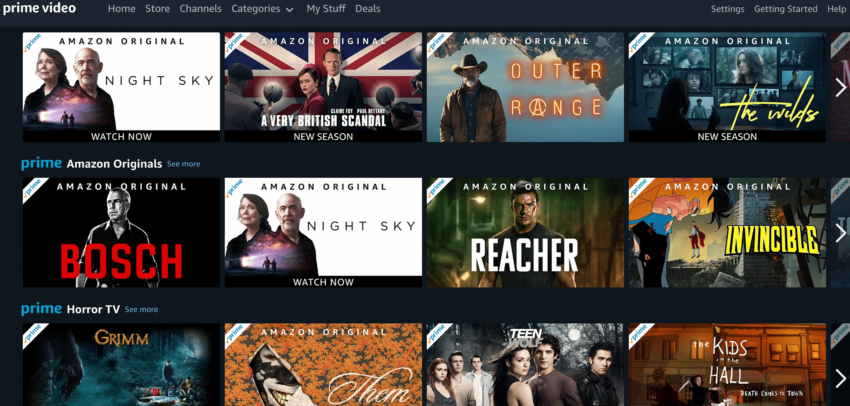 Amazon Prime is growing extremely fast, it became the second largest streaming service in Q4 2022 with more than 100 million users worldwide. But that's not even the best part! The best thing about Amazon Prime Video is that they produce their original content like Tom Clancy's Jack Ryan and The Marvelous Mrs. Maisel. These exclusive shows are only available on Amazon Prime Video, making this platform a must.
Disney Plus
The other sequel to the Disney brand, Disney Plus, is a solid movie streaming service that offers great content at affordable prices. Depending on your needs, you can choose between one of their three subscription tiers. Whatever tier you choose, though, you'll get access to some great new releases like Eloise, The Mandalorian, and many others!
Disney Plus also offers tons of TV shows like Loki, Just Beyond, The Book of Boba Fett, and more! The only problem is that Disney Plus is not available all around the world. But don't worry, we have a great guid on how to watch Disney Plus from anywhere easily.
Hulu
Hulu is in top 5 movie streaming services worldwide. Based on statistics Hulu have 50 million active users as for 2023. If we are talking about pricing, it starts from $7.99 for a month.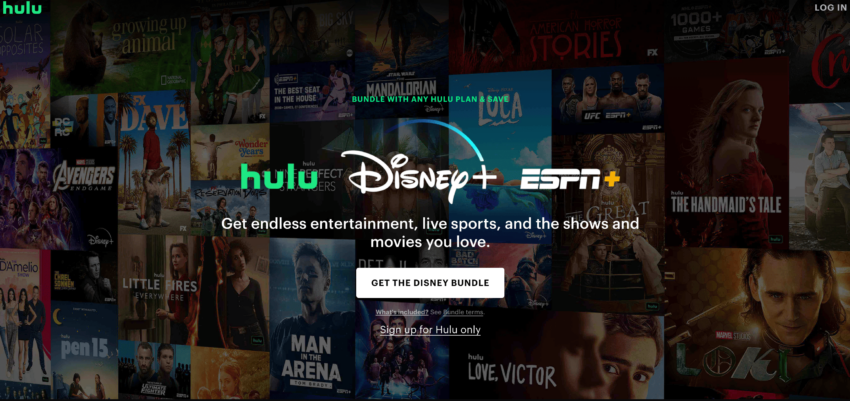 Hulu is more than just a movie streaming site — it's also got one of the most extensive libraries of TV shows in the world. If you're looking for some great content right now, Hulu has plenty to offer.
The reason why this wasn't given top billing on our list is that their new release lineup leaves much to be desired (Spider-Man: Into the Spider-Verse is the only big one). That's not to take away from their other offerings, though (both movies and TV shows), because they are top-notch. But, the problem with Hulu is that it is only available in US. Good news, there is a solution. Check our detailed guid on how to watch Hulu from anywhere with VPN.
Sling TV
Sling TV is one of the few websites on this list that are not part of an actual brand. However, what makes it stand out is its affordable channel packages that you can get for around $20 per month.
The downside to Sling TV is its relatively small library of both movies and TV shows. You won't find any great hits (at least not for now), and their TV lineup is also pretty sparse.
Peacock Premium
Peacock is a new streaming service that has some serious potential. It's cheap at only $4.99 per month, but it also offers way more content than most other movie streaming sites on this list.
The library is pretty expansive, with both classic and current hits to offer. What makes it even better is the number of channels you can get with your subscription. Subscriptions are available via different channel bundles that include everything from sports to kids' channels.
If you need a wide variety of content at an affordable price point, then Peacock TV might be the one for you.
Peacock is available only in some specific countries, that's why you need to use a VPN to get access it from anywhere. Check our detailed guide on how to watch Peacock TV in Canada and other regions.
Apple TV Plus
For Apple diehards, Apple TV Plus is an excellent option for streaming high-quality content at an affordable price. It's available on iOS devices, so you don't have to pay much if you already have one of these gadgets.
Apple TV Plus is a rising star, for now, it has 25 million subscribers but it is growing very fast. Apple loves their users, that's why if you are a new user, you will have 3 month free, after a free period you would need to pay $6.99 for a month.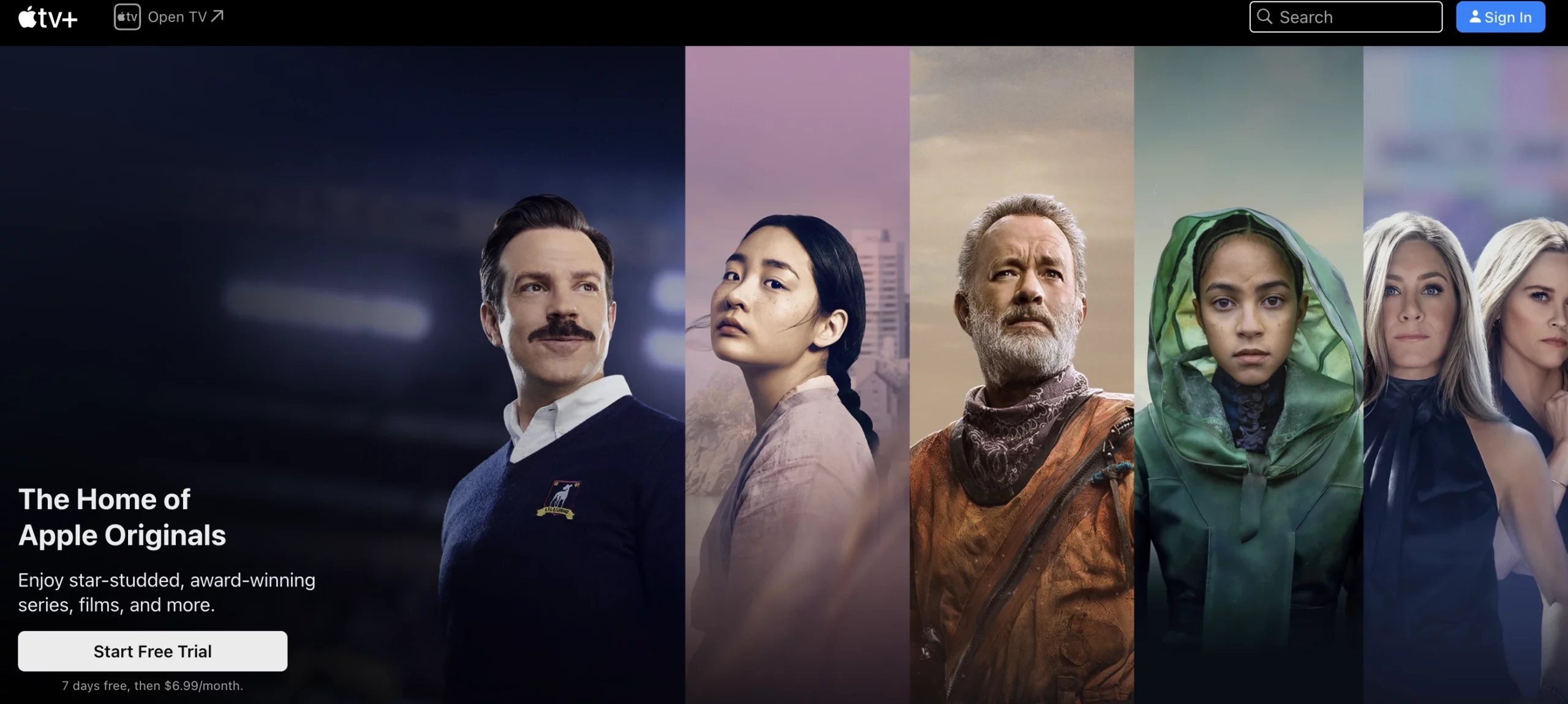 Of course, it would be silly not to mention that some of the most popular shows are exclusive to Apple TV Plus. These include titles like the Mornings Show, Mr. Corman, Defending Jacob, The Mosquito Coast, and many more!
Paramount Plus
Paramount Plus is a quite new streaming service, it was established in 2021, it was rebranding of CBS streaming platform. Paramount Plus is growing fast and for now it can compete with such popular streaming platforms like Hulu and Peacock TV.
Paramount Plus has great movie and tv shows library. Since March 2023 Paramount Plus has two subscription plans Essential plan and more expensive Premium plan. Basic price for new users for Essential plan starts from $4.99 which is quite affordable.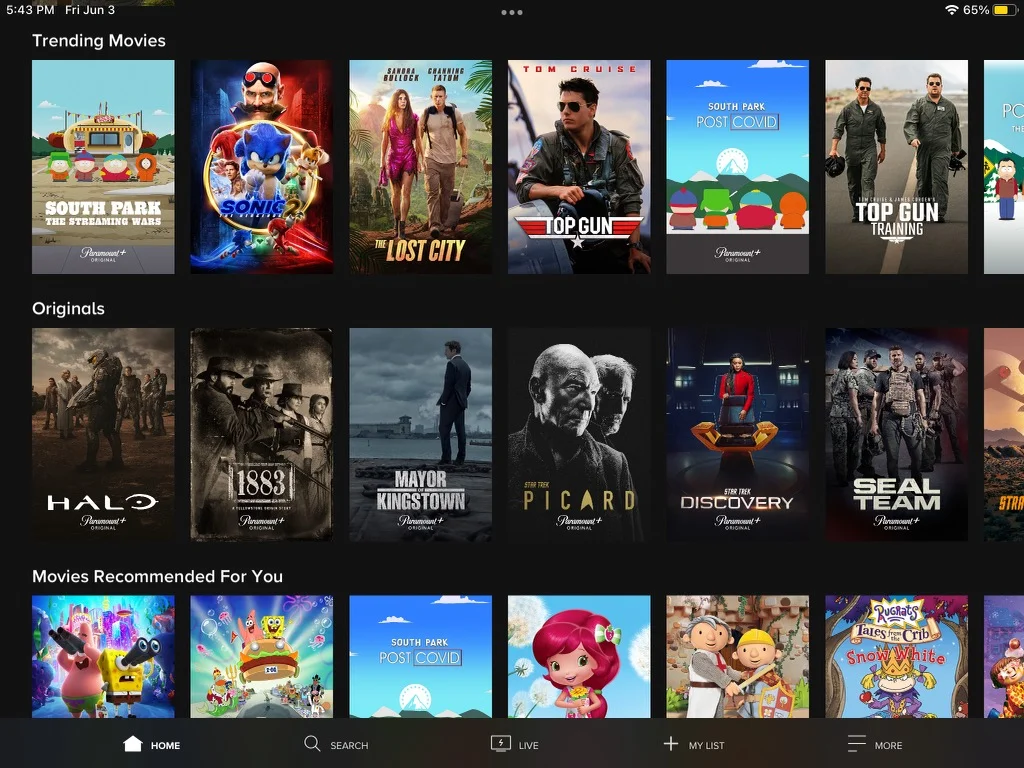 Curiosity Stream
Curiosity Stream offers a ton of great documentaries and original content that is perfect for both professionals and casual fans. With a reasonable price point of just $3, you get access to hours' worth of interesting material that you can stream at your convenience.
The library isn't as generous when it comes to movies, but if you love documentaries, then this is definitely one of the best streaming sites for you.
Top 5 Best Free Movie Streaming Sites
Are you looking for movie streaming sites that you can use without having to spend any money? We've got you covered! Here are the top five best free streaming sites that you can check out right now:
Peacock TV
Peacock is NBC's free, ad-supported version of their popular streaming service. While it does not have as much content as its premium offering, it's still pretty substantial with popular TV shows like Suits, Heroes, Sacred Lies, and more.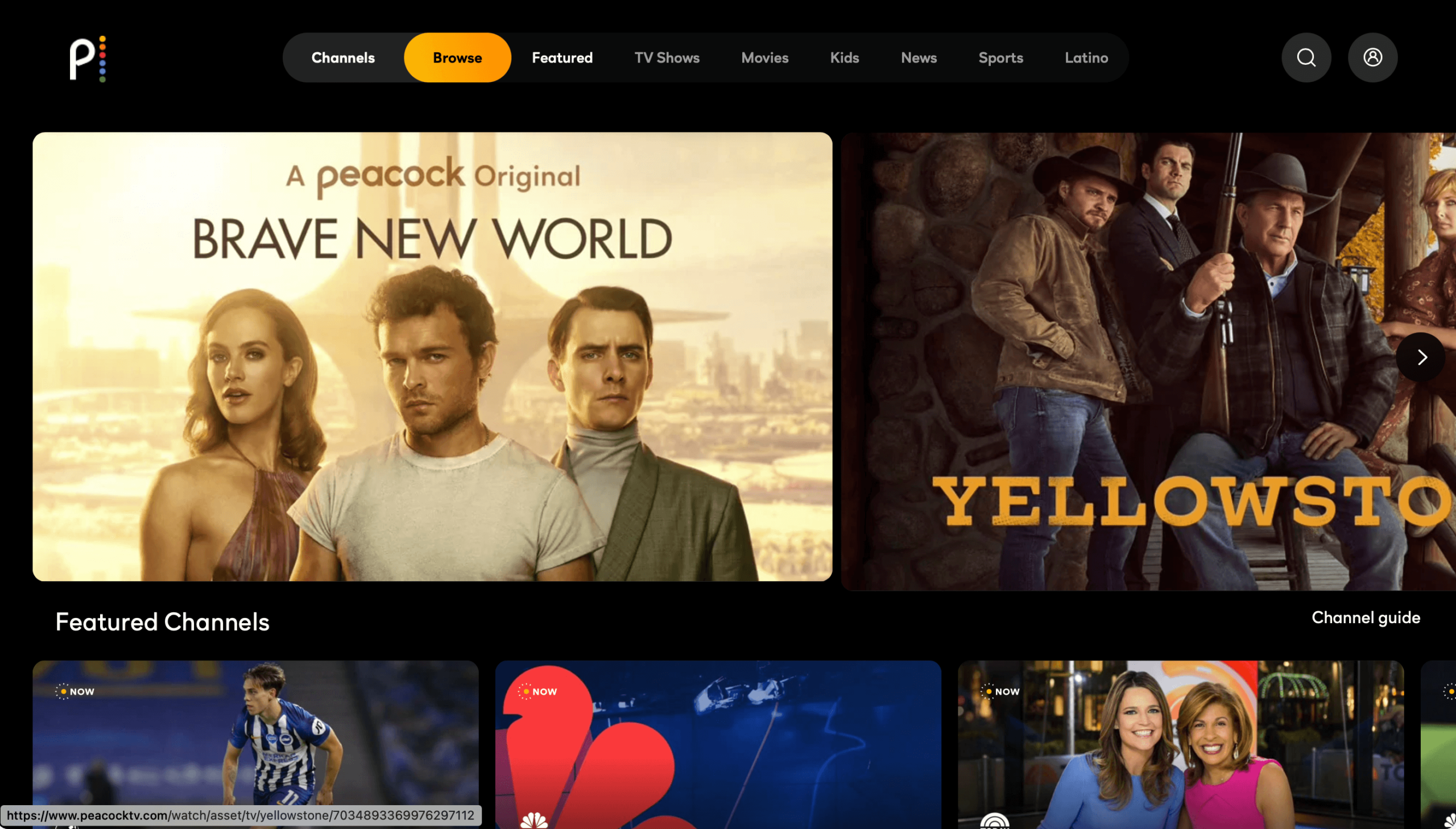 There's also a generous selection of movies titles like the Matrix, Bourne Identity, and Jurassic Park.
If you want a premium-quality movie streaming service without spending any money and don't mind watching ads to get it, then Peacock is the one for you.
Crackle
Crackle is a popular name in the world of movie streaming because it offers professional content from big names like Columbia Pictures and Tri-Star. It has a massive library with many great titles from all genres to choose from.
One thing that makes Crackle stand out from other free ad-supported services is its original content which includes shows like StartUp, Snatch (based on the movie of the same name), SuperMansion, and more.
Unfortunately, Crackle is only available to a few select countries — the USA, Argentina, Bolivia, Brazile, Chile, Colombia, etc. If you are outside these territories, you'll need a good VPN to bypass this restriction and access their free movie streaming service.
Tubi
Tubi is a great ad-supported streaming site that offers thousands of titles on its website. It's one of the most popular ones on this list, and you'll find some pretty good stuff, including popular titles like Doc West, Crazy on the Outside, Coyote lake, and Battle for Sevastopol.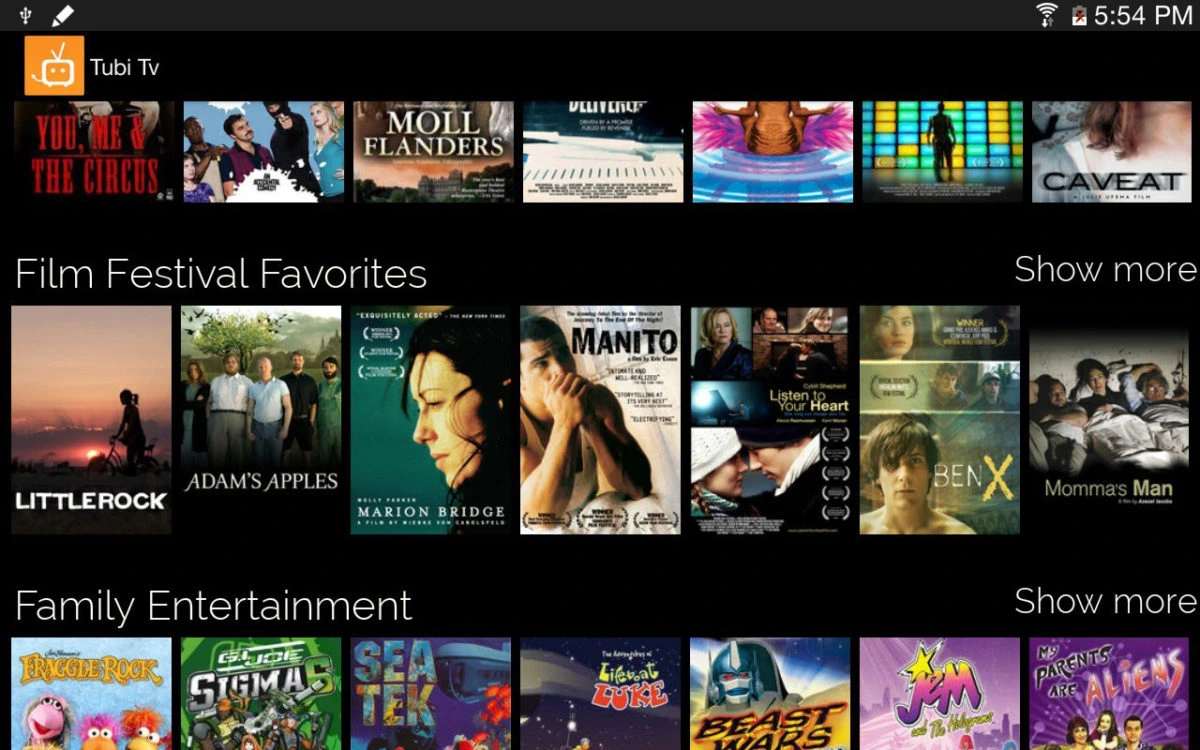 Cineb
Cineb is a global streaming site with many great titles from some of the biggest names in Hollywood. It doesn't have an impressive library, but if you want to watch movies without having to spend any money, then it's worth checking out.
The service has some pretty interesting original content that includes celebrities like Tom Hardy, Lucy Liu, Martin Freeman, and more. Cineb is available in the USA, UK, Canada, Australia, etc., but it may be restricted to some countries, so if you want to access its content, make sure you use a VPN service.
SolarMovie
SolarMovie is a great free streaming option that offers quite a lot of content in its library. It doesn't have any original shows, but you can expect to find pretty cool stuff like The Goodfellas, Spawn, Crank 2: High Voltage, and more.
You can also play SolarMovie on most devices, including iOS devices, Android mobile devices, Windows mobile devices, and more.
Almost all of these free movie streaming sites you can unlock and watch for free with ClearVPN. Just download the app for your device here, create your account, choose a Streaming mode on the main dashboard, and click on the service your need from the list. That's all!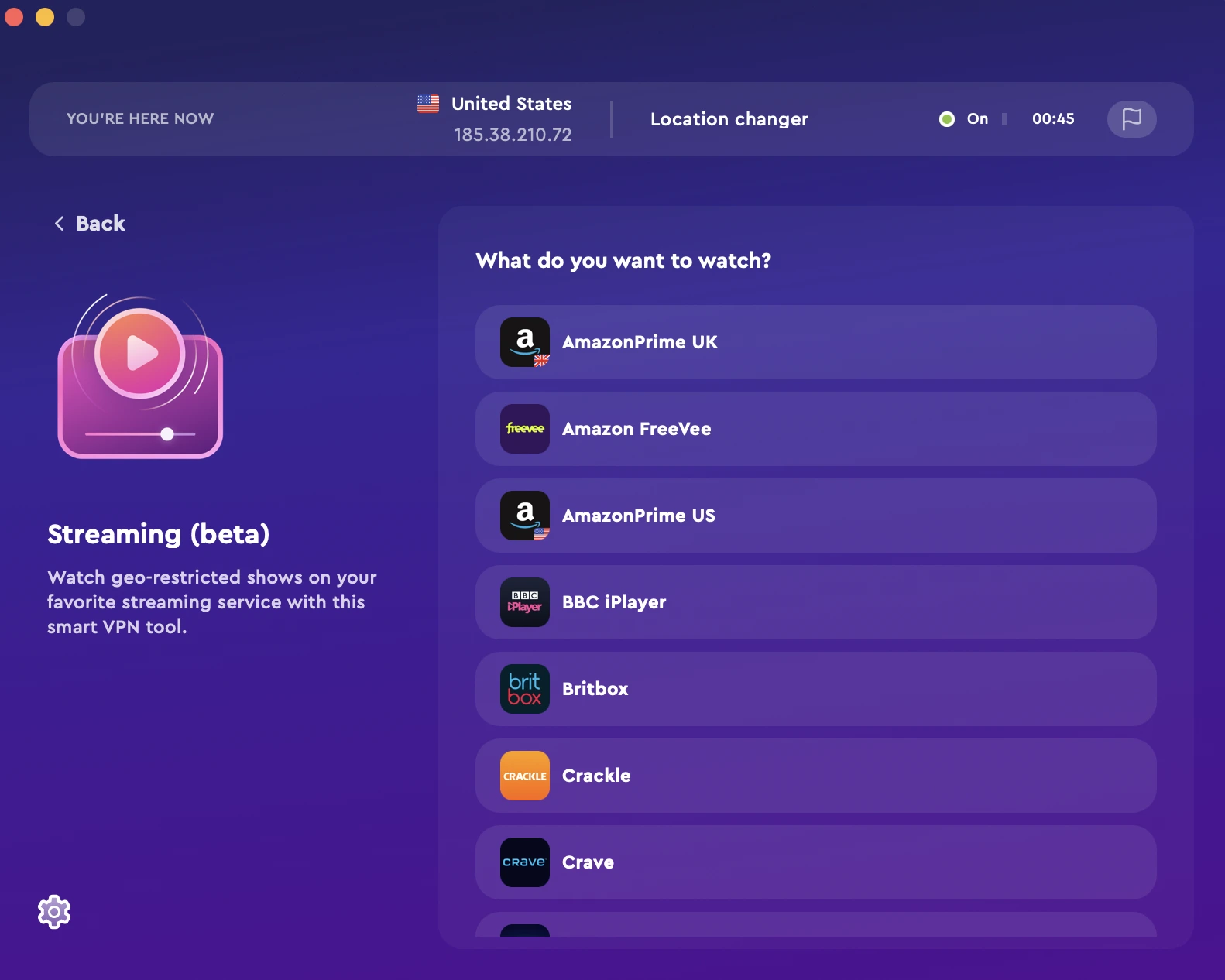 FAQs
Are free movie streaming sites legal?
There is no easy answer to this question, as the legality of free sites to stream movies can vary depending on where you are located. In some cases, streaming movies without the copyright holder's permission may be illegal. However, in other cases, streaming movies may be legal if the site provides the movie for viewing only and not for downloading or copying.
It's essential to be aware of the laws in your country regarding free movie streaming before using any such site. It's also important to remember that using these sites may put your computer at risk of being infected with malware or other viruses. So if you're going to use a free movie streaming site, be sure to do so with caution.
What is the best movie streaming site?
That depends on what you're looking for. If you're looking for an extensive selection of movies, Netflix might be the best option. If you're looking for a site that's free and doesn't require a subscription, then Peacock TV might be a good choice.
There are also several paid sites available, such as Hulu and Amazon Prime, that offer a variety of TV shows and movies. So it really depends on what you're specifically looking for.
Do I need to use a VPN to use free movie streaming websites?
Yes, you need to use a VPN to access free movie streaming websites. While using a VPN may not be 100% necessary for all sites, it's always best to be safe and protect your online privacy.
A VPN encrypts your traffic and routes it through a secure server, which means your data is hidden from prying eyes. This makes it difficult for hackers or governments to track your activities online. So if you're looking for an extra layer of security when accessing free movie-streaming websites, then using a VPN is the way to go. You can try ClearVPN for accessing free movie streaming sites.
So there you have it — 15 of the best movie streaming sites on the Internet! Some are well-known household names, and others may be new to you. But all of them offer great content and a variety of ways to watch your favorite films. Whether you're looking for classic movies, new releases, or something in between, one (or more) of these sites is sure to fit the bill.